Writer Shannon Severson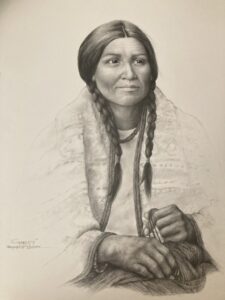 Sometimes a phone call from a stranger can change a life. Sometimes it can change many.
Alexis Roeckner Ferri, the chief executive officer of Tierra Madre Horse and Human Sanctuary in Cave Creek, received just such a phone call.
"In mid-April of 2022, Tara [Mockbee] called me," Ferri recalls. "She said, 'I have a [resident] who passed away. She was a renowned artist, and she wanted her entire collection of original charcoal artwork to go to an equine rescue."
On Oct. 7, Tierra Madre will host an event during which artist Patricia "Pat" Wozniak will be honored for her impact on the art community. The event will include a silent auction of Wozniak's work, with 100% of each sale benefitting the sanctuary's expenses — including hoof care, feed and the significant veterinary bills which, in 2022, amounted to $40,000.
Circle of Healing
Mockbee and her staff, who cared for Wozniak at Fairmont Village, a memory care facility, accepted an invitation to tour the sanctuary. She knew this was the place that Wozniak would want her art to benefit, as in her will she wanted her art to be donated to an equine charity.
The artist was a bit of a mystery, with no immediate family. By the time she came to Fairmont Village, she was experiencing the significant effects of Parkinson's disease and dementia. She passed away on April 14, 2023.
"We take care of elderly people, and Tierra Madre takes care of elderly horses," Mockbee says. "I know she would be so happy to know that the art sales will help the sanctuary."
Ferri says it's an honor to be the recipient of the more than three dozen charcoal, graphite pencil and watercolor pencil drawings — primarily of horses, wildlife and Native Americans. The proceeds will help the sanctuary continue its mission of giving aging horses the very best life in their later years.
"We were so blown away," she recalls. "Shortly, we had approval from [founder] Jim [Gath] to scatter Pat's ashes here, and now she is laid to rest beneath one of our trees on the property.
"We want to honor her legacy and share more about who she was as a person, and honor the impact she made in the art community and the world. You change the world just by living."
At Tierra Madre, humans volunteer to care for the horses, and the animals seem to know just what the humans around them need. Deep connections are formed.
"People say these horses are life-changing," Ferri explains. "Horses live in the moment. They're prey animals; they're intuitive. You can't lie to a horse. You have to face what's going on inside you because that's the only way through it.
"Horses say, 'Stay with me in this moment.' Those horses saved my life when I was 17. This place does something to you; it changes your life."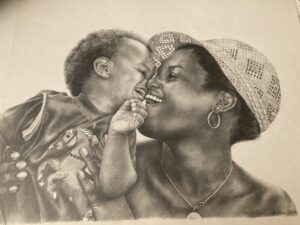 A Mysterious Figure
Piecing together Wozniak's life story wasn't easy, but Mockbee was able to glean key facts about the early life of the artist. One thing was clear: she was passionate about horses and used her natural talent to create realistic depictions of the majestic creatures.
Wozniak was an artist her entire life. A Massachusetts native, she attended Massachusetts College of Art and Design and even lived in Hawaii for a time. There, she owned her first horse, named Soda. She eventually had to put Soda down while she was in Hawaii. When her ashes were interred at Tierra Madre, they were accompanied by a lock of her beloved Soda's mane, which she had preserved through the years.
With no discernible stream of income, Mockbee surmises that Wozniak survived by drawing and selling art, often at independent galleries. By the time she needed to be moved from her home, she hadn't drawn in years.
"When Pat came to us, she had fallen several times in her Scottsdale condo, and we knew very little about her," Mockbee says. "She could no longer live on her own, but her landlord was kind enough to gather all the art she could find in the home."
Wozniak was a determined, independent soul. The daughter of Polish immigrants, she spoke with a Boston accent and was a huge fan of the Red Sox and Boston Bruins. She had a special shirt she wore to watch the games. While she never married or had children, she was a devout Catholic and was generous about donating her art to worthy causes.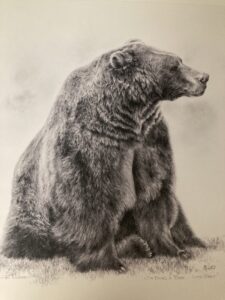 Honoring a Legacy
While Wozniak was a bit of an enigma, her heart for horses was easy to see. As preparations are made for the art show fundraiser, one piece will be kept and framed at Tierra Madre with words to honor the special posthumous donation from the artist.
"I know she would be so happy to know that the art sales will help the sanctuary," Mockbee says. "When we scattered her ashes at the ranch, we said a prayer and went on our way. I am certain she is at peace and couldn't be more thankful to Alexis and Jim for helping to honor her life and talent."
Tierra Madre Art Show Fundraiser
Thursday, Oct. 7 // 5–8 p.m. // The Holland Center // 34250 N. 60th St., Scottsdale // Free // tierramadrehorseandhumansanctuary.org