Writer Joseph J. Airdo // Photography Courtesy of Foothills Food Bank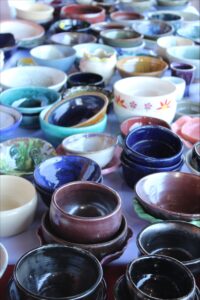 Bowls serve a variety of purposes — far beyond just a vessel that holds your soup or salad.
Bowls can be kept by your front door, perfectly positioned to catch your keys, loose change and other knick-knacks you've collected in your pockets over the course of your day. They can be placed on your bedroom nightstand, keeping your watch or rings safe and sound while you sleep.
Flip one over and instantly add height to a flower arrangement or centerpiece. Or simply make the bowl the centerpiece itself by filling it with pine cones, seashells, unusual seed pods, dried berries or driftwood. You can even take it one step further and creatively repurpose bowls into lampshades, bird baths and other artistic projects or DIY solutions.
Bowls make our lives better, easier, more beautiful. And, for the past two decades, they have also been saving lives.
In the early '90s, with Bloomfield Hills Schools' annual food drive in Michigan falling short of expectations, art teacher John Hartom and his wife, Lisa Blackburn, brainstormed ways to make up for the shortfall. Hartom challenged his students to make ceramic bowls, which were then used as serving pieces for a fundraising meal of soup and bread.
"At the conclusion of the meal, Lisa and I shared with the participants information about hunger in our community, thanked each person for their cash donation and asked each of them to keep the empty bowl they had selected as a reminder of all the empty bowls in the world," Hartom says.
"Silence fell over the room as everyone immediately felt the power of their bowl as a metaphor for hunger in the world. Tears were evident on many faces. Bowls were clutched to chests. The arts had, as is often the case, served in a powerful way to transform."
The next year, Hartom and other participants developed the concept into the Empty Bowls project, which then spread to other communities around the world — including several here in Arizona.
For the past 23 years, members and friends of the Sonoran Arts League have been creating ceramic and glass bowls, culminating in an art auction and bowl sale with all proceeds benefitting Foothills Food Bank and its dedication to assisting the community's food insecure.
"I love this event because it is not only supporting our food bank, but it is also bringing awareness to the arts in our community — which are so important to the identity of Cave Creek and Carefree," says Lauren Cobb, community engagement and events manager for Foothills Food Bank. "Our Empty Bowls Project represents two nonprofit organizations working together toward one goal. And that is really something really special."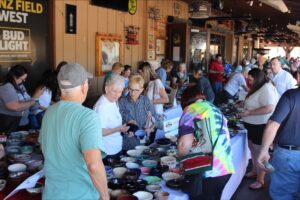 Set for Saturday, Oct. 14 at Sanderson Lincoln Pavilion in Carefree, this year's Foothills Food Bank Empty Bowls Project event will feature a chef's competition, arts demonstrations, a wine garden, music and food.
"And, of course, the bowls are the stars of the show," says Cobb, noting that this year's event also serves as a kickoff to a new era for the food bank, which is breaking ground Thursday, Oct. 5 on a brand-new facility located near 41st Street on Carefree Highway.
"Our current location is about 7,000 square feet. The new building will be closer to 15,000 square feet, with about 3,000 square feet allocated as space for a water treatment plant. We will be doubling our refrigeration and freezer capacity, giving us the ability to store pallets. It will also allow us to safely intake delivery trucks and get them back out on the road."
The new facility currently has a completion and grand opening estimate for the fourth quarter of 2024.
"What truly makes our Empty Bowls Project unique is the community involvement," Cobb adds. "We have not only partnered with the Sonoran Arts League but also Paradise Valley Community College's ceramics department as well as the Arizona Woodturners Association, which will both be donating beautiful bowls to our event.
"All of the bowls can be eaten out of, but we have many people who come and say that they use them for all sorts of things. The bowls come in all shapes and sizes. Some are more like saucers, while others are more like vases. There really is something for everybody, and my goal is to end up with no bowls left over."
Empty Bowls Project
Saturday, Oct. 14 // 2–6 p.m. // Lincoln Sanderson Pavilion // 101 Easy St., Carefree // Free // foothillsfoodbank.com // sonoranartsleague.org