Writer Shannon Severson
Photography by Carl Schultz and Alex Laliberte
[dropcap]I[/dropcap]n the furthest reaches of Northeast Cave Creek, between Bartlett Lake and the entrance to Tonto National Forest, stands Raven's View Wine Bar. The interior is illuminated by floor-to-ceiling windows that afford views of the Desert Mountain Outlaw Course and multiple mountain peaks in the distance.
One would never know that the big city was just down the road — and that's exactly how owner Kymberly Westhoff would have it.
"It's an oasis," Westhoff says, "a watering hole in the middle of the desert. It's 7–10 degrees cooler than the Valley in the summer months. In the winter, we get a good amount of snow."
It's not just the 3,400-foot elevation and proximity to the wide-open wilderness that make this spot a popular gathering place; it's the environment that Westhoff and her friendly staff have purposely cultivated — a blend of inventive food, delicious drinks and live music.
Cultivating a Dream
The spirit and style of Raven's View Wine Bar is something that Westhoff had dreamed of creating during her many years working in the restaurant industry.
"I started bussing tables at the age of 13," Westhoff recalls of her years growing up in a small logging and dairy farming town in Washington state. "My goal always was to own my own restaurant. I thought about it and planned it for 26 years."
When Westhoff and her husband, Steve, spotted Raven's View Wine Bar, she knew that it was the type of place she would like to make her own. They kept an eye on it and noticed when the original owners threw out a line on social media about wanting to sell. The two parties met and Westhoff's previous experience running multiple restaurants during her career helped seal the deal.
"I always wanted to have a beautiful restaurant with fresh flowers and a really customer-service oriented environment," Westhoff says. "We know our guests by name, we have live music and a lovely, casual atmosphere where you're not in a rush. I want everyone to feel welcome, whether you drive up on your dirt bike or in your luxury car."
Westhoff took ownership of Raven's View Wine Bar in March 2018. She added some personal touches along with more tables and an expanded menu with a focus on fresh, made-from-scratch food.
"Our signature specialty is our French onion soup," Westhoff says. "I wanted an eclectic menu. Along with the soup, we serve items like hand-rolled meatballs, panini, tuna tartare and poke bowls."
The bar, which features more than 60 wines and 22 types of beer, opens to an inviting, dog-friendly patio where guests can sit, sip and enjoy the view. Menu items like cheese and charcuterie boards and other house-made noshes are designed for sharing amongst friends.
Packs of cyclists and off-road driving buddies, couples on date nights and ladies who lunch all find a friendly spot to perch at Raven's View — and they return again and again.
"It's classy and upscale without being pretentious," Westhoff says. "Wear your dusty cowboy boots or your Louis Vuittons. I have customers who drive from Mesa and Queen Creek all the time. Once they know we're here, they keep coming back."
Big things are in store for the charming outpost. Westhoff is about to embark on a major remodel of Raven's View Wine Bar kitchen and a reconfiguration of its outdoor space. She'll also add more parking. Westhoff then plans to inject even more creativity into the menu, possibly even adding brunch service on weekends.
Westhoff says the live music scene in the area has brought a steady stream of talent to her venue on Thursday, Friday and Saturday nights. Customer response has been extremely enthusiastic.
"In my mind, Cave Creek is really quickly becoming this mini Austin or Nashville," she says. "There are very few venues without live music. With tourism being high in the area, people really enjoy it. We have really great local musicians."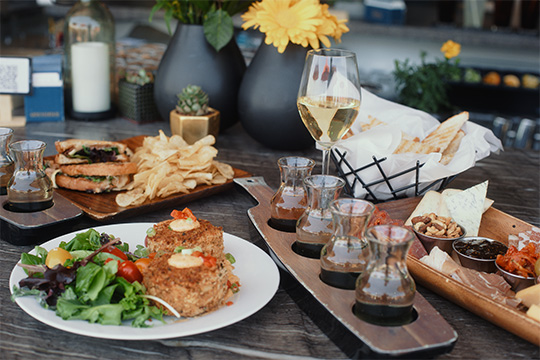 Perfect Timing
In spite of her current success, Westhoff acknowledges that there were many years that she felt frustrated at how long it was taking to achieve her goal. The mother of three adult children and grandmother of one now reflects positively upon her path.
"I had little kids during all those years when I felt so frustrated about not having a place of my own," she explains. "I now know that I couldn't have done it back then. This was the right time. You can have it all, just not at the same time. You're only human and timing is everything."
Of course, 2020 delivered yet another challenge in the form of the COVID-19 pandemic. However, Westhoff and her team faced it head-on. Together, they learned how to efficiently execute Raven's View Wine Bar's to-go menu and, after about a week or two of being unable to host guests inside the restaurant, a trend emerged.
"It was like a parking lot party every day," Westhoff says. "People would bring their own chairs, order food to go and would sit outside and eat while socially distanced."
When groceries were scarce, Raven's View offered supermarket items, grab-and-go salads and cheese boards. Patrons also took advantage of the opportunity to purchase a bottle or a case of their favorite wine to take home.
"We found a way to make it," Westhoff says. "There was the stress of not knowing the future, but we thrived because we adapted. This community up here is so special and so different. It's full of really wonderful people who have lived here for a long time."
Also in the "long-time" category are several of her staff who have worked at Raven's View Wine Bar for many years. Their familiarity with the customers, menu and wine list really adds to the comfortable, friendly feel of the restaurant.
"I have such a great staff," Westhoff says. "What I didn't realize or anticipate when I bought a restaurant is that I would also gain a family. We truly love each other."
That camaraderie and staying power is palpable when one arrives at this breezy little spot. The cares of the world seem to melt away. The staff is happy to see you and you are happy to be in this relaxing environment with the cool breeze wafting in from the patio.
"I'd like people to come with the spirit and intention of escaping," Westhoff explains. "You've removed yourself from the day, the week, the year. Come out and enjoy beautiful music and wine at your leisure. Meet new friends and visit with ones you already know. We want to take good care of you as our guest."
Raven's View Wine Bar
42016 N. Old Mine Road, Cave Creek | 480-378-3755 | ravensviewwinebaraz.com