Writer Joseph J. Airdo // Photography Courtesy of Historic Route 66 Association of Arizona
[dropcap]W[/dropcap]here else but the small towns located along Historic Route 66 can you eat at a restaurant called Roadkill Cafe, take a selfie in front of a 14-foot-tall tiki head or experience a tollway run by wild donkeys paid with alfalfa blocks?
Nearly 95 years since it was established, the highway still offers one of the greatest summer adventures available.
"Historic Route 66 is just a different experience than a lot of other vacations," says Nikki Seegers, director of operations of Historic Route 66 Association of Arizona. "People are seeking out the nostalgia of a different time in history and also a different pace of life that we no longer see."
Seegers — whose association is dedicated to the preservation, protection and promotion of both the surface and the memories along Arizona's portion of Route 66 — adds that it is surprising what one finds along the historic highway. Whereas there is nothing particularly fun about traveling on I-40, traveling on Historic Route 66 is an incredibly unique experience.
"Historic Route 66 is quirky and off the wall but also very picturesque," Seegers explains. "You just want to look at everything, ask questions and see what is next. You come along all of these different little towns and see all of these neat things instead of just being lulled to sleep by the interstate. You take I-40 to get somewhere. Route 66 is the destination. You are there to drive."
A Historic Start
U.S. Route 66 was established Nov. 11, 1926, with road signs erected the following year. Originally spanning 2,448 miles — from Chicago through Missouri, Kansas, Oklahoma, Texas, New Mexico and Arizona to Santa Monica — it forever changed how Americans traveled and appropriately become our country's most famous highway.
That path, which basically followed the train route across Arizona along the 35th parallel, had originally been established as a wagon road in 1857.
"It was an Indian trade route that later became the route that the railroad took and eventually became the route followed by [the highway]," Seegers explains. "It was not too far south nor too far north so the weather was pretty good."
Prior to the creation of the highway, the small towns located along the route — such as Seligman and Kingman — were very rural and isolated, with only those fortunate enough to be a designated railroad stop claiming much attention from travelers. U.S. Route 66 was a total game-changer.
"After World War II, everyone took to the road, wanting to take their families out and see America," Seegers says. "These roadside attractions, cafes and motels started popping up along U.S. Route 66 to cater to these new traveling Americans. And it really fueled their creativity as to how to get people to stop."
In turn, the tourism industry was born.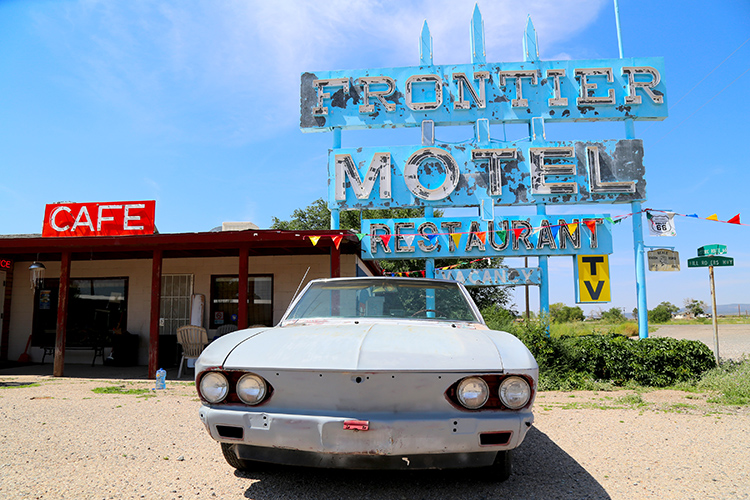 A Brief Pit Stop
Arizona's official state historian Marshall Trimble, whose family moved to Ashfork in 1947, has very fond memories of his time living and working along U.S. Route 66.
"I was 14 years old when I took a job working at a gas station," Trimble says. "I saw a lot of people come through — many of them coming from California and headed wherever — and they were usually not in a very good mood after driving from Barstow to Needles to Kingman to Seligman. I think that by the time they got to Ashfork, they were about ready to kill somebody.
"Our gas was the unbelievably high cost of 34 cents per gallon. In these days, we did not have asphalt lots or anything like that. They would pull up to the gas pumps in a cloud of dust then look at me grumpily and say, '34 cents per gallon? Is this a stick-up, kid?' As if I was setting the oil prices when I was 14 years old."
"Sometimes, they would just peel out of the lot and head east toward Williams. I got a secret joy because, when they got to Williams, gas was about 38 cents per gallon. And if they did not like it there, they could continue into Flagstaff where it was 47 cents per gallon. Then they wished they were back in Ashfork, filing their tank."
Trimble acknowledges that even he did not know the significance the highway would eventually have in the history and culture of Arizona and all of America. However, his affinity for it led him to select 66 as the number of his basketball jersey while in junior high school.
A Sudden Sharp Turn
Those who lived and did business along U.S. Route 66 became prosperous as a result of the growing popularity of the highway. Therefore, when news arrived that their towns would be bypassed by the new Interstate Highway System — developed from a proposal by President Dwight D. Eisenhower in 1953 — they were completely devastated.
Williams became the last town bypassed by the newly built I-40 in 1984 and U.S. Route 66 was officially decommissioned the following year. All signage was then taken down and the highway was completely removed from maps.
Seegers says that the suddenly defunct highway went from one day seeing tons of traffic to the next day seeing nothing but tumbleweeds.
"There is this famous photo of Angel Delgadillo and his brother Juan who, on the day U.S. Route 66 was decommissioned, put folding lawn chairs in the middle of the road and just sat there with not a car passing by," Seegers says. "Everybody wanted to use the new road so these small towns and mom and pop businesses died."
Delgadillo — the owner of a barbershop and pool hall in Seligman — refused to allow his town and business to remain bypassed.
"Angel really wanted to come up with a way to get people back into these small towns so that they would not have to leave and relocate to larger cities," Seegers says. "So he started talking about creating a group that could help promote Route 66 as a historic highway."
After having met many travelers who were excited to see the old highway and experience the different pace of life in the small towns located along it, Delgadillo called a meeting Feb. 18, 1987, at Seligman's Copper Cart restaurant. Fifteen people attended and that day formed the Historic Route 66 Association of Arizona.
The group then began tirelessly lobbying Arizona and its various county boards of supervisors until the state finally christened the portion of former U.S. Route 66 from Seligman to Kingman as Historic Route 66.
An Epic Road Trip
Additional portions of the former U.S. Route 66 that passed through Illinois, Missouri, New Mexico and right here in Arizona have since been communally designated a National Scenic Byway. This prompted not only the road's return to maps but also the creation of its iconic status — especially among foreign travelers who Seegers says helped to make 2019 the historic highway's best year for tourism to date.
Travel writer Roger Naylor believes that Historic Route 66's notoriety is due, in part, to the fact that it represents the very best of America.
"It symbolizes a sense of freedom and the spirit of adventure," says Naylor, who pens the Historic Route 66 Association of Arizona's quarterly newsletter, authored the book "Arizona Kicks on Route 66" and recently debuted a podcast devoted to Historic Route 66 road trips.
"It is where you get off the interstate to connect with small-town America; to find diners, cafes, motor courts and motels; to get away from some of the chains and just experience the mom and pop places; to meet people again."
Many people who travel Historic Route 66 each year have a specific destination in mind. Others find joy in just traveling on the highway and seeing where that takes them. Either way, Historic Route 66 Association of Arizona enhances the experience with a passport in which travelers can collect stamps at stops along the highway and earn a certificate that states they "got their kicks on Route 66."
"Roll your window down and crank the radio up," Naylor says. "Enjoy the road trip for the sake of the road trip. That is the Route 66 experience. Discover the little joys that you find along the way; those moments of scenery and those connections you make with people. It is a way of life that you are afraid may have vanished. But it has not. Bygone days are not gone at all. They just exist along Route 66."