Writer Joseph J. Airdo
Photography Courtesy of David Coleman
[dropcap]T[/dropcap]wo or three times each year, David Coleman and his fellow adventurers head out into the desert to experience a few days completely cut off from the rest of society.
"There is no civilization from one end to the other," Coleman says. "We carry all of our camping goods, all of our food and all of our firewood — everything we need for three days off the grid."
The Anthem resident began embarking on such adventures about two years ago after he and his wife Jeanine purchased a Jeep.
"My wife and I had a little sports car, which was fun, but we both like to travel and see new places," says Coleman, noting that their travel was limited to paved roads. "When we decided to get a Jeep, it was more of a way for us to do day trips and traditional camping trips."
Coleman had owned off-road vehicles throughout his life but was not adept at their full potential until he began researching the seemingly unlimited possibilities available to him. He then organized Anthem Jeep Club — a group of friends who share a love for their Jeeps and outdoor adventures.
"We have a core group of guys who go on trips together," Coleman says. "There are anywhere from four to six of us at any given time. We spend a lot of time mapping things out using off-road mapping apps — waypoints of things we want to see and places we want to camp."
Most trips are small in scope.
"We set up day runs," says Coleman, adding that such trips typically take place once or twice each month. "We meet at a designated location, have a short and simple drivers' meeting and roll out to the trailhead. Once at the trailhead, we air down — which helps with comfortability and traction — and proceed on. Everyone packs drinks and lunch and we stop at nice places in the wilderness to eat and have some nice conversation."
However, other trips — those that only occur a couple of times each year — are far more elaborate, requiring plenty of planning, a lot of preparation and a sense of adventure that is unparalleled.
"There are a lot of things that go into it and a lot of challenges," says Coleman, noting that the spindle on someone's trailer broke during a recent outing, which required a return trip with a flatbed in order to retrieve it. "It is not for everybody — but it can be if you have any adventure in you."
Discover and Explore
These more elaborate trips are a type of self-reliant adventure travel called overlanding. The hobby's origins date back to the early 1900s, when Australia started to establish routes for long-distance travel within the continent. Although initially used as a term for the transportation of livestock to markets on foot, it later became an exciting outdoorsman activity.
Overlanding is still relatively new to the U.S. but has been gaining enormous popularity over the past few years — especially here in Arizona, where there are plenty of remote destinations to discover and explore.
"It is basically about getting out in nature, spending time with good friends and enjoying good food," Coleman explains. "It is about getting some rest and relaxation. It is refreshing. But it is also challenging because you are not sleeping in a hotel. You are sleeping in a tent or on a trailer."
Overlanding is less about the destination than it is the journey, with those who participate in it aspiring to see and learn about the world around them.
"For most, getting out and about — whether it be in a Jeep, utility terrain vehicle or any other type of off-road vehicle — is a way to get away from the everyday grind, hang out with friends, meet some new friends, capture great pictures and memories and just see new places that these vehicles will take you to," Coleman explains.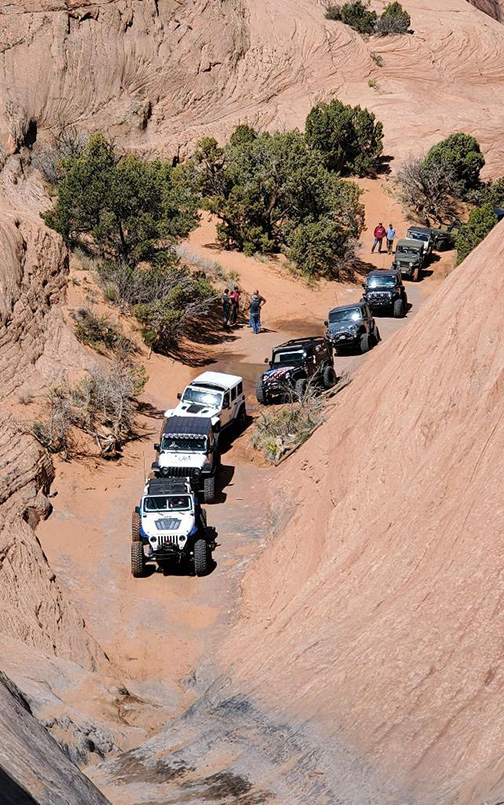 The Untouched Desert
One of Coleman's favorite overlanding trips is the Mojave Road — which begins 10 miles south of Bullhead City and spans 140 miles through the Mojave Desert. First established by Native Americans and used as a footpath for travel, the Mojave Road was eventually transformed into a supply route for wagons, equipment and rail lines heading to California.
However, whereas other routes were later improved and paved, the Mojave Road has experienced very little maintenance or development. Therefore, adventurers like Coleman can not only enjoy the untouched desert but do so on what is essentially the same road that was used more than 150 years ago.
"We do the Mojave Road every year because it is fun and we discover new things every time we go," Coleman says. "It is also a good trip to go on with people who have never gone before."
Speaking of people who have never gone before, Coleman invites newcomers to join him on select excursions as he aspires to introduce others in the community to the joy that he has experienced from the adventurous activity.
"We often post about our trips on Anthem Jeep Club's Facebook page," Coleman says. "Overlanding can be tricky, though. It is kind of hard if you are doing every trip with a bunch of different people. So there are some trips that are just us and there are some on which we invite others. We are working on setting up runs that those who are new to the off-road hobby can go on and learn about their Jeeps and their abilities."
Additionally, Coleman happily makes himself available to anyone and everyone who may be seeking some advice about overlanding and other outdoor adventures.
"I am always willing to help others decide what the options are because what works for some may be totally wrong for the next person," he explains. "It is a learning process. I have certainly spent money going in the wrong direction just to find out it was not right for us."
Into the Blue Yonder
Using his Jeep to bring joy to the community comes naturally to Coleman. For the past two years, the owner of Precise Pest Solutions has organized the Anthem Holiday Light Cruise — an unofficial parade of utility terrain vehicles all decked out for the holidays that travel a 26-mile route through the community each December.
"The kids and families really love it," Coleman says. "Last year, I had almost 20,000 lights on my Jeep."
Community — bringing it together and benefitting it — is very much at the forefront of Coleman's mind. He is especially keen on finding ways to turn his outdoor adventures into opportunities for charity and goodwill.
A recent Anthem Jeep Club trip to Crown King using the backroads behind Lake Pleasant was transformed into a toy drive during which participants donated 40 brand-new boxes of Lego sets for Phoenix Children's Hospital.
Coleman's calling into the wild is primarily motivated by adventure, though; becoming one with the world around him and reaping the rewards of history, wildlife, culture, scenery and self-sufficiency.
However, he emphasizes the utmost importance of proper preparation. To maximize the fun and safety of each trip, Coleman and his fellow adventurers organize several meetings prior to departure.
"There has got to be a plan," he notes. "You cannot just head off into the blue yonder without one."