Writer Shannon Severson
Photography by Mariel Schmitt Photography
[dropcap]F[/dropcap]or furniture maker Todd Flaming, each piece of wood that enters his shop is full of potential— a puzzle piece designated to be honed and formed into something beautiful and functional.
"I feel like this is a partnership between me and a piece of wood and we are trying to see what it will become together," Flaming says. "I change things as I go, moving pieces around. Every piece has a fingerprint. The next one will never be like this. Every piece is a journey I've taken with the wood."
The Anthem resident's professional background is in creative direction, brand strategy, graphic design and church ministry.
"With digital design and marketing, it's abstract, ephemeral," he says. "Woodworking is creating something with what feels like a very unclear deliverable as opposed to something that is endlessly duplicated. Even if I decided to built it twice, it's never the same because I'm never going to get that same piece of wood again."
In his original career, Flaming has spent many years formulating representations of other people's ideas.
"I'm used to having conversations about people's visions and then bringing it to life," he explains. "The clients I work with know they can find cheaper products, but they know there's a difference. This isn't furniture you put together yourself with a hex wrench. I'm never going to get where IKEA and Walmart are, but I don't want to."
Flaming is also a skilled musician and singer — the electric guitar being his instrument of choice. It took the work lull of the COVID-19 pandemic and the support of his family to finally pursue his self-taught hobby as a small business.
T-Flame Design focuses on custom and semi-custom furniture with mid-century modern flair, though Flaming insists that he doesn't want to evoke any particular time period. Each piece is hand-built with extreme care and attention to detail. After all, a musician and graphic designer knows the importance of adjusting even the smallest elements.
Knock on Wood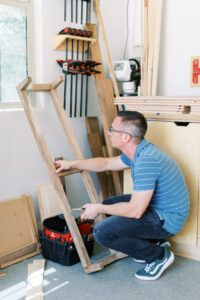 The father of two first came to his craft through a bit of happenstance.
"Getting into furniture making was an organic process," Flaming explains. "We had friends who were moving to California and into a smaller place. He had a shed with his dad's tools and knew I liked doing stuff around the house, so he gave me the tools — a miter saw and a table saw. I downloaded plans for a coffee table off of the internet and made some modifications. I had no idea what I was doing."
As time went on, he amassed quite the array of tools in his garage and was making items for his family. He wanted to do more, but space was at a premium. Three years ago, the family moved and intentionally bought a home with a third car garage that now serves as Flaming's shop.
"My deal with my wife, Lisa, was that we would buy tools instead of furniture and I would build the furniture," he says. "I still have a very long to-do list. Making furniture for others has slowed it down a bit."
Flaming primarily uses walnut, but has also built creations with white oak, hickory, ash, cherry and birch. Sourcing can be tough, so when he can get his hands on a nice piece of wood, he jumps at the chance.
Demand for his pieces has been steadily growing.
"I started posting photos on social media as just showing my hobby," he says. "People would joke and say, 'When are you open for business? I'll pay money for it!' Somewhere in 2020, I started to take it seriously. I made a bunch of furniture for an office where I was working — desks and work tables with integrated charging stations, a solid oak counter-height table that weighed several hundred pounds and had to be assembled in place.
"People started wanting me to build stuff and a few trends started picking up. My signature style is kind of mid-century modern; it's functional, clean, geometric — something that looks simple from a distance but has a lot of little details and bevels that are more complicated."
His first sale was a console table for his neighbor. It was also the launch of his Irene collection — a series that includes a coffee, a console and a side table in dark or light wood that make a splash as a coordinated set.
Irene isn't named for a friend or family member as one might expect. Flaming is a fan of science-fiction movies and decided he'd like to create multiple lines over time, each named after characters he considers good but lesser-known in their genre. With its more feminine profile, Irene is named for a character played by Uma Thurman in the 1997 movie "Gattaca."
Hollywood Ending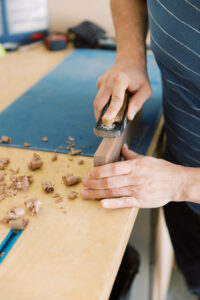 Flaming envisions expanding his lines to create pieces and series that are accessible and appealing to a multitude of tastes. With work booked several months out, he may also need to expand his space for the volume of orders he's receiving.
"I also have a Cole line planned," he reveals. "It's named for Bruce Willis' character in '12 Monkeys.' It's a beefier design. I want my work to look relatively clean, not trendy or calling too much attention to itself.
"When you look closely, you'll find a bevel on a leg or a radius that wasn't necessary. I like to profile the bottom of a tabletop, varying the edges. I like to orient the grain of the wood just right. Sometimes you're hiding it and sometimes you're bringing it out for contrasting purposes. It just depends on the project."
While the Irene line and potential upcoming Cole series are the signature of T-Flame Design, he's still doing a lot of custom work for clients — from freestanding furniture to built-ins that give any home or office a more refined look.
It's quality that doesn't come cheap. But Flaming's clients are looking for quality pieces to fine-tune their living or work spaces. Increasingly, living and work spaces are becoming one and the same. Flaming enjoys helping people customize rooms to fit their lifestyles, work habits, personal collections and hobbies.
"I have always been equal parts organized and creative," he says. "I really like crafting a custom, one-off piece, but I also like iterating on a design and making it better and more streamlined. I try to help clients balance form and function. If form takes over, you get something a little too expressive that can get weird. If it's too functional, then you lose the beauty and uniqueness of the piece. There's an important balance to find."
Flaming's ideal future is filled with opportunities to design and build his own vision and make custom pieces his clients are proud to own, use and pass down through the generations.
"The bespoke details are one of the things I like most about what I am doing, " he says. "I want to build something that people can give to their grandkids, and their grandkids will still want it because there's a timeless quality to it."