Writer Shannon Severson
Photography Courtesy of Mediterra Bakehouse
[dropcap]A[/dropcap]mber waves of grain aren't generally associated with our desert state, but Mediterra Bakehouse founder Nick Ambeliotis is changing that. His handcrafted, artisanal breads are made from grain that is grown and milled here in Arizona using traditional methods that preserve the nutritional integrity of his high-quality ingredients.
"People want to know what they're eating today," Ambeliotis says. "We watch every aspect of what we are doing, starting with the wheat berry. We know where everything comes from."
While he may not have been formally trained at a culinary school, Ambeliotis came by his knowledge of ingredients and methods through family relationships and years of working with international food suppliers.
"I always loved baking," he says. "My parents baked at home. My grandmother lived with us and she baked every week. I would hang around and learn from her."
After college, Ambeliotis joined the family business — a grocery store owned by his father. Years before there was any such thing as a "foodie," he was seeking out unusual ingredients from around the world that would set their store apart.
"It became something like a Whole Foods in the early 80s, long before there was a Whole Foods," he explains. "At the time, there were baking seminars offered by culinary stores on the weekends. I went to every class and within two or three years, I was teaching them. I had developed my own starter and was baking out of a supermarket."
When his family sold the grocery business, Ambeliotis went to work for a small importing company. His business travels throughout Europe were full of discoveries: the best cheeses, pasta, olives, olive oil and charcuterie.
In Paris, Ambeliotis went to the boulangeries and patisseries, knowing it was in his blood to bake. He tasted bread made in the French tradition using levain — a sourdough-type starter — instead of commercial yeast and this became the basis for his future as a baker. He now uses six different starters and 20 different bread recipes to bake 7,500 loaves, baguettes, rolls, boules and batards each day.
Ten Pounds of Starter and a Dream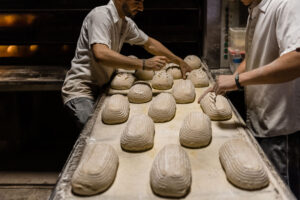 When Ambeliotis left the import business to pursue baking, he decided to remain in Pittsburgh — his old sales territory. He began with 10 pounds of sourdough starter from famed Parisian baker Gerard Mulot, along with quite a bit of equipment from Paris.
In 2002, Ambeliotis opened the doors of Mediterra Bakehouse in Pittsburgh — where it continues to thrive alongside two acclaimed Mediterra Café locations.
"People told me I was crazy," he says. "At the time, there were no artisan bakeries. We were doing levain and sprouted grain breads and it was a learning curve for me and my customers. We grew slowly and began selling at Whole Foods regionally. Now, we are up and down the whole east coast, New Jersey to Georgia and Alabama and in Ohio, Kentucky, Michigan, Tennessee and the Carolinas."
There was no influx of capital or private equity; Mediterra was family-funded. Ambeliotis grew his dream one customer and one glowing review at a time.
Family is still the heart of the business. Ambeliotis' four children are his business partners while his daughter-in-law operates the pastry business in Pittsburgh and his nephew, Constantine "Dino" Koulouris, is his partner and bakery operator at Mediterra Bakehouse's Coolidge facility.
So how did Mediterra — and Ambeliotis — migrate West? It was a bit of divine intervention that began with a 2011 trip to visit a Greek Orthodox Monastery in Florence.
"When I got off the plane, I immediately fell in love with Arizona," Ambeliotis explains. "Driving through the desert was very surreal. When I arrived at the monastery and spoke with the abbot, he said I should open a bakery in Phoenix. I said, 'Why? I already own one in Pittsburgh' and he said, 'Because you love Arizona.'"
One year later, Ambeliotis was making it happen. He bought a building in Coolidge and retrofitted it to mimic the baking processes in Pittsburgh, even installing water systems to make the water the same and a machine that creates a humid environment in the bakery. He commutes to the bakery from his home in Phoenix every day that he's not making sales calls in the Valley.
"I literally just started baking bread," Ambeliotis says. "I didn't know anyone at all in Arizona. I started knocking on doors and it has really blossomed into an amazing business and it continues to grow."
Grain by Grain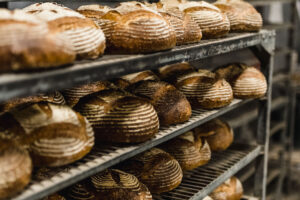 Mediterra Bakehouse's success isn't magic. It's diligent quality control, right down to the source.
"I was driving to work every day and would see field after field of alfalfa and cotton," Ambeliotis says. "I met a farmer and said, 'When you get tired of selling cotton for 8 cents a pound, you can grow heritage grain for me for 35 cents a pound. It took about 18 months of study and planting, but we harvested our first crop in 2013."
Mediterra has 100 acres of grain, including organic heritage Red Fife, White Sonoran, heritage Durum Blue Beard and purple barley. It is specially milled on a stone mill imported from Austria. When they use flour from other sources, it is organic, non-GMO, unbleached and unbromated.
"We mill and bake often on the same day," Ambeliotis says. "My whole goal was to be able to make our bread cross every socio-economic class. We are growing, milling, baking and selling a loaf for $5. We can do this because we control the entire process."
While Ambeliotis hopes to someday open a brick-and-mortar retail outlet in the Phoenix area, his bread can be found across Arizona at AJ's Fine Foods, Whole Foods, Luci's Healthy Marketplace, La Grand Orange and Divine Bakery in Cave Creek as well as local farmers markets.
Customer favorites include chocolate cherry bread made with French chocolate and Michigan dried cherries, cranberry pecan bread, San Francisco-style sourdough, whole wheat heritage grain, marble rye and sunny flax — a Keto diet-friendly variety. It's all done the slow way without any shortcuts and Ambeliotis takes pride in that fact.
"Nothing comes easy," he says. "It's been a great ride and we're still on it. People leave us great comments every day. They love that we grow our own grain, that the bread is slow-fermented and that we do everything by hand. They can taste it in the bread and they love it."