Writer Joseph J. Airdo // Photography by Nicole Walker and Courtesy of Stephanie Deleon
Stephanie Deleon was 12 years old when she saw a poster promoting a local pageant on the wall of her piano studio in Sierra Vista. An avid pianist, she entered the pageant at the encouragement of her mother, who said she was already prepared for the talent portion and may as well give it a shot.
Over the next several years, Deleon accumulated a number of titles — including Cochise County Cinderella Miss, Virginia State Cinderella Teen, Cochise County's Outstanding Teen, Miss Sierra Vista, Miss Estrella Mountains and Miss Maricopa County.
Although her first experience was with a different pageant system, she was always eager to enter the Miss America system, inspired by its emphasis on community service and making a difference in the lives of those around you. Deleon knew all too well the importance of having a positive impact on others.
"You never know what someone is going through," Deleon says. "So I think that it is very important to always be a light for people and to be a helping hand to those who need it the most."
The same year that Deleon had first spotted the pageant poster on the wall of her piano studio, she lost her 16-year-old cousin to suicide.
"I was 12 years old when he died," Deleon says. "But I did not know his cause of death until a few years later. And that was a very eye-opening experience. Justin was a super-driven, involved, intelligent human being. It was a big shock to my family because, on the outside, he was so happy and loved by everyone. We had no idea that he was going through a lot of internal battles."
Since then, Deleon has dedicated her pageant platforms to educating others about suicide and mental illness with the hope that she can help save the life of someone who, like Justin, may be suffering in silence. That is especially true of her reign as the current Miss Scottsdale.
Day by Day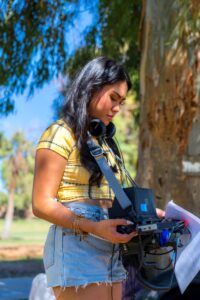 The 22-year-old Tempe resident is studying film and media production as well as psychology at Arizona State University.
"I have always wanted to come into filmmaking with a purpose," Deleon says. "I made my first mental health-related film at a state convention when I was 17 years old. Since then, every project that I have completed throughout college has been about mental health and illness in some capacity."
Deleon considers her greatest accomplishment to date to be her senior film — "Day by Day" which showcases the reality of many individuals with an externally perfect life, but internal, ongoing mental health struggles. The movie's message is simple: One cannot change the past, nor predict the future. So when it comes to mental health, it is crucial to focus on the present and manage the craziness of life day by day.
"It tells the story of a day in the life of an active, well-rounded high school senior in the 90s who has a great support system in her family, friends and boyfriend but unknowingly lives with anxiety and anorexia," she explains. "It is about her journey to self-acceptance in a time where [mental health and illness] was not nearly as normalized or talked about as it is today."
Deleon acknowledges that while there has been much improvement in society's willingness to discuss such subjects, there is still a stigma attached to them — especially suicide.
"Talking about suicide does not encourage it," she explains. "It only jump-starts that conversation that needs to be had and could possibly help provide the resources that people need."
Moreover, after having lost her cousin to suicide, Deleon believes that those conversations can and should start at a young age.
"I did my very first talk directly about mental health and illness in 2017 to a local Boy Scout troop," she says. "I have been so lucky to talk directly about depression and suicide through presentations at elementary and middle schools. Of course, I vary the intensity so it is a very safe process, but it is important to let [children and teens] know that their emotions are valid and that they do not just grow out of whatever it is that they may be feeling."
Determined to Make a Difference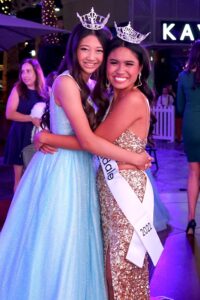 Deleon's social impact initiative during her current run for Miss America — For a Brighter Day — is centered around depression and suicide prevention. Previously referred to as platforms, social impact initiatives have in recent years become a much more prominent part of the Miss America competition and its preliminaries.
Since its inception in 1921, the historical and social significance of Miss America has evolved from a boardwalk beauty pageant to the world's largest provider of scholarship assistance for young women, awarding more than $45 million each year. Before one can compete to become Miss America, one must first win a title at the state level.
The Miss Valley of the Sun Scholarship Organization is an official local preliminary to the Miss Arizona and Miss Arizona's Outstanding Teen competition. The organization crowns title-holders for Phoenix, North Phoenix, Scottsdale, Glendale and — beginning this year — Anthem and Cave Creek.
Crowned Miss Scottsdale, Deleon would, of course, love to win the title of Miss Arizona this summer and advance to the national Miss America competition. However, she first intends to make the most out of her local title.
"Obviously, no one needs a title to make a difference in their community," she says. "But it has certainly helped significantly. I am so grateful to be part of this organization because it really jump-starts the networking that you can do."
Deleon is eager to connect with local businesses and organizations and find out how she can help them promote the work that they are doing within the community. She is especially enthusiastic about supporting the people who make the community what it is.
"I have also realized the value of virtual impact," says Deleon, noting that the COVID-19 pandemic encouraged everyone to think outside of the box on how we can connect with one another. "So I want to release monthly mental health-related short films."
She is also keen on using her knowledge and skills to help her fellow local titleholders promote their own social impact initiatives through the medium of film.
"Sisterhood is so critical in a world where people break each other down," says Deleon, noting that although they are competing against one another for the same title, she and her fellow local titleholders genuinely love and support one another.
You Are Not Alone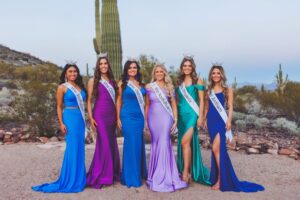 Aspiring to one day be involved in the film industry in some capacity, Deleon is especially interested in working in television because of the medium's ability to show character development and one's journey over time which, in turn, can lead to much more accurate and impactful representations of mental health-related issues.
Having done some work with the National Alliance on Mental Illness, she is also interested in creating a nonprofit that will provide people with much-needed resources about mental health and illness.
Most importantly, Deleon adds that those who look at her and think that she could not possibly understand the thoughts and feelings that are plaguing them may be surprised to learn that even Miss Scottsdale struggles with anxiety.
"Having a title in this organization has not only allowed me to help others, but also learn to put myself first; because I cannot fill other people's cups if mine is not full," she says. "This has provided me a purpose outside of my own and helped me realize not only the potential that I have to help other people, but also the potential that I have within myself."
And to those who may need to hear it, Deleon offers the following words of very loving wisdom:
"As cliche as it sounds, you are not alone in your battle," she says. "You may see other people doing great things but you are not less than because you are not doing the same things. You are just as important to your family, to your loved ones and to this world as everyone else. Here I am as a living sentiment to the fact that you can be going through so much stuff but are just as important to this world as those around you. You, too, can make a difference to other people. And it matters."