Writer Joseph J. Airdo // Photography Courtesy of Scottsdale Garden Club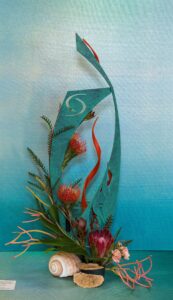 A diorama of young seedlings gathered together for their first-grade class picture. A collection of hats, each featuring a beautiful botanical element. Dainty dried flowers attached to a small segment of a cactus skeleton. A downward flowing cascade of perennials.
These are just some of the sights that can be experienced during a Scottsdale Garden Club show. Held every other spring, the events showcase the best in design and horticulture. Think of it as a Tournament of Roses Parade, albeit on a much smaller scale.
"It is just a great way for our members to show creativity with flowers," says Sharon Davis, chair of this year's show. "And it is a great way for members to express their own creativity and ability to manipulate plant material and make it something that someone really loves to look at."
Scottsdale Garden Club is the only garden club in the greater Phoenix area that currently holds such shows. This year's event — held March 11 and 12 at Mustang Library in Scottsdale — will feature floral design interpretations of movies filmed in Arizona with Southwestern horticulture grown by garden club members from throughout the Valley.
"This year's theme is called 'The Reel Arizona,'" Davis says. "The first class for this year is 'Red River,' which was a movie made in Arizona. Those entries must be a horizontal creative line design with a background and an underlay that displays the particular exhibit.
"The second class is 'Broken Arrow,' which was another movie made in Arizona. The third class is 'Tombstone.' For that one, entrants have to take objects in real life and put them together as a background for whatever you are going to do for a flower display.
"In each class, there are four entries, which are reviewed by a group of Arizona federated judges who come from all over the state. Entrants receive ribbons based on how they judge your display against the criteria for that particular kind of design."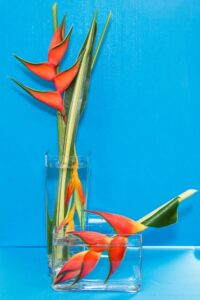 Davis says that participants usually create prototypes of their entries in the weeks leading up to the show. Of course, the real McCoys are not constructed until the day before or the day of the event to ensure that all plant material is as fresh as possible and in absolutely pristine condition.
"Generally, all of the plant material is live — although there are some categories where it can be dried," Davis adds. "If you are using dried plant material, then you can paint it. But if you are using fresh plant material, you cannot alter it in any way."
In addition to single-exhibit displays, there are also table entries, for which participants set up a table as if two people were going to eat at it, making an arrangement that complements the displayed elements. There is also a category called botanical arts, for which participants make hats or wreaths out of living or dried plant materials.
"We also have a youth division," Davis says. "Aurien Preiss chairs that and works with a couple of different schools in Scottsdale. It is a big job to recruit teachers and go into the classrooms to help the students prepare their entries. I think that it is just great to see these kids work with plants. The whole object of that division is really to get the next generation interested in nature and plants.
"There is also a horticulture division, for which all entries have to have been grown by the individual entering it. That goes from roses to perennials and even citrus — which is a very big category here, of course, because so many people have citrus trees in their own backyard."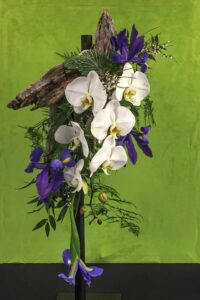 Davis, who is also the president of the Arizona Federation of Garden Clubs, moved to Scottsdale seven years ago and, being an avid gardener, immediately joined Scottsdale Garden Club. She also participates in a show on the east coast, where she spends each summer, and is eagerly anticipating its event, "Eureka!" themed around inventions.
"When I was president of that club, I did a survey of members and discovered that one-third of the club was interested in floral design, one-third of the club was interested in horticulture and one-third of the club was interested in both," she notes. "So there is this very strong crossover between horticulture and design."
However, she believes that people are especially interested in the Scottsdale Garden Club because of its emphasis on the design element.
"That is not true of some other garden clubs in the Valley," explains Davis, noting that Tucson, Yuma, Sedona and Kingman also have garden clubs with a strong emphasis on design. "We are a relatively small garden club. We only have about 45 members. We meet once a month at the McCormick Ranch Golf Club. We have lunch and hear from a guest speaker who presents a topic related to flowers or horticulture."
At the end of the day, Davis says that the primary purpose of federated garden clubs is education-based.
"We sponsor courses in which people can become consultants in landscape design, horticulture or gardening," she concludes. "If you are a member of a federated garden club, you are allowed to take those national courses. So education is a big part of what we do; but we also just enjoy growing and working with flowers."
Scottsdale Garden Club Show
March 11 and 12 // See website for hours // Mustang Library // 10101 N. 90th St., Scottsdale // Free // scottsdalegc.org