Writer Joseph J. Airdo // Photography Courtesy of Mesa Community College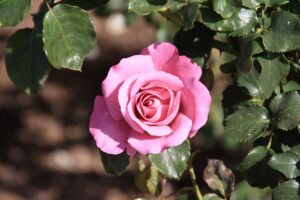 Arizona is known for many things — the Grand Canyon, the red rocks of Sedona and the statuesque saguaro being among the most notable. However, did you know that the state also serves as a producer of more than two-thirds of the country's rose bushes?
"In today's world, about 65% of the roses sold in the U.S. are grown right here in Arizona," says landscape architect LeRoy Brady. "They are shipped to different suppliers — including rose cooperatives in Texas, where they are further processed and sent out to the rest of the country."
Brady adds that Arizona's flourishing rose industry stretches back to the 1930s, when about a half dozen rose growers populated the west side of the Valley, where Loop 303 and Luke Air Force Base exist today.
In fact, Arizona is also home to the largest rose garden in the Southwest — a public space at Mesa Community College that is open year-round as a living laboratory and a place of beauty that celebrates the rose as a national floral emblem; promotes education and community involvement; attracts cultural events; and provides a resource for partnership, volunteerism and the testing of new roses.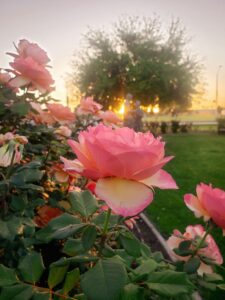 History & Phases
"In 1997, Mesa Community College was wanting to do some things with the campus to make it more pronounced," Brady says. "One of the ideas was to plant roses on the campus."
As a member of the Mesa-East Valley Rose Society, Brady worked with former Mesa United Way president and CEO Milton Lee and Mesa contractor Joe Woods to begin work on the project — which by 2000 saw about 4,000 roses planted, making it the largest public rose garden in Arizona and the desert southwest and the only major garden developed since 1974.
After the completion of its first two phases, the rose garden received formal approval from the All-America Rose Selections to become one of 26 test gardens nationwide and was subsequently named one of the top three AARS Test Gardens in the United States, based on its design, maintenance and quality.
In the winter of 2003, work began on the third phase of the project — a veterans rose garden designed to honor past, present and future members who have, are and will serve in the five branches of the United States of America military. The 60 varieties of roses within it all have patriotic names — such as About Face, America, Fourth of July, Peace, Purple Heart, Stars and Stripe and Veterans Honor. 2,000 roses surround our national, state and POW flags along with those of the five service branches.
The fourth and most recent phase of the garden was completed in 2011. It features two heart-shaped beds symbolizing love, two side-by-side beds symbolizing friendship, a large five-petaled bed symbolizing beauty and two circular beds with contrasting roses planted to represent peace.
Today, the rose garden contains nearly 9,000 roses of over 300 varieties to view, admire, smell and enjoy.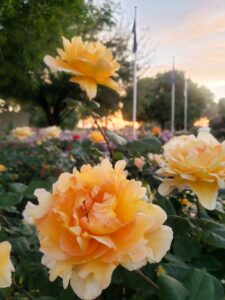 Deadheaders & Pruners
"It has become a really popular place for photographs," Brady says. "Graduating students often get their photographs taken in the rose garden with their caps and gowns and there have even been a number of weddings that have taken place there. We designed it so that it has different areas that create backdrops for those activities."
Brady adds that the rose garden also provides the college's photography, landscape and horticulture students a place to study as well as just an area for all visitors to… well… take time to stop and smell the roses.
"When we started it, it was just a rose garden," Brady says. "But since then, it has become so much more. Mesa Community College has implemented and received the designation of arboretum. Many of the trees in the rose garden were planted as part of Eagle Scout projects. You also have the very artistic pergolas in the bus station and terraces that serve as areas for people to gather."
As he looks back at what he helped create 26 years ago, Brady says that his greatest reward is seeing what the rose garden does for other people — both those who enjoy its serene beauty and those who help to maintain it.
"There are about 150 fairly active volunteers," explains Brady, noting that he has seen countless friendships form at the rose garden among people who would otherwise probably never meet one another. "We even have volunteers who drive all the way over from Buckeye a couple of times each week to do work in the rose garden.
"The garden depends on those volunteers. Once a rose blooms, we have to deadhead it so that it stimulates the rose for a second bloom or does not detract from the rosebush. Each January and February, we have to prune the roses back about a third to a half, setting the stage for blooms in April, May and June."
Life & Beauty
Brady adds that whereas most other states have a relatively brief rose-growing season from June through August, Arizona has two — one in the late spring and another from October through December.
"During the summertime, those roses drop the number of petals and become smaller flowers," he notes. "Those roses are not that pretty during our heat. But during our blooming cycles, they are gorgeous. And rose bushes grown in Arizona at two years old are quite a bit larger than rose bushes grown in Oregon or a number of other states."
And with spring right around the corner, the rose garden at Mesa Community College will soon be a showcase for the life and beauty that is not only possible but thrives in Arizona.