Writer Rebecca L. Rhoades // Photography by Loralei Lazurek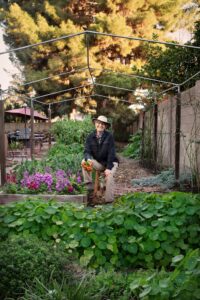 "Flowers are used in food by someone who cares about you, and who cares about the beauty of what you are about to eat," writes Constance Kirker in her book, "Edible Flowers: A Global History."
The addition of edible flowers to a dish can take it from simple to spectacular. Just take a look at the social media pages of some of the Valley's top dining establishments: On FnB's Instagram feed, mouthwatering images of delectable soups, salads, vegetables and deserts pop with colorful accents of vibrant violets, sunny nasturtiums and pretty-in-pink snow pea blossoms.
Latin-influenced eatery Vecina's feed is dominated by photos of sparkling cocktails; their presentation in simple Collins and rocks glasses is elevated with cheery marigolds, ruffled carnations and sprigs of petite dandelions. And on Yelp, customers of Valentine post images of oyster mushrooms topped with pansy petals and breakfast buns sprinkled with dried mini magenta-hued blossoms.
Not just fancy garnishes, these flowers are meant to be part of the meal — something to be appreciated visually and savored with each bite.
"We don't need to eat flowers, but they do provide this jolt of energy, almost like a buzz, that makes a plate of food or a drink come alive with joy," says Emily Heller.
And she should know. Heller, a journalist turned gardener, cultivated all of these beautiful blossoms.
People have been using edible flowers for centuries — for appearance, for medicinal purposes and for flavor. Heller began experimenting with the blooms in the mid-2010s after getting involved in Community Exchange, a program that helps small growers display their products at farmers markets. At the time, she was selling vegetables, herbs and cut flowers.
"I was talking with a regular customer of mine about flowers, and this customer was telling me about nasturtiums — how they're a great flower and they taste so delicious," she recalls. "I had always grown nasturtiums because they're easy to grow and they look great in the garden. So, I started nibbling on the flowers that I had brought to market, and it was just such a cool moment."
Nasturtiums have a sweet yet peppery flavor. They can be stuffed, added to salads, infused in vinegar or alcohol, or even dried and mixed with sea salt for a flavorful finishing salt.
Heller started studying edible flowers — understanding the environmental conditions in the low desert, learning what crops can grow flowers and figuring out which blossoms are edible and also taste good.
"Now, at every market without fail, one of my customers will say, 'I had no idea you could eat those flowers,'" she says. "I love the opportunity to connect with people who want to know about local produce that will make their salads, cupcakes or charcuterie boards beautiful and exciting."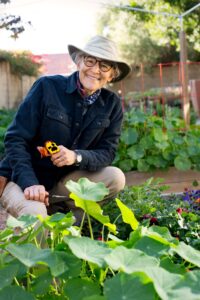 Flavorsome Flora
As the owner of Bene Vivendo — "The Good Life" — Heller cultivates three gardens. Her Tempe home sits on one-third of an acre. Here, in raised beds, she grows crops that need constant oversight.
She also leases farmland in Chandler, where she grows hibiscus. The large tropical heat-tolerant plant is a row crop, growing as tall as 6 to 7 feet. Its blossoms have a tangy, fruity flavor, and they can be eaten plain, mixed into a tea or even candied.
In South Phoenix, Heller has a plot at Spaces of Opportunity, a 19-acre community garden designed to provide local residents with access to healthy, farm-fresh foods.
"Edible flowers make up about 20% of what I grow," Heller notes. "If I were to add in bouquet flowers or decorative florals, then that would probably go up to 65% or 75%."
Herbs and vegetables comprise the remainder of her yield.
"When I grow things, I usually select items that can be listed across multiple categories," Heller explains when asked about what types of edible flowers she cultivates. "For example, I'm growing snow peas right now, and I'm selling the flowers as edible. They're gorgeous — purple and pink and magenta colored.
"The flowers are going out the chefs as well as into the marketplace. I have a restaurant that buys 2 to 3 pounds of dill from me every week. And they just bought 300 snow pea flowers a couple weeks ago."
In addition to nasturtium, hibiscus and snow peas, Heller also grows sweet william, snapdragons, violets and pansies, marigolds, bachelor's button, begonias, carnations, hollyhocks, gladiolas, dandelions and Kiku chrysanthemums. For flowering herbs and veggies, she raises purple basil, dill, mint, artichoke, chicory and pink flowering rosemary.
"Now is a wonderful time for dill," she adds. "It's still young, and it has this lovely fresh sweetness to it. A big workhorse of my summer edible flower business is the hyacinth bean plant. It's a legume flower, and it's fantastic.
"For any culinary herb, any herb you're using for food, the flower also is edible. If you're going to the trouble to make a nice herb garden, use the flowers. Pinch them off and toss them in a salad, or use them as a garnish on top of a tray of roasted vegetables. The flower tastes just like the culinary herb with a mixture of sweet nectar. A flowering herb is a delicious thing, and it offers a fairly straightforward way to begin exploring edible flowers."
Heller sells most of her harvest at Uptown Farmers Market in Phoenix. Some restaurants have standing orders with her, and she's not afraid to reach out to others to let them know about her seasonal bounty.
"I don't try to sell to every restaurant because I'm an army of one," she says. "I have to be kind of choosy about who I connect with in terms of getting my flowers in their kitchens or in their bakeries."
Donald "Hollywood" Hawk runs the James Beard Award-nominated Valentine in Phoenix.
"Whatever Emily has, I buy," he says. While the restaurant doesn't use a lot of flowers in its menu, "we do buy the lablab [hyacinth bean] flowers, and her hibiscus is fantastic. The reason we buy from her is she grows everything, but it's not hydroponically done. Everything is incredibly flavorful, and you can tell the passion that she puts into it."
When it comes to incorporating the flowers into his dishes, Hawk uses a tried-and-true — and simple — method: "We taste them, and then we fit them into wherever that flavor needs to go," he explains. "Some we'll turn into vinegar; others we'll put directly on plates. They definitely can add to the dish."
For Heller, including edible flowers in a meal is a way to let your dining companions that you care about them.
"British chef Jamie Oliver says, 'Garnish your food to show your guests that you appreciate them.' By adding flowers, you're taking that extra step to present your food very beautifully," she points out. "Edible flowers aren't just for big resorts or fancy chefs. You can use them, too. They can be an everyday lovely thing to add to a lot of dishes at home."
Emily Heller's Top 5 Edible Flowers to Plant in March
Hollyhock: This mainstay of country cottage gardens, these impressive stalks covered in glorious infusions of pink, purple, yellow, blue, orange, red and white blossoms can shoot upwards of 8 feet tall, so while they are low maintenance, they do require space to grow. They also attract a variety of pollinators. "The hollyhock produces an almost a satellite dish-type flower. It's big and wide open," Heller says. "It's not especially tasty, but it's a very pretty garnish. I suggest using the flower as a receptacle for a dip or sauce."
Zinnia: These showy blooms are especially attractive, with layers of vibrant petals. They're easy to grow in planters or raised beds, and they thrive in sunny areas. They're also prolific — cut them, and they'll continue to grow back throughout the season. However, the flowers, while edible, are quite bitter in flavor. "This is not a flower that you want to take a chip out of, but it's basically nontoxic and it makes a pretty garnish," Heller notes. Use the entire flower as a decorative element on cakes or add the petals to water and freeze for colorful ice cubes.
Marigold: "There are two categories of marigolds," Heller says. "One that tastes medicinal, and then the other type, which has a spicy, citrusy taste.".The easy-to-care-for, drought-resistant signet marigold, also known as golden or lemon marigold, produces copious bright yellow, orange or paprika-hued flowers. The blooms not only look pretty, but they can be chopped up and used in a manner similar to tarragon. "Signet marigolds are very pleasant and have a little citrus zing," Heller adds.
Basil: One of the most commonly used herbs, basil — in particular, sweet basil — is an integral seasoning in Italian cuisine. But did you know that you can also eat the plants' flowers? The tiny white, pink or purple blossoms have a fragrance similar to the leaves and a slightly bitter taste. Heller grows purple basil in her gardens, but these aromatic ornamentals also look good in pots or window boxes. "You can use your flowers as well as the foliage in your food," Heller says. Add the flowers as a garnish, infuse them in vinegar or olive oil, or brew freshly cut blooms into a tea.
Sunflower: The tall stately plants with the large yellow blooms are beloved for their tasty, healthy seeds that can be eaten as a snack, added to salads and baked goods for some extra crunch, or blended into a creamy paste that's a delicious nut-free alternative to peanut butter. "Sunflowers are kind of bitter, but you can pluck off the petals and sprinkle them in a salad," Heller suggests. "That way, you wouldn't taste much of the bitterness, and the petals would add a gorgeous and exciting pop of color. Plus, sunflowers are so easy to grow here in the Valley. They basically need just full sun and water on a regular basis."