Writer Joseph J. Airdo
Photography Courtesy of Geek Desserts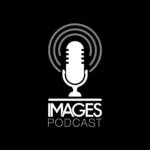 Everyone loves the holiday season but North Valley residents Rebecca Hauger and Mara Hodge may love it more than most. As co-owners and head decorators of Geek Desserts, a home-based bakery offering high-quality and delicious cakes, cookies and more, the duo find that Christmastime provides the perfect opportunity for the creativity to flow out from their mixing bowls.
"We both love Christmas and all of the colors, festivities and love that surround it," Hauger says. "All of that tends to come out in the fun holiday cakes and cookies that everyone orders from us. We love the opportunity near Christmas to do Santa, reindeer, snowmen… anything that comes along. It just lights us up."
Hodge agrees, noting that she and Hauger are simply just "crazy decorators" at heart. And that extends far beyond their baking.
"We also love decorating our house for Christmas," Hodge explains. "We love to get into the spirit of things and I think that really comes through with our cake decorating as well as our house decorating."
Legends in the Baking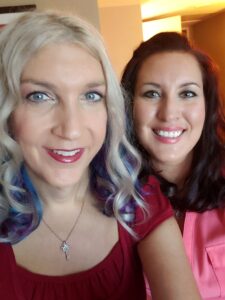 Hodge's journey began at the small bakery that her mother owned in Blanding, Utah.
"I basically took it over and turned it into a custom cake shop," says Hodge who, half Navajo herself, also taught the native children and teenagers of the area about running a successful bakery.
After specializing in chocolates for several years, she opened a bakery in Tullahoma, Tennessee. Shortly thereafter, she began applying to be cast on televised baking competitions.
"It was always a really big goal of mine to make it onto a Food Network show," Hodge says.
And that she did. Being cast on the "Minecraft" episode of "Cake Wars" on the network solidified her interest in baking incredibly creative cakes.
"From that point forward, I just kind of started building my brand," Hodge says.
Meanwhile, Hauger — a software engineer by trade — had been dating a woman who wanted to get into baking custom cakes as a side gig. She bought her a bunch of bakeware but the two eventually broke up and Hauger ended up keeping all of it.
"Several years later, I stumbled across them while I was cleaning out my garage," says Hauger who, picking up a 3D haunted house mold, decided to make use of it and bake a cake for her co-workers at Halloween. "I had so much fun doing it that I started making custom cakes for every holiday at work."
One of Hauger's bosses took notice and suggested that she start a baking business as a side job. Over the next decade, the self-described geek tested the limits of her creativity and engulfed herself in the baking community on social media so that she could learn all of the tricks of the trade and connect with like-minded food artists.
"There is a huge cake community on Facebook," Hauger explains. "There are some real heavy hitters on there. People from over the world come together and make cakes under a certain theme that they all release at the same time."
Upon updating her profile with a picture of herself wearing a Batman bikini that her daughter had taken while on vacation in Puerto Rico, Hauger received a flirtatious direct message from Hodge. The two continued to get to know one another online for a few years before finally meeting in person.
Shortly after they began dating, Hauger received the opportunity to appear as an assistant baker on the monster weddings episode of Food Network's "Halloween Cake Off." And in 2020, Hauger and Hodge were cast together on an episode of the network's "Cakealikes," on which they had to attempt to capture the style of rapper Flavor Flav in cake form.
Reduced to Tiers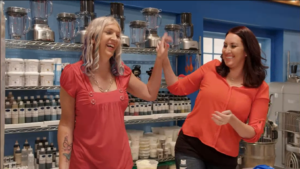 Hodge says that when she and Hauger signed onto "Cakealikes," neither of them had any idea what they were getting themselves into.
"We just knew that it was a cake decorating competition show for a major network," she explains. "We found out on set with the cameras rolling that we had 14 hours to make a life-sized sculpted cake of Flavor Flav — and that he himself was going to be there to judge it."
Hodge adds that the emotions exhibited by competitors on such shows is 100% genuine.
"I have never experienced such a heightened level of anxiety," she says.
Hauger concurs.
"It is exceptionally stressful," she says. "The tears are real. The frustration is real. The anger is real. You are constantly worried that you are going to say something that [the producers] are going to use to embarrass you. You are constantly worried that [the judges] are going to hate what you do or that you are not going to come out as good as the [other competitors]. You are always watching the clock. You never know what is going to go wrong. And you never know where your tools are — which is a real problem."
But, in the end, both bakers agree that the exposure and experience is well worth it.
"It is a lot of fun," Hauger says. "And not too many people can say that they were on TV."
Unafraid to Take Whisks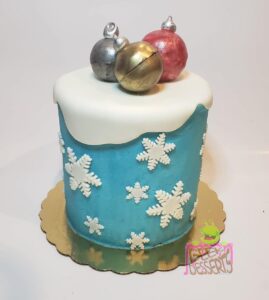 Shortly before being cast on "Cakealikes," Hauger and Hodge started Geek Desserts with the intention of it one day flourishing into a storefront. Rental prices, the COVID-19 pandemic and other factors have prevented them from achieving that goal so far but the pair has seen great success with their home-based bakery.
"We offer crazy custom cakes," Hodge says. "The bigger, the better. Anything from wedding cakes, birthday cakes… any occasion. We are also known for our decorated sugar cookies."
Hauger adds that hot cocoa bombs — spheres of tempered chocolate filled with hot chocolate mix, mini marshmallows, sprinkles and sometimes other sweet surprises — were quite literally "the bomb" for them last holiday season. After all, it was impossible to open TikTok without seeing a video of someone pouring hot milk over the little balls of chocolate decadence, which slowly melt into the perfect holiday beverage.
"Last year, we were the go-to people in the Valley for hot cocoa bombs and we are hoping to be that again this year," Hauger says. "Those are very popular. And they make great stocking stuffers and party gifts."
However, there is absolutely no argument that the duo's custom cakes are the stars of the show.
"We call them centerpiece cakes," Hauger says "They become the talk of the party. People are always amazed when they find out that it is a cake. Then they do not want to cut into it because it looks too real. But it is also going to taste delicious when they do."
Hodge says that she loves the "wow" factor that results when a customer cuts into one of their cakes.
"I was once asked to create a giant cockroach for a 5-year-old," Hodge notes. "That was really disgusting. My largest cake was a four-foot-tall mermaid that I made for a cake competition."
Hauger adds that some of the other cakes that she and Hodge have made include Michael Myers, Pennywise the clown and moneybags with $100 bills falling out of them as well as characters from the video games "Pokemon" and "Fortnite."
"When we are called to do so, we donate cakes through a nonprofit organization called Icing Smiles, which finds local bakers to provide custom cakes for children with terminal illnesses," Hauger says. "That allows us to do some of our crazier cakes."
One Another's Butter Half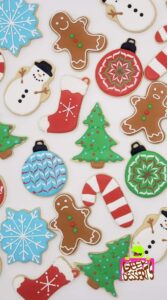 Ultimately, Hauger and Hodge's creations are much more than just cakes. They are true works of three-dimensional sculpted art and innovative architectural design. It just so happens that their art is also edible.
"Most of those cakes require quite a bit of architecture in order to keep them from falling apart," Hauger says. "They have to be a certain density. The type of icing that you use can make or break things. You have to have the proper structure inside of them to keep them stable — especially if you are traveling any amount of distance. And the temperature outside or even inside of the house is going to be a factor as well.
"Then you have got all of the art that goes into it, which is a whole new level of game. But between our artistic skills, Mara's baking background and my engineering background, we are capable of doing pretty much anything."
Hodge agrees and adds that she and Hauger are fortunate to have found one another.
"Rebecca and I are quite opposite but we definitely fill in each other's gaps," says Hodge, describing herself as a closet geek who is slowly learning — through both her baking and Hauger — that it is OK to get weird.