Writer Joseph J. Airdo
There is a reason that "Home for the Holidays" is one of the most popular Christmas songs of all time. Made famous by Perry Como, the song was first published in 1954 with music composed by Robert Allen and lyrics written by Al Stillman — who wrote that "no matter how far away you roam … for the holidays, you can't beat home, sweet home."
That sentiment rang true more than six decades ago and it still does so today. Airports are bustling and freeways are packed this time of the year as people do absolutely whatever it takes to make it home to their families, for that is ultimately where Christmas joy is felt the strongest.
Therefore, it is only natural that we adorn our homes with beautiful trees, wreaths, garlands and other festive furnishings to make the season as merry and bright as possible for our loved ones. If even just for our immediate family with whom we share the same roof year-round, our pets that bring us so much joy day in and day out or simply ourselves, we want our homes to feel warm and cozy at Christmastime.
Of course, we live in Arizona so it is going to feel warm regardless. However, the mood-boosting ambience that holiday decorations achieve is indisputable. Whether sitting on the couch watching Hallmark movies, gathered around the tree opening presents or enjoying one of the best meals of the year at the dinner table, we want our homes to feel like Christmas.
O Tannenbaum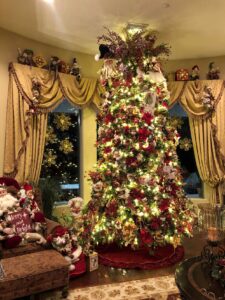 Heather Lundervold had been running a successful flower shop for about 10 years when her clients began asking her to decorate their homes for the holidays. Today, she owns not one but two businesses devoted to helping people deck the halls for the various holidays throughout the year — with the biggest obviously being Christmas.
For the past 21 years through Elves to the Rescue, Lundervold and her holiday helpers have transformed residential and commercial spaces as well as luxury resorts like The Wigwam into absolutely breathtaking winter wonderlands. Meanwhile, Lundervold's Christmas Design Institute provides DIYers and future designers with all of the instruction they need to become elves themselves.
Although there are a lot of ways that we can decorate our homes for the holidays, the one that is by far the most traditional and acts as the centerpiece for all of our celebrations this time of the year is a brightly lit and beautifully embellished Christmas tree. Lundervold says that when selecting a tree, one must first consider the height and width of the area in which they wish to place it.
"You want it to look proportionate to the space that you are putting it in," says Lundervold, adding that most people choose to place their Christmas tree in the corner of the family room. "That way, you are not decorating the back. You just have to decorate the three front sides, which is nice because it saves a little bit of money on decor."
Starting with the lights, Lundervold recommends using LED as opposed to incandescent lights, which tend to have a very limited lifespan. From there, Lundervold suggests selecting a theme for the tree — be it traditional or eccentric — and choosing decorations that adhere to that theme.
"I would start with some ribbon and get a large focal piece, whether that is a large ornament ball, a big snowflake or a flower like a poinsettia," she says. "The keys to a really beautiful tree are depth and dimension."
Once you have done that, personalize your Christmas tree with heirloom ornaments that you still have from yuletides of yesteryear.
"Having those heirloom ornaments and putting those on last will just give that final little touch that you need," Lundervold explains. "But you definitely want to first bring in some other decorator elements that are going to offset the heirloom ornaments."
Speaking of the final touch, Lundervold says that the options for the tree topper are endless and do not necessarily have to be limited to the traditional star or angel. She suggests letting your creativity be your guide.
"If you are wanting a really over-the-top, designer-decorated tree, I put a lot of florals at the top as well as ribbons and bows," she explains. "You want to kind of fill that in and make it all a cohesive visual design."
Mistletoe and Holly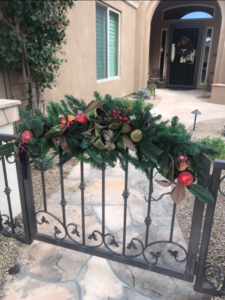 Maureen Connolly moved to Arizona six years ago from Wisconsin, where she owned an interior plant design and maintenance business called Greenworks. One year into her stay here, she began missing the creative end of decorating. She connected with Lundervold and assisted her for a while before starting her own company in Anthem called Christmas Creations.
Connolly says that one of the best ways to spruce up a home for the holidays is with festive greens like wreaths and garlands.
"Very rarely do we work with live [wreaths and garlands] in Arizona," she explains. "In Wisconsin, we used live for everything on the exterior because it stayed forever. I mean you could literally leave it up till April in Wisconsin. But, if you put live greens out here in Arizona, they would be completely dried out in a week and would not look very nice. So, for the most part, we use all artificial in Arizona because of the heat."
Connolly adds that most artificial wreaths are fairly sparse so she suggests wrapping artificial garlands around your wreaths to give them a bigger, richer and fuller look. The same trick works for artificial garlands; simply double them up to discover their full potential.
In the past, it was challenging to add lights to holiday wreaths as they tend to be placed in areas without power sources. However, battery-operated lights are now readily available at all retailers, so Connolly recommends starting there before moving onto other decorative elements.
"Typically, we will use ornaments, ribbons and flowers," says Connolly, noting that heirloom ornaments should be reserved for the Christmas tree as wreaths tend to be placed in high-traffic areas and you would not want to risk something so precious getting damaged.
A more minimalist approach is ideal for holiday garlands — especially if doubled-up per Connolly's recommendation.
"Sometimes just that thick, rich garland with some gorgeous velvet ribbon makes a beautiful statement and you do not need anything else," Connolly says.
Back in Wisconsin, Connolly would hot-glue decorations onto her wreaths and garlands. However, here in Arizona, that adhesive gets soft in the sun so she also wires decorations to the greens in order to prevent them from falling off.
When it comes to wreath placement, Connolly has found that over the fireplace mantel with the stockings hung with care is a very popular choice.
"It is usually the men who want that kind of look because they remember that from their childhood," she explains. "They want that fireplace to be that focal point in the home. The homes that I do here have a lot of large archways so we will garland those. Front entry doors are also very typical for using wreaths and garlands as well as on the front porch and in front entry halls."
Deck the Halls
Joi Prater of Joi Prater Interiors has more than 30 years of experience in the interior design industry. She especially enjoys helping people make their homes aesthetically pleasing at Christmastime as she knows it is an exceptionally special time for everyone — especially those who will be doing some holiday entertaining.
In addition to trees, wreaths and garlands, Prater believes that a beautiful tablescape can really transform a room.
"A tablescape is a decorative display on a dining table," she explains. "Think of it as a creative vignette of collected items on a table or a landscape on your table. Tablescapes are used on dining tables for either a sit-down or buffet-style dinner. It is the centerpiece for the table. It elevates the dining experience for both you and your guests."
Simply start by laying a tablecloth over your table — or layer two tablecloths — then dress it as you would for any formal dinner with dishes, napkins, napkin rings, stemware and silverware. To enhance the look, use chargers — decorative plates — beneath the dishes, which could be white. Just remember to leave the middle of the table empty as that negative space will be the area in which you will create the tablescape.
"You can create a theme by using holiday ornaments," Prater says. "You can use florals, ribbons, fruits, nuts, candles, pine cones… whatever you have. It can be as elaborate or as simple as you want. Start with the taller items and place those in the center of the table. Then take the smaller, shorter items and gradually build those down. It is all about layering and creating dimension. And remember, you can never have enough candles."
Beyond tablescapes, Prater suggests identifying other areas of your home in which you and your guests are likely to congregate and adding some very simple decorative touches to them.
For example, you can take empty boxes of varying heights and sizes, wrap them in holiday paper and ribbon and arrange them in groups and vignettes throughout your home and especially at your front entry.
"You can even add some baskets of ornaments and fresh greens that you get from your local nursery," Prater says. "That kind of sets the stage for a party atmosphere. I always do that every year at my front entry on my patio. It is just a nice way to greet my guests."
Ultimately, the goal is to enhance the holiday experience for you, your family and any guests who may be visiting your home. After all, Christmas only comes once a year so we may as well make our homes feel as festive as possible.
"Something that is really easy to do is to place some sliced apples and cinnamon in a pan of water and keep it simmering on your stove while you are home," Prater says. "As the water goes down in the pan, fill it back up with water and keep it simmering. It just gives that warm and cozy feeling inside."