Immersed in the Iconic Sounds of the Season
Writer Joseph J. Airdo
Photography Courtesy of Arizona Musicfest
Scientists have proven by countless studies over the years that music of all types has a positive impact on one's mood, memory, stress levels and even pain management. Therefore, it is only natural that holiday music has an even more favorable effect on each of those areas.
Fortunately, Arizona has no shortage of opportunities to immerse oneself in the iconic sounds of the holidays, as stages across the state come to life this month with musicians performing the many songs that help to make this the hap-happiest season of all.
"There are so many wonderful community concerts celebrating the holidays," says Allan Naplan, executive and producing director of Arizona Musicfest — which is currently in the midst of its 31st season. "It is our mission to bring distinguished artists [to the Valley]. So when we do a holiday show, it is with a major act."
This year, Arizona Musicfest will bring two such acts to the Valley to help residents ring in the holidays — The Serenad3 and The Rodney Marsalis Philadelphia Big Brass. Ticket sales from both concerts benefit a variety of music education programs in the community.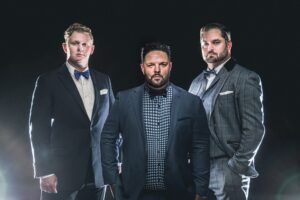 "The Serenad3 is an ensemble that is launching a massive career," Naplan says. "It was started by Fernando Varela, who was on 'America's Got Talent.' He was then discovered by David Foster, the king-maker of pop music with Celine Dion and Josh Groban."
Shortly thereafter, Craig Irvin and Devin Eatmon joined Varela to form The Serenad3. Known for its acclaimed collaborations with Gloria Estefan, Voctave and Pia Toscano, the group quickly became a viral sensation through popular video performances of "Mary Did You Know?," "Carol of the Bells," "O Holy Night" and "Silent Night."
"They will have a very large chamber orchestra behind them on stage," Naplan adds. "[The concert] will also feature William Joseph, who is this massively viral pop pianist from Phoenix."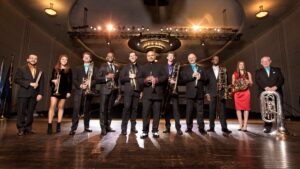 After The Serendad3's Dec. 3 performance at Highlands Church, The Rodney Marsalis Philadelphia Big Brass will take the stage Dec. 10 at Gathering Place at La Casa de Cristo Church for a concert called "A Brassy Christmas."
Born into the first family of American jazz, Rodney Marsalis began trumpet lessons at age six and continued under the tutelage of his cousin, Wynton. Identified early on as a trumpet prodigy, Marsalis has performed as a soloist with orchestras around the world. He later joined forces with ten premier musicians — including trumpet, trombone, French horn and tuba players — to form The Rodney Marsalis Philadelphia Big Brass.
"Brass is such an iconic element of Christmas music," Naplan says. "To fill Casa de Cristo Church with this first-rate ensemble will be really exciting."
Music
The Christmas Serenad3 // Friday, Dec. 3 // 7:30 p.m. // Highlands Church // 9050 E. Pinnacle Peak Road, Scottsdale // $49+ // azmusicfest.org
Music
A Brassy Christmas // Friday, Dec. 10 // 7:30 p.m. // Gathering Place at La Casa de Cristo Church // 6300 E. Bell Road, Scottsdale // $29+ // azmusicfest.org