Writer Shannon Severson
Photography Courtesy of Alexi Rose Productions
[dropcap]C[/dropcap]arlos Marquez and Michael Stone know that when we gather around the table, we share more than just a meal. We also share memories.
The pair built their new Cave Creek restaurant Ofrenda with that concept in mind, serving Pan-Latin cuisine in an environment that evokes artisanship, exquisite attention to detail and the connective roots we all share.
As "ofrenda" translates to "offering" in English, the restaurant's decor features a colorful Day of the Dead-style altar, paying homage to family and heritage. The space itself is alive with vibrant hues and artwork — an atmosphere that welcomes with open arms.
Owners Marquez and Stone may not share a last name, but they say their friendship is akin to being family. At the end of 2019, as Marquez was reimagining a new future for his restaurant, previously known as Indigo Crow, he and Stone began to lay the groundwork for a new joint venture.
"Our friendship comes first," Stone says. "We are completely different human beings, but we're like a family. Ofrenda is an offshoot of that friendship. The concept and brand is derived from the connection we have with each other and with our friends and family. With Carlos' engineering vision and knowledge of food and restaurant operations and my experience in restaurant development, we knew we had the bones of something that could be terrific."
The building blocks of that "something terrific" aren't just found in the steel beams that hold up the roof of this airy eatery. Marquez sanded and polished every single raw-edged rosewood table by hand. Rounded stone plates and bowls both hold the heat of the dishes and serve as a neutral canvas for the bright colors and flavors of each culinary delight.
Overhead, the lighting blooms in bright yellow and orange, the work of a skilled glassblower in Mexico. The bar is lined in barrel staves taken from tequila barrels. The restaurant's distinctive Marigold logo is repeated in art and custom-made medallions on the walls. The medallions were created from cattle hide by Stone's friend — world-renowned luxury designer Kyle Bunting.
"Kyle also did the medallion art piece on our second floor," Stone says. "He's a dear friend of mine and very gracious with his art and craft. What Carlos has done with his handcrafted tables and meticulous nature with which he went about it … our customers notice and see the difference. Everything in the restaurant has been picked for a reason."
Marquez, who is also Ofrenda's executive chef, cannot recall a time when he wasn't working in a kitchen. His mother is a native of Chihuahua, Mexico and emigrated to El Paso, Texas at 6 years old when her chemist father was hired at an American company. He has always enjoyed visiting most of his family across the border and recalls a time when the family could walk across to get all the best ingredients for making Mexican food at home.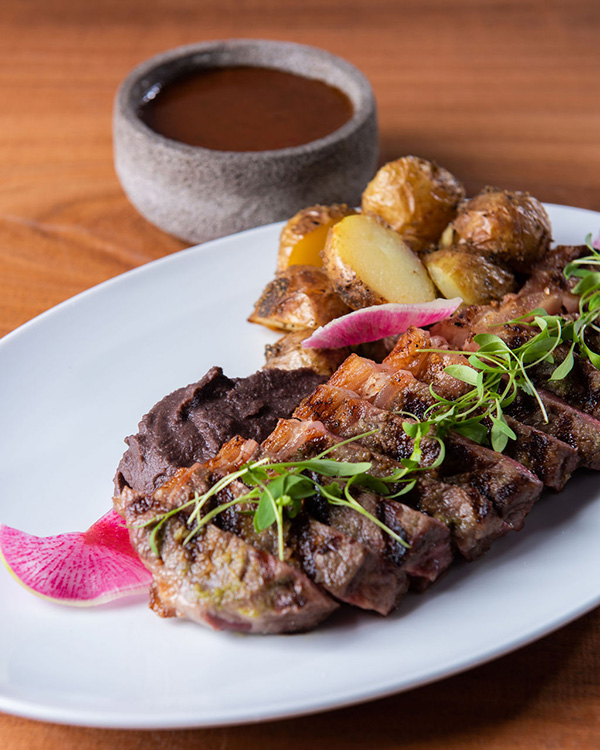 "I've been in the kitchen since I could walk," says Marquez. "Food is such a huge part of my heritage. The kitchen is always the heart of the home. The most important talks about life happen around the kitchen table. I grew up with that and I love the warmth and love of family and friends. And the tequila wasn't bad, either."
Speaking of tequila, most of Ofrenda's 600-plus bottles of tequila are housed in the stunning Agave Library, in a rounded turret on the second floor. The restaurant hosts special tastings and pairing menu events that educate and delight their customers and has a newsletter with information about agave and recipe tips. There is also a little trove of cigars in a specially built, walk-in humidor on the first floor.
With so many areas of the restaurant that can easily be utilized for private events, both indoors and outdoors, Ofrenda lives up to its mission of gathering people to enjoy a meal, a sip and a special occasion — and do it with aplomb.
When Marquez attended culinary school and in his first job as a corporate executive chef, he learned the intricacies of the restaurant business that aren't taught in the classroom. He and Stone have traveled and researched to bring the finest in decor and ingredients.
"It's fun being able to research and mix cultures," Stone says. "I'm German-Irish and I have a love for Mexico. Mexican culture is part of who we are in the Southwest. Our commonality is much deeper than anything."
That cultural mix keeps diners coming back for more of the specialties from the wood-fired oven and grill and deliciously crafted cocktails from the bar — like the signature Marigold made with gin, strawberry, guava, Aperol, lime and Xtabentun, an anise liqueur from Mexico's Yucatán region.
"When you walk through the doors of Ofrenda, you're walking into our home," Marquez says. "Everything on the menu is filled with heart and inspiration. Our whole-tail lobster tacos are something you don't see anywhere. We have a lot of unexpected things that have been very popular. Our fideo gnocchi is made from native mesquite flour, and we serve nopales (cactus) as well as trout, pasta, salmon and an incredibly juicy tomahawk steak."
Chef de cuisine Daniel Masferrer worked hard to create an inventive menu of elevated classics and new selections unique to Ofrenda. His grandmother's traditional Salvadoran style tamales share the stage with a living mole made with apples for a lighter flavor perfect for accompanying fish.
"When Carlos and Michael teamed up, I knew cool changes were coming," Masferrer says. "I was excited to join the Ofrenda team and to have the chance to put my heart and soul into developing the recipes. It's nice to use as many local ingredients as possible. I'm into foraging and I harvest prickly pears, cacti and mesquite pods. We will eventually source all the nopales on the menu ourselves. It makes the menu more personal."
And personal is exactly the goal of Ofrenda. The kitchen team happily accommodates a range of diets and dietary restrictions with many items being naturally gluten-free. The sauces are generally served on the side and the emphasis is on flavor, not overwhelming spice. It's a gathering of flavors and people that will please most any palate.
"Ofrenda is something that stays true to what we want in a restaurant experience," Stone says. "When we say, 'It's a privilege to serve you,' we mean it. We truly feel that what we bring to the table, day after day, is something special."
Ofrenda
7100 E. Cave Creek Road, Cave Creek
480-488-2187