Writer Amanda Christmann | Photography by Jonas Jungblut
[dropcap]W[/dropcap]hen a sawyer creates wooden beams for use in homebuilding or other construction projects, they begin with a raw and natural log. Through a process called hewing, the rounded edges are sliced off, turning the log's beautiful, flawed and unique natural surface into a flat, standardized plane that can be cut into unremarkable pieces of lumber.
The discarded edges of this process, which contain the tree's individuality, are called "flitch." They're considered to be scrap, though some would argue this idea from a philosophical perspective.
Whether or not contemporary artist R. Nelson Parrish intended to make a profound statement about trees, create a metaphor about discarded beauty or simply evoke discussions, thoughts and feelings, he's achieved his goal in his new Narrative Artifacts series. By incorporating flitches, cairns, bio-resin and striking color, he has created visceral and tangible narratives that reflect very real aspects of our lives.
The Alaskan artist's Narrative Artifacts series may seem, at first glance, to be a divergence from his earlier work, but look a little closer, and the common threads are there. Beyond striking use of color — or strategic lack of color — and expert technique, Parrish has a knack for depicting the intangible and borderless construct of time in everything he does.
"A lot of my work deals with the expansion and contraction of time," Parrish says. "Narrative Artifacts is about making time tangible. The crux of my entire practice has always been the marriage of concept and craft. I like to take an idea and I like to execute that idea really, really well."
Vivid, time-lapsed stripes of color define his Sunset Strip Motion Studies series. A profoundly allegorical study of the American flag's meanings throughout our country's history are represented in his 21 Flags series. Stark black-and-white snapshots of signs show us who we are in his This Great Land series.
Through these creations, Parrish gives us glimpses into moments. What is different about this latest series is that it's an exploration meant to be touched as much as it is meant to be viewed.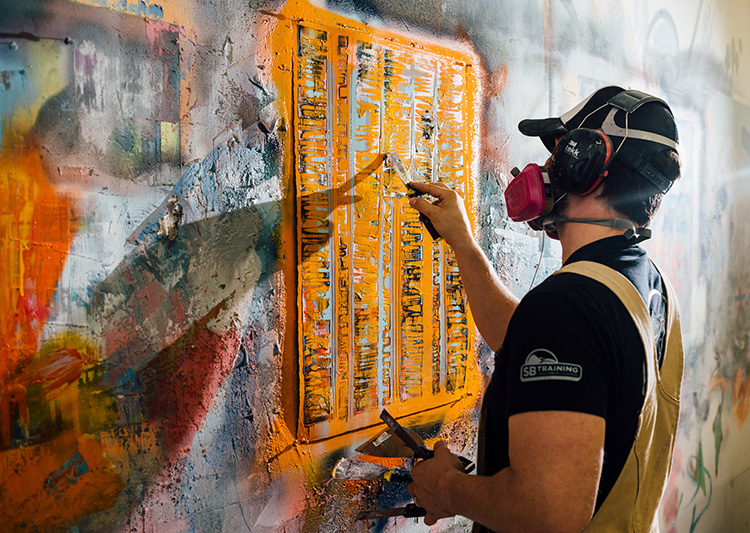 The Perfect Slice
of a Moment
Parrish talks about his newest installation at Carefree's Grace Renee Gallery from behind a screen on FaceTime — another sign of the times, as it were. With untamed curly, brown hair, a casual plaid shirt and well-worn jeans, he looks as approachable as his art. He speaks with candor and intelligence.
"Narrative Artifacts is really about finding visceral moments in our lives that we cannot explain or verbalize using traditional verbiage or words, and expressing those moments in color and form," he says. "Art is often seen as a 'hands behind your back, only look, can't touch' kind of thing. Narrative Artifacts gives the viewer license to touch them.
"For example, cairns are stacks of rocks that mark trailheads or paths. Inevitably, they fall and they get rearranged over time. I wanted to take that idea of using the metaphor of the trail as life's journey. Most of our memories have pivotal moments, represented by the cairns, that shape our paths. When we go back and reflect on those moments, it's often in a non-linear fashion.
"Those memories, like cairns, are connected; they belong to each other, but they can be rearranged and viewed in a way that relates and is relevant to our lives right now."
Flitches is a unique element for artwork; but to Parrish, it makes perfect sense.
"Almost like a photograph, a flitch represents the perfect slice of a moment," he says. "It's the combination of the manmade and the natural and organic versus synthetic. I like that marriage. All of the flitches I use are reclaimed from mills. I see them as these absolutely beautiful moments. Instead of taking a photograph of the moment, I put the experience into the flitches.
"Flitches represent a kind of suspension of time. They quite literally hang from the ceiling, suspended in space. They allow the viewer to experience a small slice of that moment, and it opens up a much larger engagement."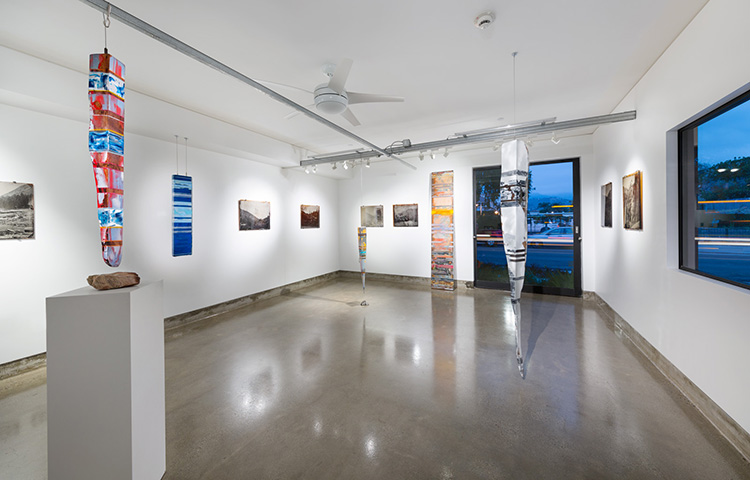 Beyond Spoken Words
Like his art, Parrish is better described through actions than in words. He began his career as a photographer more than 20 years ago — not to observe the world through a lens, as many photographers aim to do, but to record emotions, time and experiences.
As an avid fan of auto racing, skiing and surfing, he has an obsession with speed — not so much for competition, but because of the sensation of adrenaline running through his veins. He's drawn upon that feeling many times in his work.
Parrish once served as an intern in the United States Senate. He also once swam 19 miles across the Santa Barbara Channel to experience and understand the color blue. He's a free but critical thinker, and is one of those fascinating people who can discuss politics and policy as keenly as he can talk about art or music.
"If you want to understand something, you have to dive right on in and get to know it," he says. "A lot of our experiences go beyond spoken words — in fact, there are no words for them.
"That's why I call these 'artifacts,'" he says of his latest series. "They are the launchpad for what I consider to be art dialogue between art and the viewer. Really what I'm trying to make is those moments."
As such, his art is more of an undeniable calling than a career.
"Life on this planet isn't very long," he says. "If I can make things that continually inspire people after I'm gone, regardless of race, creed, socioeconomic background, or any other category we divide each other into, then I'm doing my job.
"At the end of the day, it's not about me; it's about the work and how it connects to people.
"That's art."
The Art of R. Nelson Parrish
Grace Renee Gallery | Historic Spanish Village
7212 E. Ho Road, Carefree | 480-575-8080 | gracereneegallery.com