Writer Joseph J. Airdo | Photography by Lisa A. Langell
[dropcap]L[/dropcap]ove is in the air.
Couples all around the world this month will enjoy expensive, candle-lit dinners and exchange candy, flowers, jewelry and teddy bears to show their affection for one another. Pet names will be used, expressions of adoration will be spoken and romance will rain down. Valentine's Day offers all of us the perfect excuse to make our significant others aware of just how much they light up our lives.
Yet many view it as an inconvenient obligation instead. Even more resort to very unloving behavior the other 364 days of the year. Both are qualities that are unique to humans as you will never find examples of such in the animal world.
Lisa A. Langell knows this better than most people as she has been observing and photographing animals for nearly her entire life. From that wealth of experience, she firmly believes that animals experience a range of love and other emotions.
"Love has many definitions but one of the simplest is 'feeling deep affection for someone,'" Langell says. "I find it impossible to watch animal behavior without noticing an apparent deep, strong affection and connection with their young, their mates and many times even their relatives and members of their social circles."
The photographer also believes that we can learn a lot from animals — especially with respect to relationships. Whether it is a sandhill crane dancing to express frustration, a black vulture's lifelong loyalty to its mate or a cliff chipmunk's adoption of co-denning behavior, animals can teach us some pretty powerful lessons when it comes to love.
Images Arizona hopes that this month's photo essay featuring the various types of love — from romantic to familial — as expressed by those more emotionally evolved than we humans will relay those lessons thereby making us all better equipped at showing appreciation to those who light up our lives not just on Valentine's Day but all year round.
Love Birds
Lisa A. Langell has long held a special affinity for all animals but birds have been a particular fascination for her since she was just 8 years old.
"At first, I loved them for their color and species diversity," Langell says. "It was a challenge to improve my ability to identify the various species by sight and — as I learned more — by song.
"Today, I still love birds for those reasons, but also because science indicates that they have evolved from theropods — a type of carnivorous dinosaur — more than 150 million years ago. It is fascinating to me to watch these little, beautiful 'dinosaurs' flit and fly about."
However, the thing that draws Langell to birds the most is their unique courting behaviors. The moment she sees a bird engaging in such rituals, she feels compelled to stop whatever it is that she may be doing and observe them.
"What birds go through to attract a mate is absolutely fascinating," Langell explains. "They sport phenomenal colors, give visually spectacular aerial displays that would compete with the best of the Blue Angels, dance like Baryshnikov, sing like Pavarotti, elaborately decorate their surroundings and seduce and charm the female — all while fighting off contenders for the hope of earning her love and affection."
Moreover, many birds migrate thousands of miles to do so.
"If it is true that partners get from a relationship as much as what they put into it, imagine how much we could gain from that kind of determination, dedication and love," Langell says.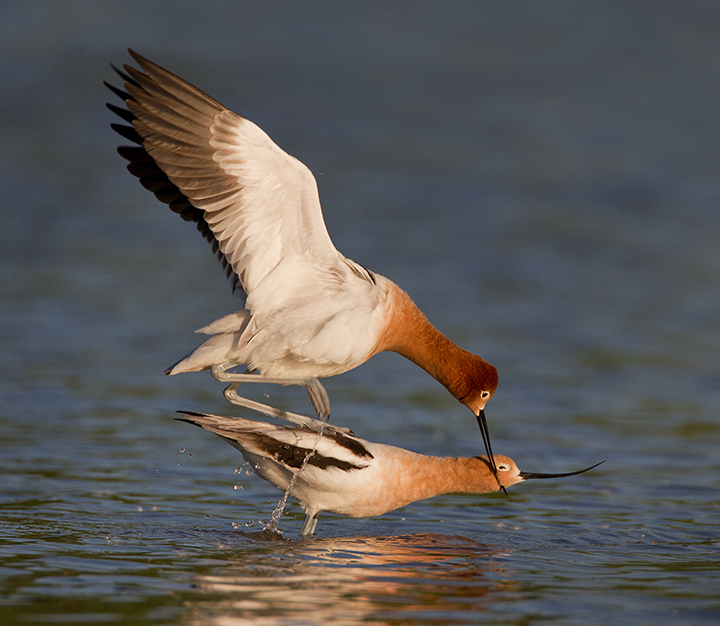 Delightful Surprises
Lisa A. Langell believes that one of the best assets a photographer like herself can have when capturing animals on camera is a firm understanding of their behavior because it helps one anticipate the types of movement an animal will engage in thereby facilitating "the perfect shot."
She says that watching an animal's behavior often offers delightful surprises — none more so than when said behavior mimics that of humans.
"I have photographed cliff chipmunks engaging in nosing — a type of social greeting that looks a lot like they give one another a kiss," Langell explains. "I have also observed male cardinals giving food to their mate and a wild mare gently encouraging its foal to tread into the water with her.
"Many times, I have witnessed shorebirds sheltering their young under their wings. I was utterly awe-struck a few years ago when I came upon a pair of red foxes engaged in a ceremonious grieving ritual because their young were killed by a predator just moments before."
Langell adds that evidence animals experience a range of love and other emotions is especially obvious when they have lost a loved one.
"For example, elephants notoriously mourn the loss of their children and family members, exhibiting complex physical signs of sadness and engaging in grieving rituals that can last for years," she explains.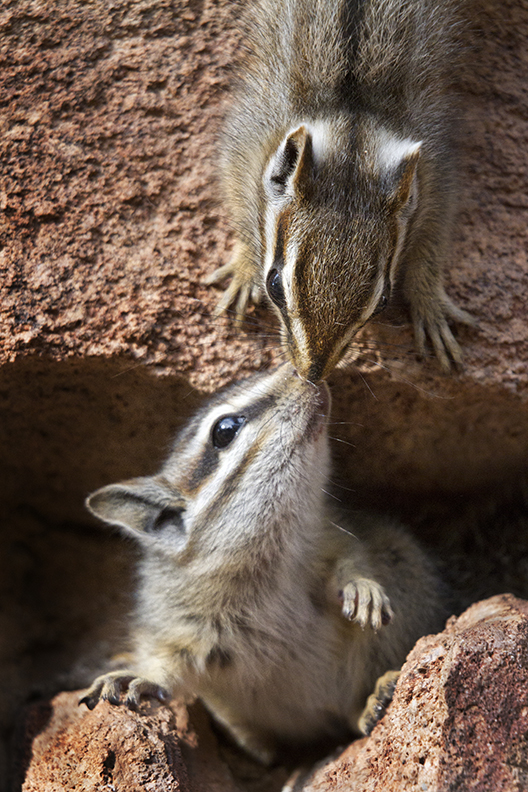 No Strings Attached
The lessons about love that animals can teach us are not exclusive to just romantic relationships. Photographer Lisa A. Langell believes that our interpretations of familial love are also often outdone by our four-legged or feathered friends out in nature.
"We see protection and caring of offspring to be a consistent theme among most animals," Langell says. "For example, killdeer and ducks commonly feign broken wings to lure predators away from the nest. American avocets, normally docile, will become extremely aggressive on breeding and nesting grounds, dive-bombing and loudly protesting intruders — all for the sake of protecting young."
Langell adds that animals lovingly raise their young with one goal in mind — to be independent, healthy and skilled so that they can survive well as adults in a challenging world.
"There are simply no additional 'strings' or expectations in return," Langell says. "Their children are free to do this in whatever manner they choose. With humans, the concept of giving without expectations — or 'strings' — in return can really strengthen the bonds and love within families. Doing so removes the tally-keeping' that many of us incorporate into our relationships."
Langell notes that tally-keeping and "strings" have manipulative origins and that relationships are rarely ever strengthened through manipulative means.
"This is a powerful lesson for us all," she says.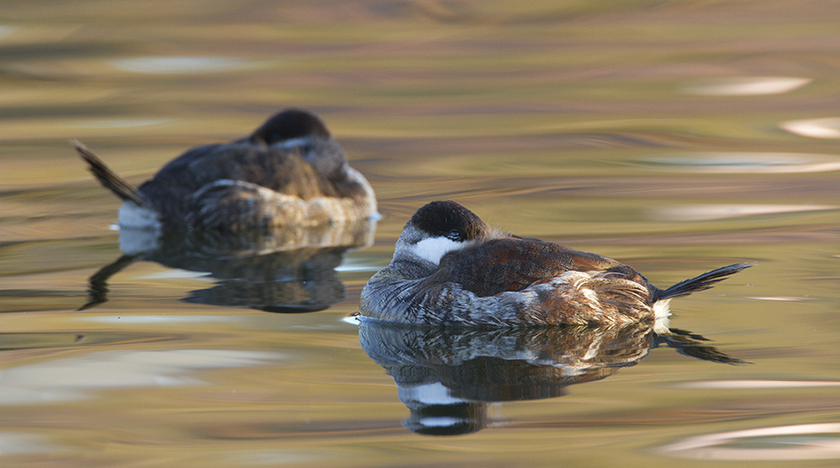 About the Photographer
Lisa Langell meets every challenge she confronts. And she has intentionally confronted a number of different challenges across a wide array of areas.
Over the years, Langell has worked as a master floral designer, a licensed psychologist, an instructor at a university, an international consultant in K–12 education, the chief business development officer of an education technology company, a researcher, a writer and an artist. However, through all of those challenges, photography has remained a strong calling.
Camera in-hand, bird-watching ignited Langell's lifelong love of nature when she was just a child. In 2010, she turned her passion for photography into a business. Five years later, she left the corporate and consulting world behind and transitioned to photography full-time, applying the vast knowledge that she had gained from each of her experiences to her art.
Today, Langell is a full-time, award-winning photographer whose work has appeared in several prestigious publications, galleries and more. An ambassador for Tamron and FotoPro, she also currently sits on the board of directors for the North American Nature Photography Association.
Passionate about instruction as well, Langell thrives on creating innovative learning experiences that enrich, invigorate and expand photographers' minds emotionally, creatively and intellectually. She places a high value on honesty, integrity, care and concern for everything she delivers to her clients and to the photographic community.
"Great photography shouldn't just document what you saw or even how you experienced it," Langell says. "It should capture how you want your audience to experience that moment."