Next Generation: Chef Rene Andrade
Writer Shannon Severson
Photography Courtesy of Shelby Moore
Smack!
The family matriarch's hand pounded the kitchen table as she called the room to attention. Tired of hearing the adults complaining about the miseries of life over dinner, she bellowed, "It's not about what's outside in your life! It's about enjoying the plate of food that's in front of you!"
The room fell silent and everyone set about fully experiencing the delicious taste of the smoked tuna soup she'd made for them.
It was that day in his grandmother's Nogales, Sonora Mexico kitchen that a young Rene Andrade, surrounded by his large family, surrendered the cares of life in favor of that flavorful soup. It was in that moment that he saw and tasted the power of food.
"My grandma was the best cook ever," says Andrade. "I was 6 years old when she served me two soufflés she had made—there was a cheese and a chocolate. I remember saying, 'What is this?' I had to know because it was something amazing."
On the day I visited 28-year-old Andrade, he was bouncing back and forth between not one, but two Tempe restaurants where he serves as executive chef. From his cheerful demeanor, you'd never know he was juggling time between the kitchen at Ghost Ranch, renowned for its modern Southwest cuisine, and the mid-renovation Tempe Public Market Café, which focuses on market fresh, farm-to-table New American flavors.
He is in his element: cooking, dreaming big, and surrounding himself with people who support each other's success. It's in his DNA.
"I spent every day with my grandparents while my parents were at work, so they were sort of another mom and dad to me. They taught me my passion for food, art, and all the extras. At home, my parents were all business. It was like having two different upbringings.
"I would play the guitar for whoever came to visit my grandparents. We didn't have much, but whoever came, we had enough for them, whether it was food, music or community."
By age 11, he had figured out that there was money to be made in the food business. He began working with his friend, selling fish and shrimp at a seafood shop. The pair began their own mini-restaurant at age 13, selling mariscos specialties on weekends with great success. It cemented Andrade's determination to make food his career.
Andrade admits he wasn't the most manageable child. He got in trouble and was "the kid who would start a revolution," but he learned some important lessons over the years.
"Work hard to get where you want to be," says Andrade. "Don't let people say you can't do it. I learned to work with my heart. When someone tells me, 'Rene, you can't do it,' I may doubt myself for a moment, but I wake up the next day and tell myself that I can do it—and I then I do."
After high school, Andrade approached his father about his desire to attend Scottsdale Culinary Institute.
"My dad said, 'You're crazy! That's for girls,'" says Andrade. "We connect better now, but back then, he didn't have the same mentality. He owned a trucking business and didn't understand that food is what makes me happy. I just moved out and stayed on a friend's couch in Scottsdale until I could find a place. I had so many people take me in and help me along. I am really thankful for that."
His determined work ethic earned him positions in the kitchens of some of Phoenix Metro's top chefs.
He began at The House Brasserie in Old Town Scottsdale with Chef Matt Carter. Carter is also known for The Mission, which Andrade describes as a "revolution," Zinc Brasserie and Fat Ox. Andrade recalls that the kitchen at The House Brasserie was so small that complete focus was key. Carter taught him to think of moving about the kitchen as a well-choreographed dance.
With each new kitchen, Andrade continues to adjust his "dance moves" for the space.
As Carter attracted the national attention of Food Network, Andrade got noticed, too. With Carter's encouragement, Andrade soon began working for celebrity chef Beau MacMillan at Elements at Sanctuary on Camelback Mountain Resort and Spa. He looked around and realized he was living and breathing his dream of working in the kitchen.
"I worked with Beau Mac for six years, and it was a different level," says Andrade. "He connects with people and how he makes them feel is amazing, no matter who walks through that door.
"In his kitchen, I learned that you really don't say no for anything. Saying yes will take you in such a different direction. My mantra there was to help the team and never to ask someone to do something that you wouldn't do yourself. That's what I want here, too."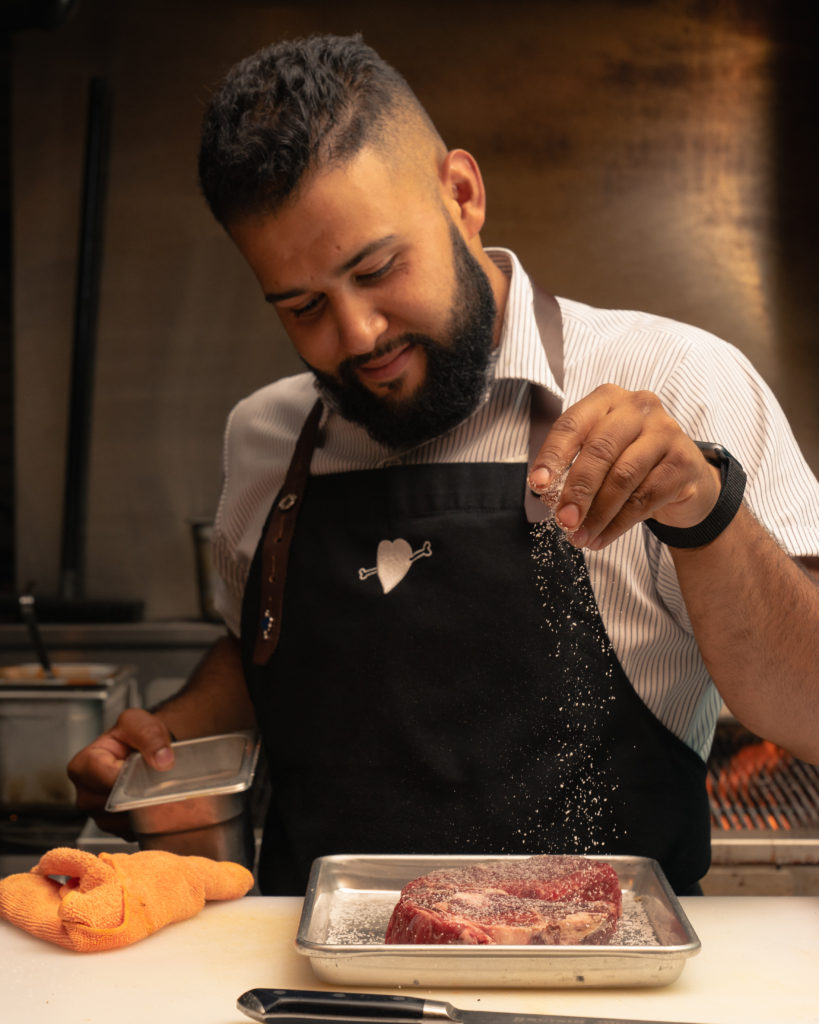 At Ghost Ranch and Tempe Public Market Café, Andrade has hired several of his former team members from Elements, including his cousin, executive sous chef Robert Centeno and pastry chef Lawrence "LT" Smith, also known as "El Tigre." He has tapped the talents of local artist Gennaro Garcia for art and restaurant design in the vibrant light-filled spaces.
Tweaking items here and there, the team has worked to respond to customer feedback, converting the café to a full-service dining experience this summer, developing new dishes for both restaurants and increasing community involvement.
"It's important for me to take care of my people," says Andrade. "You can teach anyone a task, but you can't teach heart. Every single person here has heart, from the dishwasher to everyone in the front and back of the house.
"In this business, people tell you there's one way it's always been done. At a young age, I learned that I don't want others to just do it my way. I always want to improve and make them better, too. I want them to find who they are, their style, and then develop who they want to be. I have the long vision."
That vision for the future includes the success of the greater food community in the metro Phoenix. Citing inspiration from the notable Phoenix chefs he has worked for and who have helped put Phoenix on the map—Chris Bianco of Pizzeria Bianco, Pane Bianco and Tratto; Charleen Badman of FnB; and Silvana Salcido Esparza of Barrio Café—Andrade's optimistic enthusiasm for what's to come for the local restaurant scene is palpable. He's committed to honoring the opportunities he's been given and those he's worked hard to earn.
"This community has grown differently from places like New York or Los Angeles," says Andrade. "We all want to put the city on the map, to get attention from the major players. All the young chefs are looking at the area.
"I'm not interested in being cutthroat. We have to work as a team. I've learned so much from these incredible chefs. They are my friends. They're telling me and other young chefs, like Samantha Sanz of Talavera, TJ Culp of Restaurant Progress, Peter McQuaid at Elements and Bernie Kantak of The Gladly that the city is going to be left in our hands. It's up to us to continue what they're doing."
Andrade notes that even his setbacks have served to propel him further along in his career and one can't help but feel buoyed by his passion.
"The people who are used to always winning, when they experience failure, they might stop trying," he says. "It's either give up or try harder. The second place finisher… that person keeps working hard. They'll never be complacent. I'm not scared of failing. I will never fail, because if I fail, I'll learn from it."
Keep an eye on this rising star. There's no stopping a young, talented chef who sees possibility where others see limits.