Writer Fadi Sitto
Photography Courtesy of Sedona Heritage Museum
[dropcap]J[/dropcap]une 23, 1965, Joe Beeler, Charlie Dye, John Hampton, and George Phippen gathered at Oak Creek Tavern in Sedona to plan and create a society of artists committed to producing quality, authentic art portraying the Western cowboy. A few days later, the founders met at Charlie Dye's art studio where they formalized bylaws for the group and settled on the name Cowboy Artists of America.
What began one summer day with four artists flourished into an elite collection of people that has lasted over five decades to become one of the most influential artists' groups in American history. Cowboy Artists of America have influenced the landscape of American art in ways its founders could never have imagined.
The iconic art produced by these renegade members over the years has set the standard for contemporary Western realism, and is represented in prestigious public and private collections around the world. As the longest surviving organization of fine art artists, Cowboy Artists of America has secured a place in American history, and its members look forward to a thriving future.
Sedona Heritage Museum has helped to maintain that place in history, focusing on the lifestyles and artistic works of the original people who pioneered this red rock community from 1876 to the present day. The museum's new Cowboy Artists of America exhibit allows visitors to experience paintings, sculptures and relics and learn the history of these original artists.
This Arizona-relevant museum is situated in Sedona's Jordan Historical Park within a preserved farmstead that has been showcasing history through art for over 20 years. The museum is surrounded by a nature trail where you can walk and enjoy the flower gardens and orchards around the museum grounds.
"Not your usual stuffy, unchanging small local history museum," says historian Janeen Trevillyan, who serves as president of the Sedona Heritage Museum board.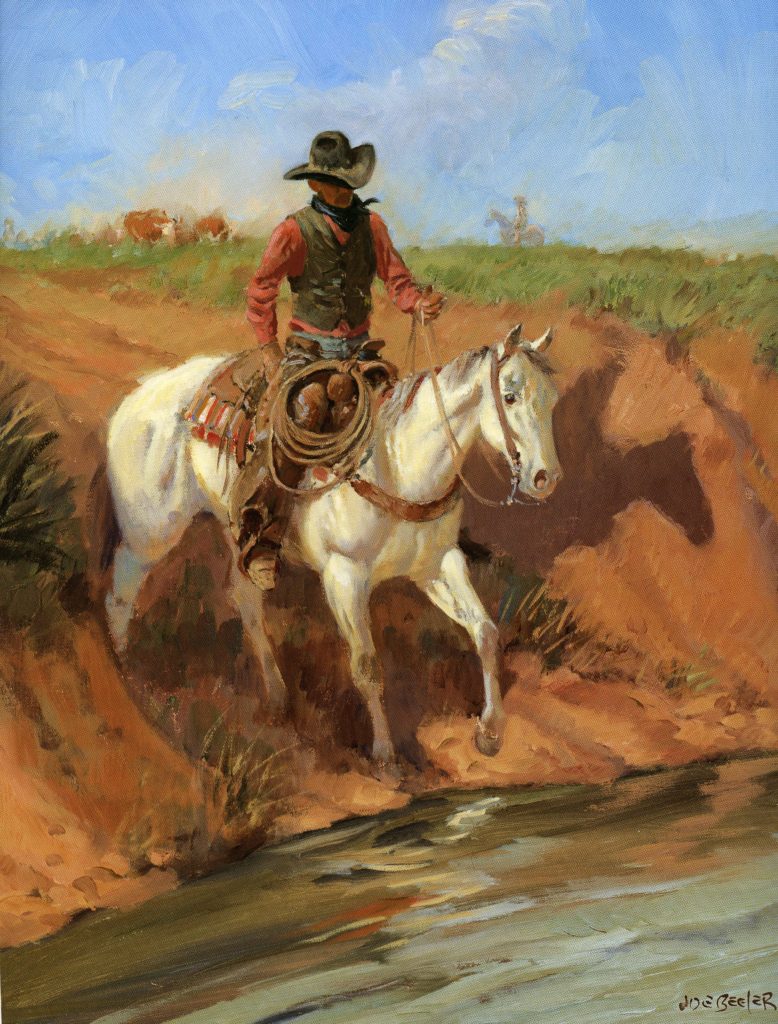 The most prominent Cowboy Artist founder was Joe Beeler. Part Cherokee, Beeler was born December 25, 1931, in Joplin, Missouri. At an early age, Beeler started painting and continued his artistic endeavors attending the Center of Design in Los Angeles before settling in Sedona in 1962.
A Sedona artist, Beeler remained there all his life. He got to know the local ranchers and worked with them as a cowboy to learn sculpture and to solidify Sedona as an endearing central place for art and artists.
Numerous medals and awards have been bestowed upon Beeler's work and, in 1994, Arizona Historic League named him an Arizona History Maker, which is an award presented to a very select group of Arizonans.
Another featured artist in the new Cowboy Artists of America exhibit is the late, great Leslie B. DeMille, a relative of the late movie director Cecil B. DeMille.
DeMille was an internationally acclaimed sculptor and painter. A master oil and pastel portraitist for over 50 years, DeMille created limited edition pieces for American statesmen, sports celebrities and entertainment personalities.
Born and raised in Hamilton, Canada, DeMille spent the last three decades of his life in Sedona and taught regularly at Scottsdale Artists' School. He penned several books and was the host of the successful Portraits in Pastel television program.
The third featured artist in the museum is Susan Kliewer. She is one of the Southwest's most acclaimed contemporary sculptors. A painter since the age of 10, Susan turned to sculpting in 1987 after a decade of working in a casting foundry.
In 1993, Kliewer won a competition to create a monument of Sedona Schnebly. She created a 10-foot-high sculpture of the town's namesake, which was fitted in front of the Sedona City Library.
Kliewer's celebrated life-size fountain portraying the Sinagua people and a fountain of a Hopi Water Maiden are also in Sedona. Other sculptures by Kliewer can be found within the United States and Europe.
The Sedona Heritage Museum houses over 3,000 artifacts, 30,000 historic photographs, 300 oral history and videos and a research library of items numbering around 500 volumes. Wandering through the rustic aisles of this small but charming house of art, visitors can't help but feel they are being transported to Sedona's past.
"I love history," says Trevillyan. "I feel it is a gift to be able to meet pioneer descendants and learn about Sedona's rich and unique history."
Today, the Sedona Historical Society operates the museum with the support of volunteers and city residents, ensuring the legacy of Sedona area history through original art.
The Cowboy Artists of America Exhibit
Sedona Heritage Museum | Open Daily 11 a.m.–3 p.m. | 735 Jordan Rd., Sedona | Adults: $10 with Audio; $7 Self-Guided; Children 13 and under: $3 with Audio; Free Self-Guided | 928-282-7038 | sedonamuseum.org