Restoring A Piece of History
Writer Shannon Severson
Photography by Loralei Lazurek
Carefree resident Knoah Mohn has been involved in Boy Scouts since he was just a Cub in first grade. Now he is on the cusp of receiving his Eagle Scout rank thanks to a major renovation project in a somewhat unusual location: Cave Creek Memorial Cemetery which, despite the name, falls within the boundaries of the Town of Carefree.
"I've been in scouting for what feels like my whole life," says Knoah. "At first, I didn't think I'd go all the way through with becoming an Eagle Scout, but my friends encouraged me. I had a lot of support from family and the Town of Carefree to accomplish what I did."
What makes the cemetery unique is that it is designated as a Pioneer Cemetery, meaning plots are not lined up in rows. Instead, people choose an area in which they'd like to be buried.
Families often create entire plots, sometimes arranged in a circle. Headstones may be unorthodox; some are simple and some are grand. Loved ones leave mementos large and small to represent the character of the deceased—a rusty bicycle, beer cans, a train set, matchboxes.
Over the years, the cemetery had become overgrown by brush. Trees were being choked by mistletoe and the site was in general disrepair, despite still being an active cemetery where residents of Cave Creek School District are eligible for interment.
"When I first visited the site, I saw just desert, trees and bushes," Knoah explains. "It didn't even look like there was a cemetery there."
How did the Cactus Shadows junior arrive at such a project? He had a little help from a very special person: his grandfather, John Lassen.
Lassen is a longtime resident of Carefree and happened to be a friend of Carefree Mayor Les Peterson. The two decided to pay a visit to the mayor's office to find out where their community could use some help.
"Knoah and his grandfather came in looking for projects around town that would be beneficial and meaningful," says Mayor Peterson. "Kandace French Contreras, our town clerk, mentioned the cemetery and the fact that there are more than 30 veterans buried there. Knoah sparked to that."
After several site visits and meetings, Knoah settled on the idea of creating a dedicated pathway that would lead through the current plots and open up the way to planned future plots. He then worked on procuring donors and sponsors. Knoah's Troop 15 Scout Master, Gil Lau, helped with paperwork and guided Knoah through the process of having his project approved by the Boy Scout council.
"First, my grandfather and I went to stake it all out," says Knoah. "We spray painted a line to mark the trail. It was about 300 feet. Double that amount for rocks to line each side and we calculated that we would need 600 feet of rock, which translated to two and a half tons of rock."
It seemed appropriate that Knoah and his grandfather were working together with rocks. When Knoah was a little boy, he and his grandfather painted rocks together and used them to create trail markers all over Lassen's 17-acre property in Carefree. Now, they were working on a much grander scale, but still doing it together.
"Ashley and Justin Myers of Foothills Granite agreed to donate the rock," Knoah says. "It was amazing because, as it turns out, their dad, Barry Myers, is buried at the cemetery. I didn't know about their personal connection."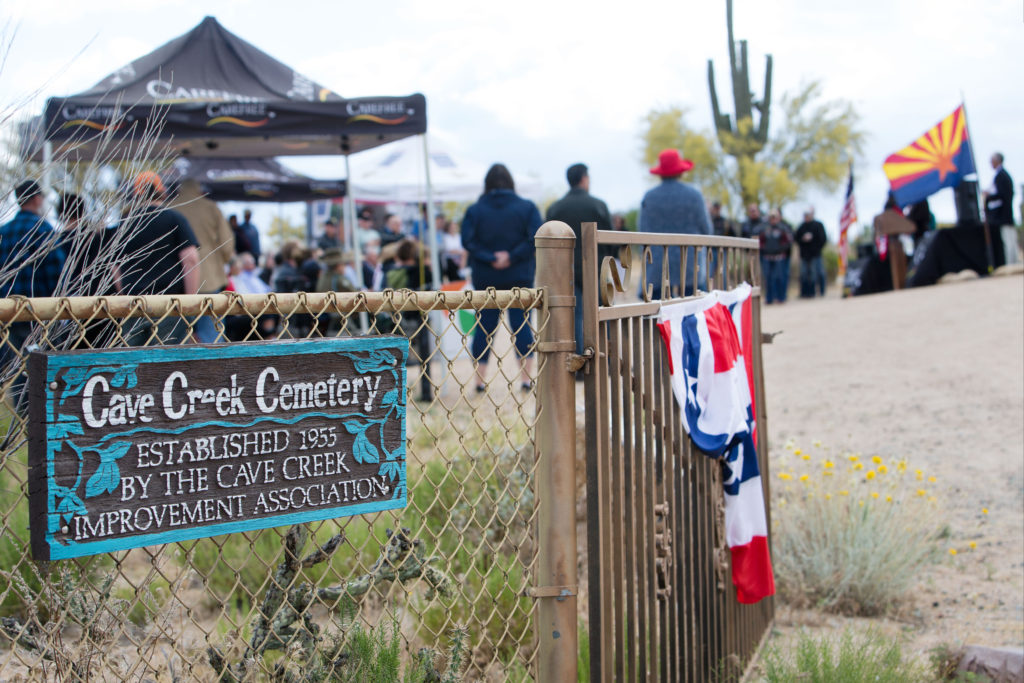 The Myerses weren't the only ones to pitch in for the project. Family, friends and scouting families past and present came out of the woodwork to lend a hand. Harrold's Corral donated pizzas for the 50 people who showed up, providing much-needed food to volunteers who groomed cemetery heads, hauled brush, cut mistletoe from the trees, vacated and cleaned up two large rats' nests using wheelbarrows, pitchforks, gloves, rakes and all manner of tools provided by Knoah's stepdad, Mike Stockinger, and mom, Lesley Lassen. Knoah's father, Doug, financed the required bathroom facilities for the crew. Mayor Peterson and Vice Mayor John Crane were on hand to oversee the work.
Knoah organized the many adults and teens who turned up, providing clear direction to get the job done.
"I was so nervous and stressed that morning, I couldn't even eat," says Knoah. "I looked at this huge group of people and split them right down the middle. I knew what needed to be done and had each group grading the other at the end. We even over-cleaned, putting in over 200 man hours, but we finished quickly with so many volunteers."
His grandpa, John, couldn't have been more proud.
"I was impressed by Knoah's organizational abilities," says John Lassen. "I was also proud of his comfort level and confidence when speaking to and directing those who aided in completion of the enhancement of the cemetery. He did an excellent job. I'm very proud of him."
Mayor Peterson praised not only the results of Knoah's efforts, but also the way in which the job was completed.
"Knoah showed some real leadership and coordination. It was a wonderful contribution to the town and a wonderful development opportunity for Knoah as well. What he did has historical value for generations to come," said Peterson.
Ultimately, the project brought community and family together.
"Something I always say is that, as a mom of two boys, the one thing I could do with them as a 'boy thing' was scouting," says Lesley. "I wasn't a camper, but I am now! I'm so proud of Knoah. I'm proud of him for going all the way through to Eagle Scout. It's been a good experience."
Knoah took part in a special dedication ceremony on Memorial Day, where he presented the colors at the annual American Legion event to honor veterans buried at the cemetery. He still goes back periodically to tidy up the area and re-arrange any rocks that have been displaced.
"I'm very proud of myself," says Knoah. "I'm a natural procrastinator and my mom did a lot to keep me on track. The fact that I finally did it was good for me."