Mark Tate: Sculpting Relationships and Creating Places for Life Events
Writer Shannon Severson
Photography by Steven Thompson
Throughout his life, architect Mark Tate has worked with individuals who have inspired and influenced him. The Oklahoma native and father of nine is the rare combination of artist and engineer. He has allowed every experience to propel him to the next adventure.
Just prior to the COVID-19 pandemic, Tate was inspired to open an art gallery/studio adjacent to Tate-Studio — his Cave Creek residential architecture and interior design firm. It's an exhilarating addition to his thriving career.
"The universe is speaking to all of us," Tate says. "I thought, 'How can I make a difference?' The idea I had over a year ago for the art gallery that's an extension of our studio is getting legs and defining itself. I want to be the anti-gallery gallery. It's not about commercial success. I want it to be meaningful.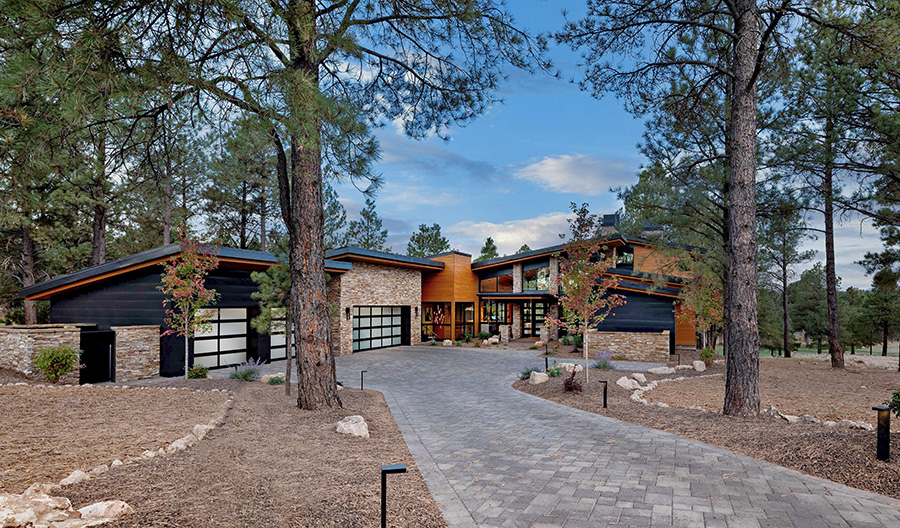 "What's so cool is that I have no clue what I'm doing. That's very liberating. People say that's the story of my life. I taught myself how to make jewelry in high school, I taught myself CAD, how to run a business; this occurred out of necessity and a determination to stay focused on what I deemed as meaningful for myself and for me, personally, to make a difference."
Tate has always sold art through his practice, which he founded in 2007. This studio, as he prefers to call it, will feature artists who might not otherwise be seen, multicultural exhibits and artists who began their pursuits later in life — pure expressions of art that are meaningful and new. The ideas continue to evolve and he sees it as an extension of his current work.
Art and Architecture
It's not as if Tate is a stranger to artistic pursuits. If anything, he is returning to his roots.
As a fine art major at Arizona State University, Tate's concentration was sculpture. He names then department head, sculptor Ben Goo, as the mentor who instilled within him the imperative to create art every day. But as a young married man with two children to feed and another on the way, he left school before graduation.
"I didn't much like the idea of being a starving artist," he says.
Some friends of his had an architecture practice and they needed someone who could draw. For six months, Tate drew for several different architects without pay. He supported his family by selling his art at Scottsdale's Fifth Avenue galleries, as well as his handmade modern jewelry.
"I fell in love with the sculpture of space," Tate says. "It was a natural transition for me and a natural way to apply my skill sets at the time."
Soon, he was working full-time for Architectural Alliance, a firm owned by Mike Muninger and Rich Fairborn, connecting him to a panoply of Arizonan architectural stars.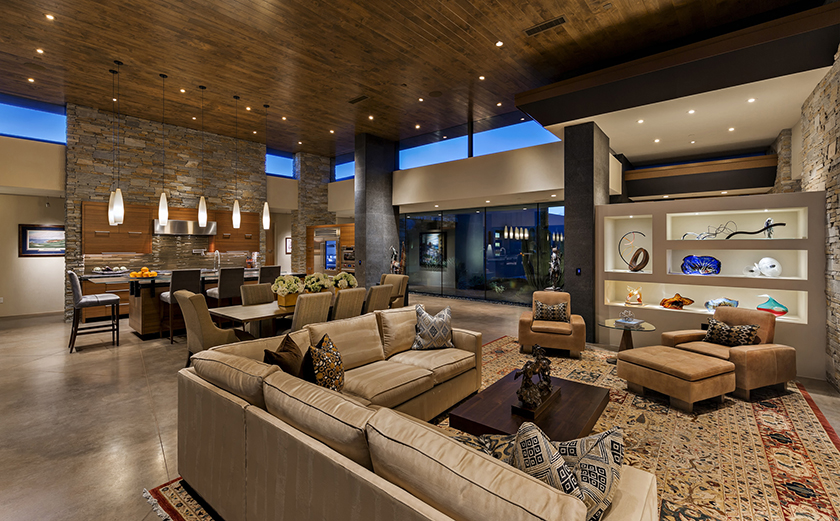 "Fortunately, Rich Fairborn knew Al Beadle very well and I got to run in that circle," Tate says. "Rich and Mike were brilliant designers. They partnered for a time with Leonard Parker, a legendary architect out of the University of Minnesota. They hung out with the Desert School architects — Will Bruder [and] Michael P. Johnson. The Desert School movement was about good art in general, the tenets of good design and composition. It was just a great experience."
A formative experience was when Tate worked on Native American housing projects all over the Southwest — seeing hidden places in Arizona that most never see, creating small houses and gaining an understanding of what makes a house work, whether small or large. The connection he felt to residential architecture stayed with him.
"The relationship you build with someone when you're designing their home is unlike any relationship in architecture that I have experienced," Tate explains. "As an artist, you want to feel that connection; that your work resonates with someone."
After 10 years, he had secured his license and launched out on his own.
Beauty, Design and
Livability
Tate's willingness to do the next thing, take the next risk, learn the new skill and not shy away from the unknown afforded him priceless opportunities.
He worked with fellow Oklahomans Eddie and Neil Jones of Jones Studio (where he met his wife, builder Lisa Tate), left architecture for a time to design and build wood furniture, designed golf course clubhouses all over the country with Doug Frederickson, and learned the intricacies of client relationships when he worked on a home at Mirabel with Dan Couturier — a project that solidified his entry into the realm of residential design.
"Dan is just a wonderful human being," Tate says. "In building that house, he taught me the value of detail in homes and I would watch him interface with the clients; he's just a gentle, intelligent, caring human being. It was an extension of what I'd learned working with Doug [Frederickson]."
Tate adds that the experience harkened back to the relationships he had working with the Indian nations in the Southwest.
"It clarified my journey," he says. "Some people are fortunate enough to clarify their journey early in life. It took me a little bit longer, but I had great experiences in all the firms I worked with. I realized that this was my calling — to design houses and create relationships that become lifelong."
Tate works closely with his clients to build visually stunning homes in a style and form that embraces core tenets of beauty, good design and livability. He translates their ideas, photos and even sketches into a realized vision.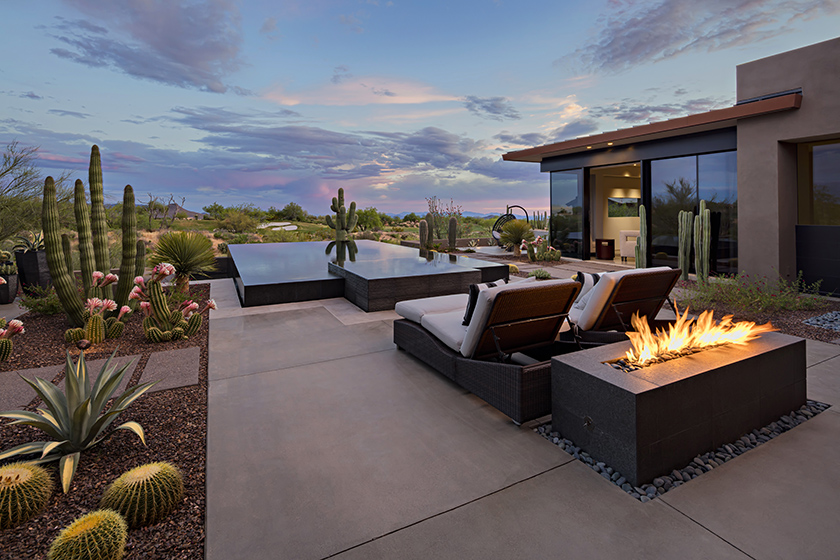 Because Tate-Studio creates the interiors of eight out of every ten homes it designs, it is known for carrying the architectural style throughout the interior to create houses that are complete works of art. He credits his team — and the talented tradespeople he works with — for creating finished products that have homeowners return to him time and again.
He says he has purposely avoided staying with one particular style of architecture, though many of his homes clearly trend toward sleek, modern lines.
"I want to do architecture that is just honest," Tate says. "I like all kinds of music and all kinds of art. My favorite musicians are those who can cross genres. Why get pigeonholed? You see that we can't be placed in one school or theme. The tenets we embrace are about how a home should work and not about the style. We mesh everything together in this great jazz ensemble that comes together and creates a beautiful piece of music. It's not just my effort; it's collaborative."
A Beautiful Symphony
Tate and his staff were recently invited to spend the night at a home in Flagstaff that they had designed and built.
As evening fell over the majestic Humphreys Peak in the distance, 120 elk emerged from the woods to graze on the golf course. Tate felt an overwhelming sense of appreciation — for the homeowners who chose him to design their dream retirement property, for his team and for the tradespeople who worked tirelessly day after day to manifest the plans of the designers and builders.
"We aren't just creating a building or a structure," he says. "We are driven by our clients, each of them different, and the relationship we have built with them. We are creating a life and a story, a place for life events — like seeing 120 elk at sunset. In my mind, moments like that give me a sense of personal fulfillment and make the time I have spent feel relevant."
As he surveys his career, his art and his new studio, Tate's efforts and roads less traveled have all come together as if in a beautiful symphony.
"Don't be afraid of what the music is going to sound like," he says. "It's the string of notes you've never heard that makes the prettiest music."