Advent of Antlers
Writer Joseph J. Airdo
Photography by Craig Miller
There have been countless stories over the years about the various animals that have stepped into reindeer's shoes — or should I say hooves — when the seasonally iconic creatures have been unavailable to lead Santa's sleigh.
The Grinch had his loyal dog Max begrudgingly help him steal Christmas; a miniature horse saved the day in "Elliot the Littlest Reindeer;" and "Animaniacs" even saw a flock of wiseguy pigeons fill in for Rudolph and his crew.
Our planet is filled with so many spectacular species of wildlife that St. Nick need never worry about how to deliver toys to all of the children around the world each Dec. 24. However, if we are speaking solely from an aesthetic perspective, there would be no better substitute than elk.
The handsome creatures are every bit as majestic as reindeer, resembling them right down to their attractive, velvet-covered antlers. Moreover, as photographer Craig Miller attests, Santa need not look farther than the streets, parks and backyards of Arizona's Rim Country in order to find plenty of elk from which to choose.
"If you walk, bike or drive anywhere around Payson or the surrounding area, you have a good chance to see one to a half-dozen big-antlered elk munching on bushes, trees, grasses, leaves or bark," Miller says. "You might also see [them] moseying through a residential neighborhood, splashing in Green Valley Park or even strutting right down Main Street — almost like they own the town."
Images Arizona hopes that this month's photo essay — which features a festive collection of Miller's enchanting elk photography — illustrates that although most of our state may not have snow, there are plenty of seasonal symbols that surround us. It is up to us to notice them and to put them in the right context that will make our spirits bright.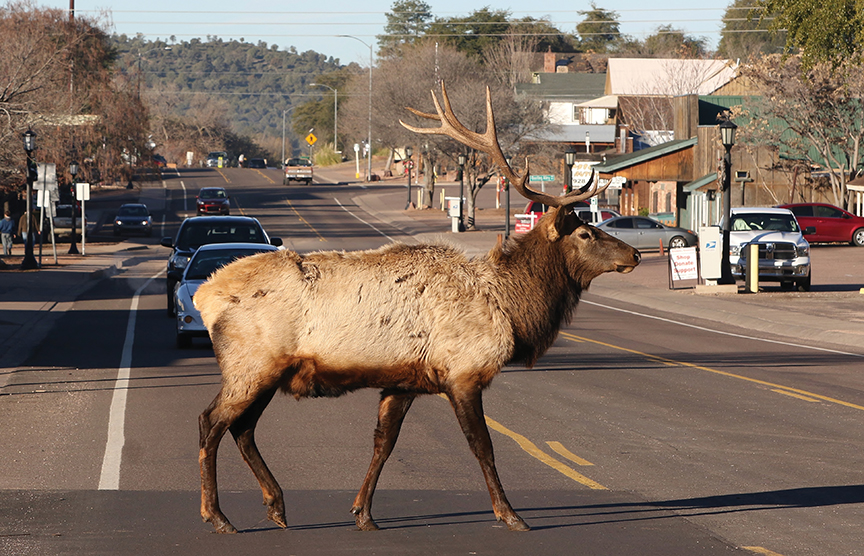 Vanishing Velvet
Prior to the early 1900s, one could not find even a single elk roaming the entire territory of Arizona.
"But that changed in 1913 — one year after Arizona achieved statehood — when 83 elk were brought by rail from Yellowstone Park and released in Cabin Draw near Chevelon Creek," photographer Craig Miller says.
Oh, how the times have changed over the past century. Arizona Game and Fish now estimates Arizona's elk population at about 45,000 post-hunt adults. Miller notes that said number is expected to continue rising as cow (female) elk produce at least one calf each year for their lifetime of 10 to 12 years.
Miller adds that bull (male) elk can appear very different in appearance depending on the time of the year that one visits Arizona's Rim Country.
"They grow and shed their antlers each year," he explains. "In the summer months, the bulls will have nearly completed their antler growth, with their racks covered with nutrient-providing 'velvet.' By August, with the rut (mating) season quickly approaching, the bull's rising testosterone levels will harden its antlers. The dried-up velvet will be shed through raking — the rubbing of the bull's antlers against trees, bushes and brush."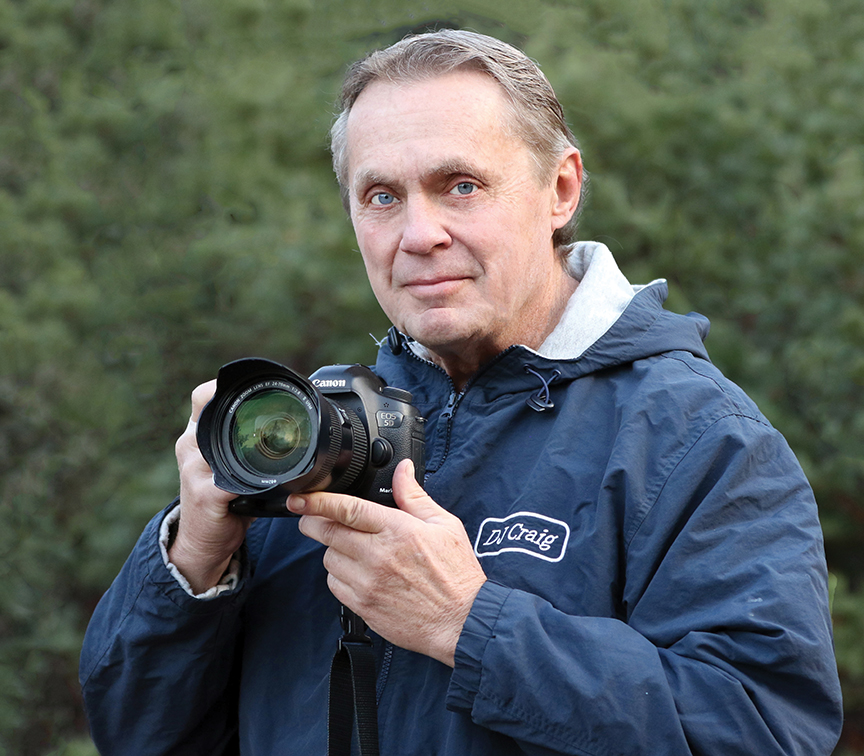 About the Photographer
Craig Miller grew up in the suburbs of Chicago. After graduating from Aurora University with a bachelor's degree in social work and physical education and a master's degree in education, he enjoyed a fulfilling career as a public school teacher and counselor.
The lifelong community volunteer and long-time runner moved to Payson in 2002 to enjoy semi-retirement and the weather. Although Miller had grown up with photography as a hobby, he became serious about the craft about 10 years ago.
Miller casts a wide net when it comes to the art form, enjoying everything from wildlife, night and astrophotography to community events, sports and wedding photography. He currently teaches advanced photography at Eastern Arizona College in Payson.
Today, Miller still resides in Payson with his wife, Ann — his partner in both his disc jockey and professional photography businesses. The pair has been voted "Payson's Best Photographers" and "Payson's Best DJs" by the readers of Payson Roundup for each of the last seven years.
Miller takes most of his photography in Payson but also enjoys traveling throughout Arizona for his craft. His work has been featured in several books, magazines, newspapers and calendars as well as on business websites and on the walls of many homes and businesses.
Elk Photography Tips
Craig Miller says that photographing elk can be a lot of fun — regardless if one uses professional camera gear or simply their smartphone. But he cautions that elk are wild animals that do not have humans' reasoning capacity.
"Always give the elk their space and make sure you have a safety plan in place should the elk decide to charge you," the photographer advises. "Always have a tree or other structure between you and the bull or have your vehicle within a safe distance. And be aware that bulls can run much faster than you can."
Miller adds that it has been reported that people have been seriously injured by an elk's sharp hooves. Some have even been trampled or gored to death.
"Better safe than sorry," the photographer says. "No picture is worth your life."