Exploradora Coffee: Scouting a New Path in Coffee Production
Writer Shannon Severson
Photo Courtesy of Ryan Cordwell
Coffee is more than just a hot, delicious drink to sip while wearing pajamas in the kitchen or while fashionably dressed at a Parisian sidewalk café. Coffee is connection. It brings together friends, family and even strangers.
As founders of Exploradora Coffee, Alison Anderson and her daughter, Wade Johnson, decided to create a company and product that connects the people who drink it with the people — specifically women — who grow it and to those in need right here in the United States.
"Even in tough times, people tend to hold onto small indulgences like coffee and now they are brewing more at home," Anderson says. "Coffee fosters a sense of community and connection with family, co-workers and friends. In a time of polarization, we are drawn to it and place extra value on things we may have taken for granted before."
As the COVID-19 pandemic set in this past spring and Americans began to live life in a smaller sphere, Anderson felt a creative spark had been ignited and she began discussing it with her daughters.
"We felt like, because coffee is primarily grown in countries that are male-dominated [and] there was no coffee brand with a singular focus on female coffee growers, there was an opportunity," Anderson says. "Wade was on board right away. My other daughter, Hollis, a pre-med college student, stays pretty busy but still supports us with photography, editing, the website and social media."
Anderson and Johnson named their venture Exploradora Coffee after their beloved wire fox terrier, Scout. (Exploradora is the feminine version of the word scout in Spanish.)
Though Anderson and Johnson have their own full-time jobs, the venture quickly became their passion project and has been brewing up a dedicated following in local businesses, on their website and at their kiosk at Roastery of Cave Creek. Johnson says that her mother's idea for Exploradora Coffee stemmed from her desire to connect with people. They then began to brainstorm how they could use coffee to accomplish that.
"We knew we could create a successful company and we wanted to then share that opportunity," says Johnson, who currently lives in North Carolina. "We want to share that privilege with other folks. We are fortunate to have resources and feel it is a responsibility to give back."
This is why Exploradora Coffee has partnered with nonprofit organization Springboard to Opportunity, donating $1 from every purchase to support economic development and to help provide resources for underserved communities here in the U.S.
Premium Partnerships Yield Premium Product
Coffee is ubiquitous, but it's also a highly competitive industry. Americans enjoy their java to the tune of 2.7 cups per day, on average, amounting to 140 billion cups per year, according to The Motley Fool. With knowledge of the terrain and a heart for community and quality, Johnson and Anderson have found a previously untapped niche.
Anderson's husband, Dave, is the founder and owner of Roastery of Cave Creek. While it is a totally separate business, that connection provided an avenue for Exploradora Coffee to source small samples and to roast the beans.
Partnering with the Roastery of Cave Creek kept all employees working through the COVID-19 pandemic and excited about a fresh, new challenge.
Anderson says that Exploradora Coffee benefits from its amazing import partner — Sustainable Harvest out of Portland — and its lead sourcing agent, Monica Terveer.
"She has been an incredible resource for what product is available from specialty women growers, has provided samples and ultimately helped us design our first product launch," Anderson explains. "As a startup, piggybacking on Dave's infrastructure has also been a great benefit and provided the backbone of our operation."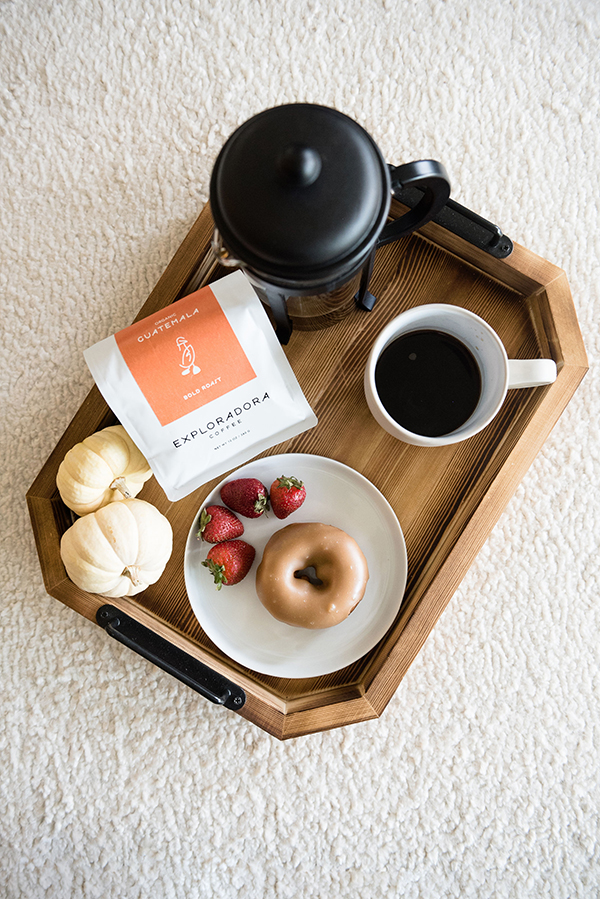 Exploradora works with women co-ops in Guatemala, Honduras, Mexico and Rwanda and presently offers six different coffees — Organic Guatemalan Bold Roast, Fair Trade, Organic Mexico Light Roast, Fair Trade, Organic Honduran Medium Roast, Fair Trade Rwandan Medium Roast, Around the World Blend Medium Roast and Blue Foot Decaf. The company is looking to add product from Peru, Colombia and the Democratic Republic of Congo in the future.
"As a buyer, we pay a premium for these coffees," Anderson says. "The specialty coffee market depends on this fair rate. Our per-pound rate is higher than is typical and that additional money goes back to the communities for things like water systems and schools. Our criteria for who we work with is that they use their expertise to support these farmers."
Coffee production is labor-intensive because the "cherries" on each bush ripen at different times. Women are better pickers because they are more precise. The beans then must be dried, milled and placed in burlap bags for shipping.
At Exploradora Coffee's Cave Creek facility, Anderson and her lead roaster, Keith Bohne, experiment with different roasting temperatures, the entire process plotted carefully on specialized computer software.
"We roast in small batches and have cuppings to determine where the coffee shows up the best," she explains. "We don't want an underdone, grassy flavor or an over-roasted, burnt flavor."
Brewing Coffee, Community and Goodwill
Locally, Exploradora is sold at Le Grande Orange in Phoenix and Sweet Dee's Bakery in Scottsdale. As consumers enjoy connecting over these perfectly roasted beans, they can feel good about the source and that a portion of the proceeds are going to financially empower women and families here in the U.S.
An essential and permanent part of Exploradora Coffee is its charitable Blue Foot Fund, named for the rare blue-footed booby. The bird, which also serves as the brand's logo, is only found in the Galapagos Islands and is symbolic of adventure and resilience.
Having taken the lead to find just the right cause to support, Johnson discovered Springboard To Opportunities — a nonprofit organization that works with low-income families and gives cash to African American mothers who need a helping hand to alleviate their own situations, start a business or go back to school.
"They donate $1,000 per month for an entire year," Johnson says. "This is a radically resident-driven program that truly empowers women and works with them to create programs that they decide will benefit their community the most. When we found them, we knew it was exactly what we wanted. And it is based in Mississippi, where my mom and I were born. It is a perfect fit."
With this feel-good combination of coffee, community and goodwill, Exploradora Coffee has created ready-to-gift packages that include an assortment of coffees and merchandise — like logo drink tumblers, totes and cozy socks adorned with the blue-footed booby — that can be sustainably wrapped in the style of Japanese Furoshiki.
"Since we don't get to shop in stores as much these days, having a proper unveiling is a fun and unique experience for people," says Anderson, whose career is in the packaging industry.
These packages can be customized for individual or corporate gifts and shipped anywhere in the country. It's just another way that Exploradora Coffee uses its unique perspective to connect and delight consumers with a top-quality brew that makes a difference in the world.
Exploradora Coffee
7003 E. Cave Creek Road, Cave Creek
480-235-3407