Writer Joseph J. Airdo // Photography Courtesy of Anthem Community Council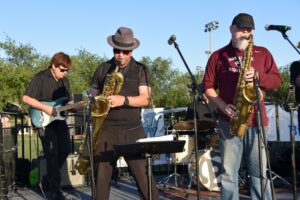 Anthem Community Council communications director John Saffin is a firm believer in the idea that music is a magnetic force that draws people to one another.
"Music is something that everybody can appreciate," Safin says. "Concerts like the ones we offer as part of Music in May are events that bring the community together so that we are now all focused on having a good time in the great outdoors. It gives everyone a chance to see some friends and neighbors they know and maybe even meet some new ones while just having a nice evening out."
Music in May — an annual event hosted by Anthem Community Council each Friday evening in May at the amphitheater in Anthem Community Park — returns this month, delivering the diverse sounds of Arizona bands to residents.
"It is part of Anthem Community Council's obligation to provide residents with abundant lifestyle opportunities as well as improve and maintain a higher quality of life," Safin says. "There are a lot of things that we do to bring the community together. Music in May is one of the biggest."
Safin adds that parking and admission are free to all Anthem residents and that attendees are encouraged to bring their own blankets and lawn chairs.
"There is some natural seating in the amphitheater; just not enough for everybody," explains Safin, noting that he was amazed to see at least 1,500 people in attendance last year. "We will also have some food trucks there. So if anybody wants a snack or a bite to eat, they can purchase their food and beverages right there on-site."
This year's lineup continues Anthem Community Council's commitment to offer residents a wide variety that will please and be appreciated by as many attendees as possible.
Thaddeus Rose will kick off this year's event on May 5, performing a concert jam-packed with dance-rock hits. Playing everything from top 40 and country to classic rock, Motown and more, The Walkens will take the stage the following Friday, May 12.
Then on May 19, Western Fusion Band will play a variety of country and classics, including hits from the 70s, 80s and today. Superhero will close this year's event on May 26 with a high-energy show filled with an extensive variety of popular music.
"We always encourage dancing, no matter where you are," Safin says. "Nobody judges if you are a good dancer or a bad dancer. Just get up, dance and have a great time. I also noticed last year that while people were certainly paying attention to the music, they also spent a lot of time talking with one another. It is just a great way for the community to get together, have some fun and connect with each other as family, friends and neighbors."
Music in May
Friday Nights in May // 7–9 p.m. // Anthem Community Park Amphitheater // 41703 N. Gavilan Peak Parkway, Anthem // Free // onlineatanthem.com