Writer Rebecca L. Rhoades // Photography Courtesy of Liberty Wildlife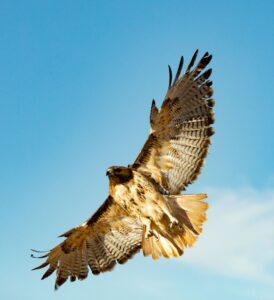 Feathers have played an integral role in Native American societies for centuries. But unregulated hunting, trapping, killing and loss of habitat threatened North America's bird populations throughout the 1800s and early 1900s.
In 1918, the U.S. passed the Migratory Bird Treaty Act, which was designed to protect native bird species by prohibiting the possession and sale of feathers, bird parts and eggs. However, the law had unintended consequences: Native American tribes were no longer able to collect birds or feathers for use in their religious or cultural ceremonies. As a result, thousands of birds are taken illegally from the wild and their parts sold on the black market.
In Phoenix, one wildlife conservation and rehabilitation center hopes to put an end to that.
Liberty Wildlife's Non-Eagle Feather Repository is working to sustain Native American cultures by providing feathers and bird parts that are required to construct religious and ceremonial regalia. At the same time, it's helping to conserve North American bird populations.
"The whole idea is that the tribes come to us for their feathers, and if they do that, they're not buying them off the black market," says Robert Mesta, program coordinator for the NEFR and a member of the Pascua Yaqui tribe. "And if they're not buying them, there's not a profit. And if there's not a profit, people quit killing birds."
To date, the NEFR has supplied feathers to 247 tribes located in 46 states.
This is just one of the many narratives explored in a new documentary, "The Weight of a Feather," which premiered on Arizona PBS in early March. The one-hour film looks, through the lens of Liberty Wildlife, a nonprofit rehabilitation and conservation center in South Phoenix, at how wildlife connects people, nature and culture.
The documentary was written and produced by the team at Scottsdale-based Quantum Leap Productions, which is also responsible for "Riders of the Purple Sage: The Making of a Western Opera" and the Emmy Award-winning "Castle Hot Springs: Oasis of Time."
Kristin Atwell Ford is the director and producer at Quantum Leap.
"It started with the story of the Non-Eagle Feather Repository, which is a really fascinating story," she explains. "Then we started hearing all these other stories about Liberty Wildlife, how it cares for animals and helps rehabilitate native species in Arizona and also how doing so sparks our humanity. We began to see Liberty Wildlife as a metaphor for community and how we can work together to find the overlap of our common interests."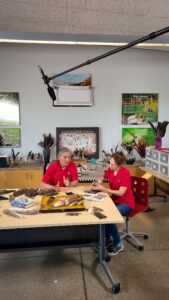 Saving Arizona's Wildlife
Liberty Wildlife was founded in 1981 in the backyard of Dr. Kathryn Orr, a veterinarian who specialized in wild birds. Over the years, Orr and her team treated everything from hummingbirds to condors, quickly outgrowing the 1-acre property. In 2017, a grant from the Rob and Melani Walton Foundation allowed the organization to build a new state-of-the-art facility on 6 acres along the revitalized Rio Salado River.
The rehabilitation center features an intake window for animal drop-offs, while the hospital includes rooms for triage, surgery and isolation. Out back, 180-foot-long flight cages offer room for condors and eagles to regain their wing strength.
When first formed, the organization took in about 85 animals. In 2022, the center accepted more than 12,000 animals — including birds, smaller mammals and other desert dwellers. According to executive director Megan Mosby, 54% of those animals were treated and released back into the wild.
"Everything we can release, we do," Mosby says.
Animals that can't be released often find homes in the group's educational programs.
The documentary introduces viewers to Bailey, a 35-year-old turkey vulture who is imprinted on people and therefore unable to fend for himself in the wild. Then there's Aurora, a 20-year-old bald eagle who, as a fledgling, lost vision in her left eye, making it impossible for her to develop the depth perception needed to hunt for food. Now, she soars in her own special way on educational trips on the Verde Canyon Railroad.
"Liberty Wildlife keeps condors that can't be re-released into the wild here as ambassadors, and there's a new exhibit with condors that can't live in the wild," Atwell Ford says. "It's fascinating to see them up-close. That's a piece of Liberty Wildlife that we didn't want to leave on the cutting room floor because we wanted people to understand what they could learn about by coming here — and what they can learn from animals that wouldn't survive in the wild."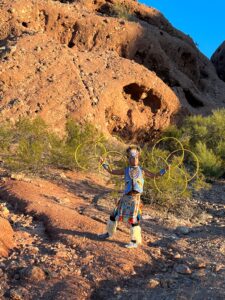 A Cultural Treasure
In a small room accessed from the backyard, Mesta and Mare VanDyke, NEFR facilitator, are surrounded by displays of feathers of all sizes and colors, taxidermized birds and Native American accessories crafted from feathers. This is the Non-Eagle Feather Repository. It is one of only three repositories in the U.S. that are permitted by the U.S. Fish and Wildlife Service to accept, hold and distribute feathers.
"The NEFR is a unique program because it has both cultural and conservation focuses that complement one another," Mesta explains. "As long as we're getting feathers out there for cultural purposes, we're helping to conserve North American bird populations."
From molted feathers to frozen carcasses and everything in between, the NEFR at Liberty Wildlife deals in more than 1,100 species. Bald and golden eagle feathers are handled by the National Eagle Repository in Commerce City, Colorado. In 2022, the NEFR fulfilled 533 requests for feathers from tribes across the country.
According to Atwell Ford, the repository was the catalyst for the documentary.
"Melani [Walton] was very concerned about indigenous culture and wanted people to learn about Liberty Wildlife's Non-Eagle Feather Repository," she says. "She also wanted Native American tribal members to know that they can acquire feathers at no cost for use in their regalia."
Adding to the conversation in the film about the use of feathers in regalia are world champion hoop dancer Tony Duncan; his wife, Violet; and dancer and chief administrative officer of Sunrise Native Recovery, Alan Davis.
"Every time we make a film, we learn all sorts of new information," Atwell Ford says.
Quantum Leap editor and director of photography Bill Davis agrees.
"This film opened my eyes to all of the wildlife that is right here," he says, noting the presence of eagles at Tempe Town Lake and the sheer number of birds that pass through Liberty Wildlife's doors. "Working on the documentary renewed my gratitude and faith in other people."
For Atwell Ford, the film offers a connection to the natural world — and to each other.
"There's an ironic humanity about this story," she says. "And the fact that it elicits compassion — compassion for different species, compassion for where we live, compassion for each other — that's something we could use a big dose of right now."
"The Weight of a Feather" was made possible by the Rob & Melani Walton Foundation with additional support from Virginia G. Piper Charitable Trust. It is available for streaming with Arizona PBS Passport at azpbs.org.