Writer Shannon Severson // Photography by Loralei Lazurek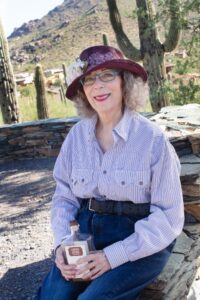 In the mid-1950s, the town of Cave Creek and its environs were in the midst of a transformation from the Wild West tradition of mining and ranching to residential expansion. The shift was not without challenge.
It's this hometown history and a collection of letters and recordings held in the Cave Creek Museum that inspired local playwright and Cave Creek resident, Andrea Markowitz to pen "Looking Back," which will be produced Nov. 17–19 at Desert Foothills Library.
The play traces the story of World War II combat veteran Dick Engel and his bride, Evie, who purchased Cow Track Ranch in 1950.
"I knew their story would fascinate today's audience the moment I dove into the newsy letters Dick wrote to his mother," says Markowitz, who based most of her characters on people who called the area home in the 1950s. "Dick chronicles the couple's trials and triumphs as they search for their place in a changing world."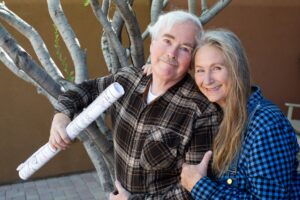 Love, Struggle and Characters About Town
The Engels had big dreams when they purchased the 640-acre Cow Track Ranch, but the initial investment pushed them to the edge of financial ruin as Dick faced profound health struggles exacerbated by his time in the service. Could subdividing their beloved land be the solution to their troubles?
"It's an example of that old, familiar love story, but with a twist," Markowitz explains. "Couple meets desert; couple loses desert; couple wins the desert back."
Markowitz sees the Engels' tale as a "double love story." Dick's correspondence refers to his relationship with Evie as a "continuous honeymoon" and details the couple's struggle to make ends meet in the desert with which they fell in love.
There are appearances on the stage by local historical figures, including Bud Miller, Harold's Corral Bar's official greeter and a former Pony Express rider; Manfred Cartwright, owner of Cartwright Ranch at Seven Springs; and Jerry Permutt, owner of Cave Creek's grocery store and the gas station that now welcomes hungry diners under the moniker Big Earl's Greasy Eats.
There are also local faces in the cast. Markowitz plays a fictional character inspired by Catherine Jones — better known as "Cattle Kate," a feisty, gun-slinging rancher. Meanwhile, Doug Edwards, who resides on the south side of Black Mountain, plays "Rackensack," and the Engels are portrayed by present-day Cow Track subdivision residents Phyllis and Peter Strupp.
Desert Foothills Theater's producing artistic director, Sandi Carll, has provided assistance with the production as part of the theater's new Desert Playlights program, which incubates new plays by local playwrights. The theater previously staged Markowitz's "Fair Game," which received the ariZoni Award of Excellence for best new script, 2021–2022.
"I'm delighted to participate in staging another play by Andrea, who is [Desert Foothills Theater's] playwright in residence," Carll says.
The cast has also benefited from the use of rehearsal space at the Holland Center, courtesy of its executive director, Jennifer Rosvall.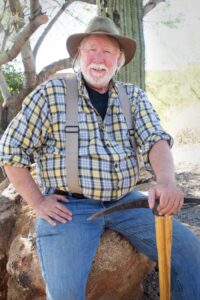 History Comes Alive
Markowitz's work is an example of what Desert Foothills Library's new Living Library oral history program is all about: preserving the past and making it readily available for future generations to reflect upon and learn from the residents of days gone by. In fact, future workshops will be offered on how to conduct oral history interviews and how to convert those histories into stories and scripts.
The playwright says that she was drawn to the Living Library's mission "to preserve the history of Carefree and Cave Creek through the hearts and minds of the people who lived it." Recorded interviews with residents past and present can be listened to in the library's Southwest Room or online via Arizona Memory Project's website.
"Looking Back" is the second event in the Living Library's ongoing lineup. The program's first community experience was a Storyscope Story Circle event in October, led by The Storyscope Project founder John Genette.
The program also partners with Cave Creek Museum, which has been adding to its deep well of historical documents, records and photos over many decades.
Debra Lay, executive director of Desert Foothills Library, says that she is delighted with the collaboration between the library, museum and theater.
"Combining our talent and resources augments our ability to serve this wonderful community," Lay adds.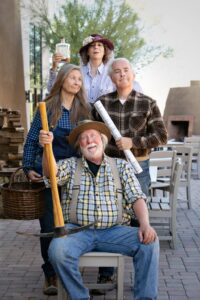 Future Preserves Past
Numerous interviews with notable Cave Creek and Carefree residents have been recorded through the Living Library program — including cowboys who roped cattle on that Cartwright Ranch in Seven Springs, Cave Creek's first town nurse, one of the first town council members and an avid wildlife conservationist.
"When we began to interview locals in the 1980s, some of them had lived in Cave Creek for more than 50 years," says Evelyn Johnson, Cave Creek Museum's executive director. "The play's inspiration is based upon listening to the actual voices of Cave Creek pioneers."
New recordings will find a home in the library and on the Arizona Memory Project website as volunteers tap into the memories and wisdom of entrepreneurs and artists, volunteers and life-long residents who can recount their childhoods in the area.
"Looking Back" is a valuable example of the stories that can be told to highlight the community's past in an enriching and entertaining way.
"Our production of 'Looking Back' would not be possible without community," Markowitz says. "It excites me to no end to contribute to the Living Library program by creating a play inspired by Cave Creekers who have a 70-year-old story that resonates in our hearts. This is what Living Library is all about.
"Our stories don't begin and end with celebrities and public figures. Everyone has a story that matters. It's the people who'd never expect to become the central figures in a book or play who have the most interesting stories to tell."
---
'Looking Back'
Nov. 17 // 2 p.m. // Desert Foothills Library // 38443 N. Schoolhouse Road, Cave Creek // $25+ // 480-488-2286 // dfla.org