Writer Joseph J. Airdo // Photography by Chris Lee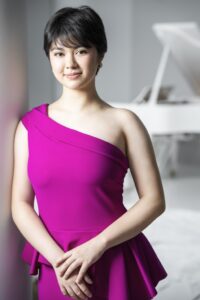 Ten years ago, following a successful career as a seasoned opera singer and professor of voice at Kent State University, Mary Sue Hyatt arrived in Carefree with an intense passion for classical music.
"Classical music has always been at the center of my musical being," says Hyatt, acknowledging its presence throughout the generations.
Therefore, upon discovering the prominence of classical music in Christ the Lord Lutheran Church's services, Hyatt became incredibly interested in the church and its programs.
Hyatt met Michael Johnson, who was Christ the Lord Lutheran Church's pastor at the time, and learned that the church had a small concert series featuring local performers that had been initiated by its organist and choir director, Barbara Aldrich.
"The congregation was looking for an outreach tool to draw more people to the church, and they hoped to accomplish this through music and the arts — which was a common interest throughout the surrounding areas," Hyatt says.
Because Hyatt had a wealth of musical experience and many musical contacts to draw upon, the pastor asked if she would be willing to help the church expand its music program. Hyatt, of course, agreed and helped launch Christ the Lord Lutheran Church's Ministry of Music, which aspired to engage the community, celebrate the arts and delight the spirit.
"The congregation embraced the idea of musical expansion and purchased a marvelous Steinway concert piano," says Hyatt, noting that, in addition to its adult chorale and handbell choir, the church began to offer workshops and private lessons, as well as a new performance series that sought to present some of the finest secular and sacred music concerts.
"And here we are, celebrating the 10th anniversary of our Living Music Performance Series, which has featured international artists, nationally celebrated musicians and local musical celebrities/ensembles."
Over the past decade, Christ the Lord Lutheran Church's Living Music Performance Series has welcomed the Watoto Children's Choir from Uganda, Africa and vocal chamber music ensemble the Italian Madrigals from Florence, Italy, as well as a number of exceptionally gifted alumni from the Curtis Institute of Music — including virtuoso pianist Eric Liu and virtuoso violinist Grace Clifford.
"Curtis accepts just 4% of applicants and has a student body of only 175," says Hyatt, who is a Curtis alumna herself and notes that the music institute is a tuition-free conservatory. "Artistic promise and talent are the only considerations for admission."
This month, another Curtis alumna will take the stage at Christ the Lord Lutheran Church as pianist Avery Gagliano kicks off the Living Music Performance Series' 10th anniversary season of concerts — which also features chamber choir Canticum Novum in December and tenor extraordinaire Tim Culver in February.
Having made her debut at Carnegie Hall at the age of just 20, Gagliano came to international acclaim as the First Prize and Best Concerto Prize winner of the 2020 National Chopin Piano Competition and as the only American semifinalist at the 18th International Chopin Competition in 2021.
"Avery is an excellent example of an exceptionally gifted young musician with outstanding pianistic abilities coupled with intense emotional depth and musical expression," says Hyatt, who now serves as director of music ministries at Christ the Lord Lutheran Church. "I am blown away by the talent and the professionalism that these young performers display.
"As a student at the Curtis Institute of Music, Avery is at the finest conservatory in the world and has and will further receive a musical education of unparalleled quality. I feel she is extremely capable of becoming one of the most celebrated pianists of her generation."
---
Curtis on Tour: Avery Gagliano
Saturday, Nov. 18 // 3 p.m. // Christ the Lord Lutheran Church // 9205 E. Cave Creek Road, Carefree // See website for price // 480-488-2081 // ctlcarefree.org