Writer Rebecca L. Rhoades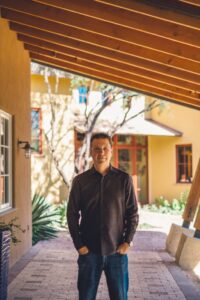 Greater Phoenix is home to numerous luxury master-planned communities, from Desert Mountain in the far northern reaches of Scottsdale to Las Sendas on the eastern edge of Mesa.
Two of the most lauded and highly sought-after are DC Ranch and Silverleaf, nestled in the foothills of the McDowell Mountains in North Scottsdale.
Developed more than 20 years ago, these two neighboring communities are known for verdant golf courses, upscale amenities, unparalleled desert views and custom luxury homes that frequently grace the pages of architecture and design publications. Serpentine drives wind around well-spaced greens, sprawling country clubs, meticulously landscaped park lands and large properties that offer privacy while still creating a sense of belonging.
These communities owe their reputations as much to their exclusivity as they do to the man who helped create them — architect Dale Gardon.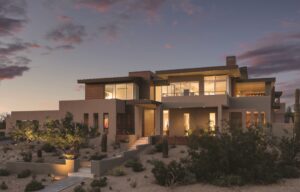 Practice Makes Perfect
Born and raised in Buffalo, New York, Gardon fostered his design acumen at an early age, owning and running a vehicle pinstriping business as a teen and later, while in college, doing snow removal and landscaping.
"I had to bring a design sensibility to each step, so that prepped me for architecture while I was learning architecture," he explains.
A Fulbright scholarship brought Gardon to Phoenix, where he received his graduate degree in architecture while studying under the tutelage of some of the Valley's most renowned practicing architects, including George Christensen, Calvin Straub and Jack Peterson.
"The sun was shining, and it's a beautiful place," Gardon says of his initial impressions of Arizona. "But the key was that my professors were practicing architects. In Buffalo, everything was theoretical, and not one of my professors was practicing. They were all just there to talk, and that bothered me."
As a student, Gardon worked for a small satellite office of a Pennsylvania-based architecture firm, where he was given the freedom to work on large projects, such as the design of a 40,000-square-foot corporate center in Casa Grande. After receiving his degree, he started at the prestigious firm of Vernon Swaback Associates, now known as Swaback Partners. Vernon Swaback, the firm's founder, was the youngest-ever apprentice of legendary, groundbreaking architect Frank Lloyd Wright.
"On my first day there, Vern slides a 1,000-unit property at me and goes, 'Can you do master planning?' It was part of Fountain Hills, and next thing you know, I'm doing Eagle Mountain," Gardon recalls. "I liked the fact that planning was macro scale, and architecture was fine-tuning your macro-scale perspective into a house or building."
By the time Gardon left Swaback after 13 years, he had been named one of the firm's principals. And he was knee-deep in the creation of DC Ranch and Silverleaf.
The enormity of the projects consumed Gardon, who served as a project lead. His team included multiple architects, landscape architects, civil engineers, geologists, archaeologists, biologists and more. He farmed work back to Swaback, based on coordination with the developer, DMB.
"And that's how I started my firm in 1999," he says. "It was architecture, planning and placemaking."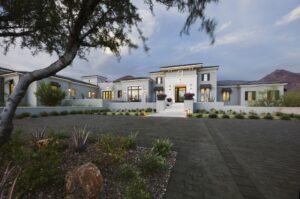 Reshaping the Valley
In Buffalo, as in many older cities across the country, variety dominates. Every house is different. This was also true in Phoenix — that is, until production building took over.
"My biggest observation about Phoenix in the mid-'90s was everything looked the same," Gardon says. "The most successful master-planned communities of the time were Terravita, McDowell Mountain Ranch and Grayhawk, all of which have an air of sameness amongst the architecture, because the idea of value presentation back then was sameness. It was 'don't do something different, or you're not protecting value.' This was a blight to me."
Gardon founded DC Ranch on the principle of diversity.
"Every home needs to feel the richness of something uniquely different, not just a Spanish mish-mash," he says. "Then it becomes writing guidelines of style and character to effectuate."
His firm authored the design guidelines for both DC Ranch and Silverleaf.
Luxury home builder Anthony Salcito, president of Salcito Custom Homes, has worked with Gardon for close to 30 years. The two have completed more than 100 projects together.
"Dale has been very instrumental in writing the guidelines that not only we but also all others need to follow in order to work in these communities," Salcito says. "The overall feel and sense of quality and place are a direct result of his involvement in the master planning and authoring of the community guidelines."
During the early development stages of DC Ranch, Phoenix architecture was at a low point. Faux Tuscan and Pueblo-influenced dwellings shared space with tracts of indistinct rows of boring beige boxes topped with red clay tiles.
"There was no identifying root," Gardon says.
Influenced by the Valley's early Spanish colonial estates as well as the front porch character of ranch-style homes, the architect brought together Western regional and Spanish architecture for a look that was an instant hit with homebuyers.
For Silverleaf, he focused on the area's grand estates, such as Wrigley Mansion or the homes surrounding Phoenix Country Club.
"We asked ourselves, 'Can they have a desert hillside setting" Gardon recalls. "And we answered the question by providing all the Spanish heritage and formal and rural Mediterranean character."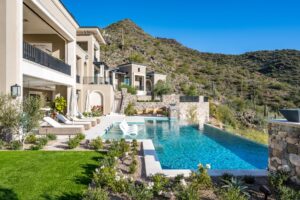 Design Evolution
Of course, homeowners' tastes and architectural styles have changed over the past several decades. Formal Mediterranean and Spanish colonial, with their arched doorways, Venetian plaster walls, heavy wood cabinetry, stone columns, ornate metalwork, tiled roofs and dark hues, have given way to more modern designs with clean lines, minimal ornamentation, bright and airy color schemes, and large walls of windows.
"Dale and I tend to work in neighborhoods for which the guidelines were originally written with an emphasis on formal character," Salcito says. "Today, some of the homes that we are doing have far less ornamentation, longer spans, more glass and extremely sharp details."
While many homeowners still love a more formal exterior, they want to freshen things up inside.
"People ask me if it's crazy to have a contemporary interior inside of a traditional home, and I say, 'No, bring it on,'" Gardon remarks. "It's like a beautiful, chic hotel in Europe. You're walking down the street and you open the door, and you're blown away by the contrast."
Dark walls and textured wallpapers are gone in favor of light-colored or white paint. Chunky cherry wood cabinets are replaced with sleek Euro-style cabinetry. Acrylic furnishings allow floor details to shine. Silk fabrics and low-profile furnishings add a modern touch. Columns and arches are removed, and French doors give way to retracting walls of glass that bring in natural sunlight.
Then there are those who want to execute formal Mediterranean architecture in a crisp, cleaner manner. Zero-edge pools, crisp lines, narrow trim, cleaner fascias reinterpret traditional architecture with modern sensibility, modern furnishings and modern detail.
"That is how we've evolved in Silverleaf," Gardon says. "The key is that nothing stands out. If we're going to evolve out of the pure traditional and authenticity of styles, then it still has to have all the other good principles of scale, proportion, texture and contract. Silverleaf has embraced this evolution."
For his own home, a two-story contemporary design in DC Ranch, Gardon turned his work on its head — literally. He inverted the traditional layout, placing the bedrooms on the ground floor and the main living spaces, including the living room, dining room and kitchen on the upper level.
"The beauty of living at a second level allows us to embrace the extraordinary vistas and views that Phoenix offers," he says.
These days, Gardon is focusing on the development of another master-planned community. Located in Buckeye, Verrado will contain 14,000 dwellings when completed, as well as a golf course, dozens of community parks, miles of hiking paths, a swim park and a "downtown" area, complete with shopping, restaurants and residential services.
"There's a distinction to any project that we're doing," he says. "We want people to drive in and take note of every detail, from the roads to the signage to the landscape to the architecture. And that's usually the way it is. They may not notice or understand everything that's going on behind the scenes, but there's a foundation of materials or other principles linking them together.
"We've been very fortunate with our clients. Not many architects get to work at the scale that we get to work at and influence. They may get to do a home here or there, but when you create community, that's a higher calling, and it's something I'm very proud of."