Writer Joseph J. Airdo
Photography Courtesy of Tender Little Hearts
[dropcap]I[/dropcap]t is nearly impossible for McDowell Sonoran Conservancy steward Terry Holmes-Stecyk to travel very far along the McDowell Sonoran Preserve's trails with her miniature horses — much less exit a library elevator — without being bombarded by questions and cameras.
After all, as if her pint-sized equines were not eye-catching enough, their sight is made even more sensational by some of the most absolutely adorable costumes imaginable — unicorn horns, fairy wings, ruffled tutu skirts, patriotic hats and even garb usually relegated to your favorite superheroes.
"We like to dress them up in creative costumes because children love things that are bright and colorful," says Holmes-Stecyk, who runs Tender Little Hearts, a Rio Verde Foothills-based nonprofit that uses miniature therapy horses to provide encouragement to young readers and touch the lives of those most in need.
The articles of "clothing" that often garner the most attention are the shoes that the miniature horses wear on each of their four feet… or hooves.
"We have these miniature tennis shoes that are a Build-A-Bear [Workshop] type of shoe," Holmes-Stecyk explains. "They are actually for the horses' safety because, when we go into libraries and other facilities, they have to walk on tile, so it prevents them from slipping. But people just really get a kick out of seeing horses wearing little shoes."
Originally from the Prescott area, Holmes-Stecyk grew up on a horse ranch, where she first discovered just how majestic equine creatures could be.
"My grandfather was a horse trainer, so I have been around horses for pretty much my entire life," she says.
Holmes-Stecyk had been volunteering with a couple of miniature horse groups while working as a dental hygienist, which intensified her interest in equine therapy. In 2018, she began using her own miniature horse, Dolly, to bring smiles to people's faces. One year later, she decided to register Tender Little Hearts as a nonprofit organization with the Arizona Corporation Commission.
Holmes-Stecyk retired this past May so that she could focus on Tender Little Hearts — a project that has quickly become her life's passion — full-time.
"I have had an amazing life," Holmes-Stecyk says. "I have lived overseas, I have traveled the world … I really felt as though I had been there and done all that. But these little horses opened my eyes to the gift of service — and the gift of opening my heart up to others."
Turning Pages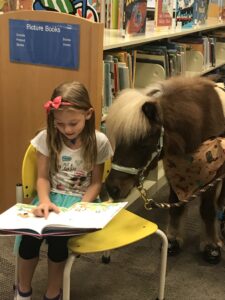 There are actually two parts to Tender Little Hearts — Mini Tales and Equine Mini Therapy.
Mini Tales is a program that provides encouragement to young readers, inspiring them to develop new confidence, unfold their imagination and gain expanded knowledge.
Similar programs at libraries and schools typically use dogs. Holmes-Stecyk, who has three dogs herself that she absolutely adores, says that dogs are wonderful and cuddly but that horses — particularly miniature horses — provide an even greater opportunity for engagement.
"Horses are prey animals," Holmes-Stecyk explains. "They are always alert to make sure that nothing is going to eat them. So when children are reading to them, it is as though they are actually listening to the story."
Holmes-Stecyk adds that her miniature therapy horses may often nudge a child or even turn the page of the book that is being read.
"We bring the horses right up alongside the child," Holmes-Stecyk says. "They are non-judgemental, which encourages the child to read out loud. The equines do not care if the child mispronounces a word or forgets to stop at a period or something. So that really helps to build the child's confidence."
She especially enjoys seeing children turn their books around to show the picture on the page to the miniature horse to which they are reading.
"I really love that interaction," Holmes-Stecyk says. "It is all about trying to get these children, at an early age, to have a love for reading. It really is just a wonderful stimulus."
Until recently, Tender Little Hearts had to pause its library and school visits due to the COVID-19 pandemic. Of course, with so many children at home looking for ways to keep their minds stimulated over the past year, Holmes-Stecyk developed a 10-minute virtual reading experience featuring her miniature therapy horses.
"We have a video on our website with bird sounds and two of our horses and the donkey all looking at the camera," Holmes-Stecyk says. "That way, children could continue to read to them even while they were at home.
However, now that libraries are beginning to resume their normal services, Holmes-Stecyk brings her miniature therapy horses directly to the facilities so that children can read to them in-person, just as they had prior to the pandemic.
"I will see the same children every single month," Holmes-Stecyk says. "They will be there, ready to read. And if there is more time, they will go back through the line so they can read to the miniature horses again."
Building Bonds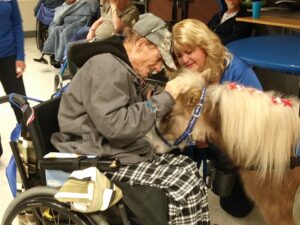 Meanwhile, Tender Little Hearts' Equine Mini Therapy program uses the miniature horses as therapy animals that touch the lives of those most in need — the elderly; military service members and others who suffer from emotional/behavioral disorders; people who struggle with addiction; and autistic children and adults.
The simple act of petting animals releases an automatic relaxation response, lowers anxiety, reduces loneliness, increases mental stimulation, provides a happy distraction and even acts as a catalyst to reduce resistance in the therapy process.
Holmes-Stecyk loads her team — including Dolly, Mazy, Buddy and miniature Sicilian donkey Boone — into a cargo van and transports them to various facilities throughout the Valley.
"One of my favorites is Lone Mountain Memory Care," she says. "Our miniature horses will often trigger a memory for patients. For example, one elderly woman would actually scold us every time we visited her because she thought that we were bringing her horses there. She told us how she wanted them cared for and such. During one of our visits, her grandchildren were there and she gave them a lesson on how to groom the horses."
Holmes-Stecyk adds that Tender Little Hearts' miniature therapy horses also visit hospitals, Arizona State Veteran Home, Saint Vincent de Paul's Dream Center, Childhelp and MIKID — Mentally Ill Kids in Distress.
"They can immediately tell a difference in these children with developmental/behavioral issues," Holmes-Stecyk says. "And it lasts for a while. We hear over and over how people tend to talk about the interaction that they have with the horses for at least a week or so. There is such a bond that is built."
After all, a horse can hear a human heartbeat from up to four feet away.
"A horse gets into sync with that human and they just build this bond with one another," Holmes-Stecyk explains. "Their anxiety goes down, the horse is relaxed and they become one unit. That positive, loving energy flows back and forth. It is comforting, healing, satisfying and wonderful."
Transforming Lives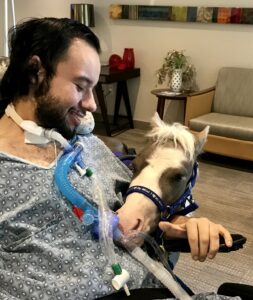 Understandably, Holmes-Stecyk would like to not only continue to provide that incredible interaction to as many people as possible but also build upon it.
Therefore, she is organizing an Oct. 2 cornhole tournament fundraiser at Tender Little Hearts' Rio Verde Foothills ranch. Teams of two may enter the tournament for $50 and benefit the nonprofit organization while also having a chance to win a $1,000 grand prize.
"These little horses can do powerful things," Holmes-Stecyk says."We often never know the impact an encounter can make."
However, an encounter during one of Tender Little Hearts' very first site visits affirmed every second of time that she dedicates to her nonprofit organization. The daughter of a patient with Huntington's disease at Allegiant Healthcare of Phoenix was transformed from a point of exhaustion to a place of hope after seeing her mother's positive interaction with Holmes-Stecyk's miniature horse Dolly.
"Some patients often refuse to even come out of their rooms," Holmes-Stecyk says. "But when they hear the clip-clop of the horses' feet, they rush out of their rooms as fast as they can physically do so to see and be with that horse. These little horses give them a reason to smile.
"They touch so many lives in so many different ways and do it so effortlessly. There is not one single day that I come home from either a reading visit or a therapy visit and think, 'Why am I doing this?' My heart is filled to the bursting point as I watch what these animals can do and how they transform lives."