Writer Joseph J. Airdo
Photography by Gerry Groeber
[dropcap]I[/dropcap]ndependence Day may have come and gone but we are smack-dab in the middle of the real fireworks display.
In 2008, National Weather Service officials decided that Arizona's monsoon season would begin on June 15 and end on Sept. 30. Of course, the thunderstorms that bring rainfall may form at different times and in different places across our region, but these summer months are typically when we see the most — and the most dramatic — activity.
And that activity extends far beyond just rainfall. Ominous clouds form in the distance and menacingly make their way directly overhead, turning day into night. Wild winds swirl dust particles into the air, blanketing entire communities in complete chaos. Our skies light up with streaks of lightning, which are then followed by startling cracks of thunder.
Suffice it to say, these storms make their presence known.
However, as alarming and destructive as they may be, there is also abundant beauty in our monsoons. Those dark clouds and their resulting rainfall give the Valley some much-needed relief from summer's scorching temperatures. The varying density of the clouds also makes it possible for lightning to momentarily paint remarkable mosaics across our skies.
Viewing dust storms from a distance illustrates the sheer magnitude of our cities — yet, at the same time, how they are merely small dots on an enormous planet. And the thunder encourages us to huddle together with our loved ones, who make us feel safe and secure regardless of what foreboding forces might threaten us.
Of course, then there are the astonishingly colorful rainbows that stretch from one mountain range to another, indicating the end of the storm and symbolizing how when we traverse the tough times we emerge stronger and more resilient.
Fine art landscape photographer Gerry Groeber is very familiar with all of this beauty and more as he captures all aspects of Arizona, including its monsoons, on camera. It is our hope that in sharing his work, which so sagaciously reflects both the magnitude and the aesthetic magnificence of these storms, that our Images Arizona readers will see them in a new light — appreciating nature's fireworks rather than fearing them.
About the Photographer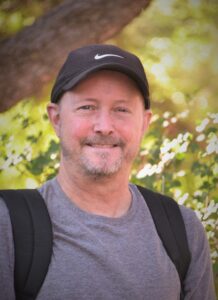 Originally from Southern California, Gerry Groeber has always considered himself to be an artist.
"My father enjoyed doing oil paintings so I had a lot of books on classic landscape oil painters," says Groeber, who began exploring videography in his 20s before discovering a passion for fine art landscape photography. "A lot from my early years of seeing the masters of landscape oil painting comes back to me as I incorporate it into my compositions and how I photograph landscapes."
Groeber arrived in Arizona about 23 years ago and quickly fell in love with the state — especially what it had to offer him in the way of his art. Although he has spent time in other Arizona cities, including Mesa, his move to Prescott two years ago has proven to be the most beneficial to his craft.
"Prescott is kind of the hub or the spoke of the wheel," Groeber explains. "I can get to the Grand Canyon in less than two hours. I can get to Flagstaff, I can get back down to the Valley … it is nice to be centrally located for all that Arizona has to offer. Plus, Prescott has a really great art vibe."
Groeber's photography and replica pottery can be viewed at Art2 Prescott in downtown Prescott on the Mezzanine in the Old Capital Market Building.
"It has always been inherent for me to create," says Groeber, who has explored a number of different mediums, including music. "Photography is where I landed after years and years of creating different types of art. I think that artists are born with the drive to create. It can be in many forms and still be something that satisfies that drive to create, do something new and then share it."