Writer Shannon Severson
Photography Courtesy of Blushing Cactus Photography and VGroup Photography
[dropcap]R[/dropcap]ock bands are synonymous with free-wheeling, adventurous attitudes and a healthy dose of mischief — and maybe even a rebellious streak. The four Phoenix natives who comprise Promise To Myself, an alternative pop-rock band, are all of those things, but they also have a mile-wide charity streak that runs through everything they do.
Lead vocalist and bass guitarist Karl Nagy, rhythm guitarist and backing vocalist Zack Bruge, lead guitarist Brad Stockton and drummer Tony Galvan have made building community and donating to worthy causes part of the culture of their band from its very origin.
As high school seniors, they performed their first gig at Rock the District — a band competition fundraiser for Cave Creek Unified Education Foundation. That event connected them with their manager, Stacy Nupoff, and they continued to be part of the fundraiser over the years as judges and mentors for other young musicians.
"I believe if you don't use your platform for good, then why have a platform?" asks Bruge, a broad-shouldered guy with a wide smile and easy laugh. "Ours isn't that big yet, but why not use what we have?"
Promise To Myself has continued to build upon that foundation of goodwill and it has had a busy couple of years doing it. In November of 2020, the band played an online "live-a-thon" concert for Family Violence Awareness Month to benefit Wellspring Family Resource and Crisis Centre.
This past March, the band released the song "Twenty" to benefit SafeBeat — a program whose mission is to provide affordable, high-quality preventative heart screenings for all active children in an effort to reduce sudden cardiac death in youth. The title of the song references the 20 children who die each day from undetected cardiac arrhythmia.
Coffee for a Cause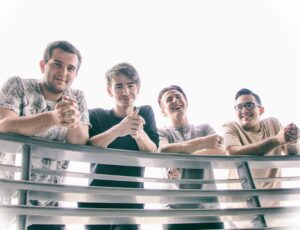 Most recently, Promise To Myself has released its own coffee brand, Up All Night, in partnership with Expressions Coffee Roasters — an Arizona producer of custom blend teas and coffees. It's fitting since the band members are self-confessed coffee addicts and their 2018 debut EP, "One For The Runaways," can be heard at all Dutch Bros locations nationwide.
A portion of the proceeds will benefit the RnR Memorial Foundation, which helps kids with a passion for hockey with equipment, fees and camps. RnR Memorial Foundation was founded by Tracy and Brent Stark after Tracy's sons, Ryder and Radek, were tragically killed by their own father just before Christmas in 2016. Up All Night coffee will share the boys' story and the mission of the foundation on its packaging.
"Promise To Myself is just an incredible group of young men and for them to take on this cause is so amazing," Tracy says. "When the boys passed away, we took money that people had donated to our family and decided to do something in their name. Hockey is what my kids lived for and now I can help other kids play the sport.
"My mission is to live their life for my boys and live it to the fullest. I don't want sad angels. I want them to look down on me and say, 'That's my mom and she's awesome.'"
Nupoff connected the band members with the Stark family and the partnership has been going strong since 2018. The band produced T-shirts and a hockey jersey to benefit the foundation. It also hands out heart-shaped stickers with the RnR logo, asking fans to take them on their travels and use an identifying hashtag when they post pictures to social media.
"Tracy has been a dear friend of mine," Nupoff says. "When the band was saying they'd like to do something charitable, I introduced them to Tracy — who has a home in Arizona — and they fell in love with each other. The stickers help spread the word about who Ryder and Radek were and now the boys can see the world through everyone else's eyes. Every year on their birthdays we post a challenge to do something good in their names and post it on social media."
The foundation has raised about $12,000 in its hometown of White Court, Alberta, Canada and has helped 10 kids so far.
"We are always trying to find ways to help RnR and we have done several fundraisers for them," says Nagy, whose gregarious personality makes him a frontman who can engage a crowd and communicate for a cause. "They're top-of-mind. We'd talked about producing coffee for a few years and we wanted to join forces with RnR for the coffee. We designed a hockey jersey with the logo and we are super excited about it."
Community and Connection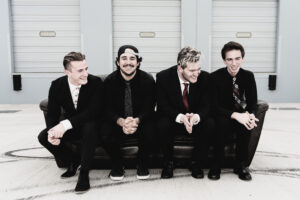 Bruge and Stockton first founded Promise To Myself after meeting in a Pinnacle High School guitar class. They bonded over music and the fact that they both had Bs in their names. They needed a singer and Nagy had the pipes, but not the requisite B — at least at first glance. But once he revealed that his middle name was Brandon, they were back in business and off to a great start.
"It's funny to think that if Karl didn't have a B in his name we wouldn't be in the band together," Bruge says.
Drummer Galvan is the exception to the B-rule as well as having a different high school alma mater; he attended Paradise Valley High School. The four represent a range of talent, personalities and musical tastes.
Stockton, who comes across as thoughtful and quiet, works with Nagy to compose the band's music while Nagy and Bruge collaborate on lyrics. The focus is on a good hook and trusting that the rest will come together. Their upbeat, poppy but guitar-heavy style is fun and catchy.
They avoid pigeonholing their music into any one genre as their own influences are so wide-ranging: Karl favors All Time Low, The Band CAMINO and K-Pop; Zack likes 21 Pilots and Wu-Tang Clan; and Brad listens to rapper Machine Gun Kelly — a diverse collection of influences if there ever was one.
Promise To Myself has released 15 songs over the past three years. The band also signed to The Orchard (Sony), played the Vans Warped Tour and performed at the National Association of Music Merchants — which drew quite a bit of attention.
Just as the band was prepping for a live show to celebrate the release of its second EP, "I Might Be Crazy," the COVID-19 pandemic shut down its opportunity to perform at live venues.
"When we found out the pandemic was going to cancel our release party, we decided to release it anyway," Nagy says. "We figured we might as well just keep it out and knew, for the foreseeable future, nothing was going to happen. We started doing YouTube videos, skits and livestreams. We began writing the third album right away. We released both 'killmeslow' and 'Changes.'"
The band ultimately released 10 songs in 2020 and filmed several music videos, working with the challenges of social distancing and finding collaborators who were already within their close circle. "killmeslow" was filmed in the Nevada wilderness, miles into a dry lakebed.
"We didn't even have an actress for the video," Stockton says. "My little brother's ex-girlfriend made the cut. We filmed in the middle of nowhere, which is all you could do in a pandemic. Our director, Daniel Miller, is amazing. He's shot several of our videos."
With restrictions easing, Promise To Myself is back on stage. The band released its latest single, "C H E R R Y L I M E A D E" in July and, at Images Arizona's press time, was scheduled to play an August show at The Nile where it planned to integrate trampolines on the stage. It's that high energy that fuels Promise To Myself's shows and the band members' creative process.
"We go where the dopamine takes us," Nagy says.
Bruge adds that the band members feel a connection when fans support them.
"We can't do what we do without them," he says. "We want to help people. If we don't give back, then we can't expect much back."