Writer Shannon Severson // Photography by Loralei Lazurek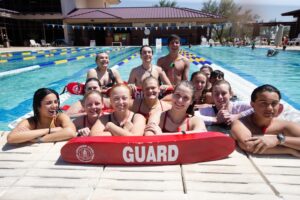 It's Anthem's hottest summer job; but contrary to Hollywood stereotypes, it's not all about wind-tousled hair and slow-motion jogging. Being a lifeguard means long hours in brutal heat and daily skills training with an eagle-eyed focus on preserving safety and saving lives.
Overseeing it all is Tya Kuzov, the aquatics program supervisor for Anthem Community Council.
Water is a constant element flowing through Kuzov's life. She hails from a family of lifeguards and some of her earliest memories are of spending summers at the pool her grandmother managed, helping with swim lessons and shadowing the lifeguards she admired.
A graduate of Boulder Creek High School, Kuzov joined Anthem Community Council in 2015, working in nearly every division — from the front desk to the adventure club and even coaching cheerleading. Inspired by her first manager, she was determined to pursue a career in recreation and tourism. One of her goals was to work her way up the ranks to the job she has now at just 24 years old.
Perhaps the most important of her many duties is leading the recruitment and training of the crucial, top-rated lifeguard program in the community as she also works to complete her undergraduate degree in recreation and tourism management at Arizona State University.
"I've always had a passion for health, fitness, leisure and recreation," Kuzov says. "I can see how they really help people emotionally and physically, so my goal is to stay within that scope [as a career.]"
Kuzov's tenacity, dedication and attention to detail are exactly the traits she looks for in the 75–80 lifeguards she employs each summer from Memorial Day to Labor Day. The number is lower during the off-season, but every spring begins a period of recruiting, interviews and rigorous recertification.
It's not the average summer job; saving lives is serious business. Many of the lifeguards Kuzov employs first participated in the Junior Guards program as middle school students, which takes place in June.
"I like watching the kids grow," Kuzov says. "They go through an interview, learn responsibility and many become very passionate about what they learn. They often go on to pursue becoming an EMT or a doctor. The heat and pay make it hard to recruit. In-N-Out pays more and has nowhere near the responsibility a lifeguard has."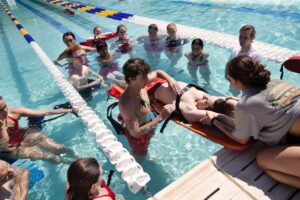 The training is also quite a bit more strenuous than working an average job. In addition to completing an 80-question test with a score of 80% or better, recruits must complete a 300-meter swim, a 50-meter sprint while wearing a tube and swim to the bottom of the 14-foot deep dive pool, pick up a 10-pound brick and swim with it across the pool, then do the same with a dummy, and, finally, with an instructor.
"As instructors, we swim to the bottom of the pool and wait and pray that someone comes to get us," Kuzov says with a laugh. "They can't get past training without that."
CPR, first aid, emergency oxygen and the use of AED defibrillators are also part of the training. Every week, those who make the grade attend in-service training for up to three hours in addition to their daily shift and go through emergency scenarios during their shifts to keep them ready in case of an emergency.
"People who stay and like the structure often go into military programs," Kuzov says. "I've written letters of recommendation for the Naval Academy, Army and Coast Guard. You have to be willing to train and be on your A-game. We push them to be responsible and they learn to be strong mentally."
Two of those lifeguards who have continued to return year after year are Brendan and Abigail Sauer-Newell, who have also been around water their entire lives. Their father, Scott Newell, is the director of programs and aquatics at Anthem Community Council.
Brendan got his start in the Anthem lifeguard program as a high school student. This year will be his eighth summer in the program.
"I climbed the ranks from lifeguard to lead lifeguard to pool manager and have since taken EMT classes," Brendan says, "I am currently working to finish my schooling to become a certified emergency paramedic."
Brendan's favorite part about the lifeguard program has been getting to help shape the younger generation as he has grown up. He says that many of the youngest lifeguards are just getting started in the lessons of serious responsibility, confidence and self-respect. He sees his younger self in them.
"I encourage them to better themselves and serve their community," he says. "Lifeguarding changes a lot of their perspectives when they finally connect the dots and see that what they are learning and doing can really help someone and make a difference in the world around them. I get an overwhelming sense of joy in knowing that one day the questions they ask me and my response may help them save a life.
"In Anthem, our lifeguards take pride in their skills and knowledge, always pushing to be better. I take pride in knowing that, because of my involvement and the dedication of these young men and women, our community is safer and an overall better place to live."
Abigail also began at age 15, as she and all her friends were involved in the Anthem Dolphins Swim Team that her father coached. Her older friends and mentor swimmers were lifeguards at the time.
"It was the next, natural step for myself and my friends at the time," Abigail recalls. "It was like being part of a team and we spend so much time together [that] we became like family. That's what I love most about this job. I also love the fact that it means something. The way we train and how we practice is for real-life situations that could make a huge difference… I love this job because it's important."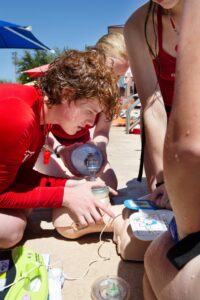 Building community among the lifeguards is also something Kuzov points to that has kept her coming back to the program over the years and is something she values today.
"It's a family," she says. "You create relationships you didn't think you'd create. We spend the whole day and evenings together and end up with long-lasting friendships."
Kuzov is also building an environment of positive relationships through the community activities she has developed and will supervise all summer long.
The Anthem community pool will be the site for swim lessons, a synchronized swimming program, recreational swimming classes for ages 6 months to adult, the Aqua Bats recreational swim team and Dolphins competitive swim team. There will also be a middle school pool party and high school pool party. All the while, her lifeguard team and junior guards will be there to ensure the pool is a safe place to enjoy cooling off during our hot Arizona summer.