Writer Shannon Severson
With apologies to Sly and the Family Stone, "hot fun in the summertime" seems a bit of an oxymoron in Arizona. You might think the only way to truly experience fun during our summers is to get out of town, lest you end up scorched like an over-charred kabob on the barbecue.
Not so! In fact, there are a lot of cool things to do around these parts — for both kids and adults. We've sleuthed out a selection of local entertainment options to help you beat the heat this summer.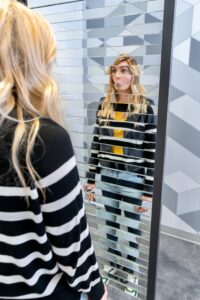 Scottsdale Museum of Illusions
Scottsdale joins the ranks of steamy locales like Cairo, Dubai and Zagreb with its new Museum of Illusions at the Arizona Boardwalk. Visitors can peruse more than 60 interactive exhibits at their own pace. The friendly staff is on hand to help with setting up trick photography shots that make subjects look like they're hanging off a balcony, defying gravity or appearing abnormally tall or short, among other Instagrammable set-ups.
"Museum of Illusions welcomes guests to experience mind-bending fun all summer long," says Stacy Stec, director of sales and marketing at LOL Entertainment. "This is a place for children of all ages. The magic of these exhibits brings out the 'wow' factor in everyone."
The museum bills its exhibits as an"edutainment" experience. Stec says the Vortex Tunnel, which appears to spin as you walk through, is particularly popular. There are also plenty of puzzles to solve. The museum plans to roll out back-to-school specials in August.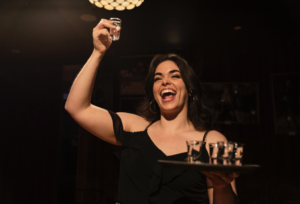 Drunk Shakespeare
What began in 2014 as an Off-Broadway tipsy celebration of the Bard in New York City has made its way to Phoenix. Often hailed as a "Live-Action Drunk History," the show, for ages 21 and up, is different every night depending on who's drinking and their choice of tipple.
Five professional actors meet as members of "The Drunk Shakespeare Society;" one actor is chosen to down five shots and then perform a major role in one of Shakespeare's plays. The task of the remaining four sober actors is to stick to the script and keep the story on track. Hilarity and mayhem ensue.
"We have been overwhelmed with an incredibly positive response from Phoenix audiences," says Dakota Reider, the production's national marketing manager. "[People] often comment about our intimate, speakeasy vibes, great cocktails and the show being one of the most hilarious and unique pieces of theater they have ever seen. We've had patrons see the show over five times who still plan on coming back again."
The show gets great reviews with many audience members commenting that they can't recall ever having laughed so much, pointing out that the show is great for those who love Shakespeare or those who wouldn't know "Macbeth" from "Much Ado About Nothing."
Performances take place at The Rose Theatre at Arizona Center, where craft cocktails are available for purchase by attendees. Drunk Shakespeare has experienced so much success that the show schedule is being expanded to meet demand. Shows often sell out quickly, so purchasing tickets early is recommended.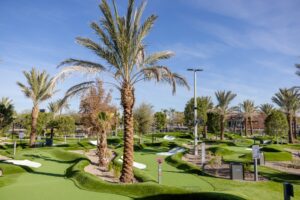 PopStroke
Miniature golf goes grand at this new Tiger Woods-owned venue at Westgate in Glendale. While the two Woods-designed 18-hole courses are admittedly outdoors, there are fans and a misting system installed throughout the courses and at the indoor/outdoor restaurant and indoor ice cream parlor where customers can order scoops or over-the-top milkshake creations. There's also a shaded playground and outdoor yard games.
The courses themselves mimic traditional golf courses with fairways, bunkers, contouring and, on the "Tiger Red" course, some tricky hole locations, attracting those looking for a challenge. The "Tiger Black" course is great for beginners and kids.
Woods, who has recounted spending time with his "pops" on the golf course as among his happiest memories, has expressed excitement about the possibilities in the Phoenix market.
"I am thrilled to have PopStroke expand into Arizona," he states. "PopStoke is a fun way for people of all ages and skill levels to enjoy time with family and friends."
Founder Greg Bartoli concurs and cites the Phoenix-Metro area as an existing world-class golf destination where the "growing mix of families, retirees and young professionals" will enjoy this style of family entertainment.
Something other than star power makes PopStroke different — its use of technology. A mobile app features a virtual scorecard that transmits scores to a giant leaderboard, connects players to on-course cocktail and drink delivery, adds up loyalty rewards points and there will soon be an electronic "iPutt" ball that transmits scores electronically, allowing players to compete against each other in a new way.
Currently, duffers get to keep their TaylorMade ball as a souvenir at the end of their playing time and, instead of paying by the round, fees are good for as many rounds in a day as desired. A Scottsdale location is also planned.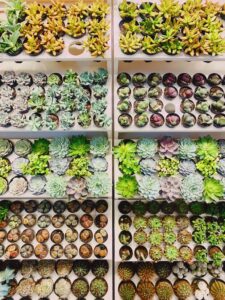 Jade & Clover
Succulents are having a moment. They've got texture, color and style when artfully arranged. Guests can get their garden on at Jade & Clover, a family-owned Arcadia shop and plant bar known for its picturesque living wall of these sculptural, drought-resistant plants.
"We help you create your own, one-of-a-kind terrarium," says Frank Ruggeberg, who opened Jade & Clover with his sister, Giselle, in 2016. "It's like Build-A-Bear but for succulents."
The charming shop has multiple rooms filled with gift items, plants for sale and a rainbow-hued array of plant containers in every shape and size. Once a preferred planter is selected, there is a wall of succulents to choose from — large and small, tall and short, smooth and spiky. Next, the store's staff provides direction on how to plant and care for the finished product.
Patrons can let their creativity guide them with colorful and often whimsical choices of sand, rocks, plants and small decorative accessories to individualize their creations. What terrarium would be complete without a mini disco ball or a tiny animal figurine?
"Our motto is plants, gifts and good vibes, which we really try to emulate when interacting with all our guests," Giselle says. "We try to make sure everyone has the most outstanding experience possible. I think that's why people want to come back and host parties of their own here. It's a great way to beat the heat this summer and experience it with your loved ones."
Jade & Clover offers a variety of classes and also has a mobile component if you'd rather host a terrarium-building event in your own home or office.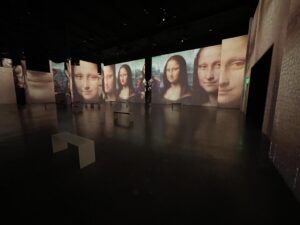 'Leonardo: The Universal Man'
Immersive art experiences continue to attract audiences and summer seems like the perfect season to sneak in a little education into your air-conditioned entertainment. As perhaps the most well-known of the Renaissance masters, Leonardo DaVinci contributed greatly to the spheres of art, science, math, architecture, philosophy and invention.
"Leonardo: The Universal Man" is the latest icon to be celebrated at Lighthouse Artspace Phoenix in Old Town Scottsdale. The artist's "Vitruvian Man," circa 1485, is first to greet visitors in the form of a photo opportunity.
Once inside the cavernous display space, DaVinci's life and work are divided into five floor-to-ceiling displays that detail the Italian legend's life, sketches, journal entries and art using cutting-edge projection technology featuring animated and kaleidoscopic treatments and music. The Mona Lisa (1503) and The Last Supper (1492) also make an appearance along with current interpretations of his drawings and creations.
"We have always admired Leonardo da Vinci as an artist," says Carlo Ruijgers, who co-founded TWOFIFTYK, the company that created the concept for the exhibit. "Not only because of his paintings but mostly for his never-ending curiosity and drive to learn more about how the world we live in works and how we can use these elements to create new things. Looking back on his life and what he has accomplished it is amazing to see how far ahead he was for his time on so many levels."