Writer Joseph J. Airdo // Photography by Loralei Lazurek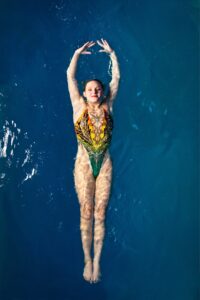 Seventy-nine years ago, Esther Williams appeared in a first-of-its-kind water ballet sequence in the major motion picture "Bathing Beauty." Having been made an instant celebrity as a result, Williams went on to star in a number of other films — including the iconic "Million Dollar Mermaid" — and is universally credited as having single-handedly popularized the art form of synchronized swimming.
"It is a lot harder than people think," says Ilse Kremer, founder of Arizona Synergy — a local organization that aims to teach, practice and honor the sport of artistic swimming.
"Everybody thinks that they can float in the water, right? That they can egg beater and all that? But [artistic swimming] is an incredibly taxing and endurance-based sport. It requires just about every aspect of athleticism in [tandem.] Imagine doing gymnastics, upside down, while holding your breath. That is pretty much what it is like."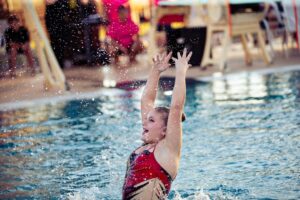 Diving Right In
Having swam competitively on the "National Stream" for the Neptunus Club in Belgium until she was 14, Kremer passed down her love for the sport to her daughter Nadia, who placed first at the state competition with another local team in 2018. The Scottsdale resident founded Arizona Synergy in June 2021.
"After a couple of years in this environment, we observed some things that we thought we could do better," Kremer explains. "So we decided to start our own team and provide a different approach to the sport in general."
A health-science professor who focuses on integration of scientific sports principles for optimal training with whole-person development of athletes, Kremer believes that sports build character in both children and adults. She also believes that no sport does this better than artistic swimming.
"It really does develop kids in ways that few other things do," Kremer explains. "There is no intra-club competition. They are all each other's best friends. And we actively foster that because it is about character building. They work like few adults work. They take all of these setbacks and overcome everything you throw their way."
It also builds confidence.
"We had swimmers at the beginning of last year who would not take an overshirt off because they did not want to be seen in a bathing suit," Kremer adds. "Six months later, they were at a national competition, walking out there like they owned the joint. It is amazing."
Anthem resident Melissa Loresto has seen this phenomenon first-hand.
"My daughter, Ada, started in November of last year," says Loresto, noting that Ada was initially interested in joining AZ Heat, a competitive springboard diving team, but decided to give artistic swimming a try. "I was really excited to see artistic swimming offered as a recreation class [at Anthem Community Center] because I had friends growing up who were synchronized swimmers.
"Ada fell in love with it the very first day. It blended her dance, gymnastics and diving skills with her love of being in the water. She loves the intensity of the practices and would swim every day if she could. She never wants to leave the pool. She is having so much fun and has really taken off with it."
Within her first year as an artistic swimmer, Ada was awarded 10 medals — nine of which were gold and one of which was silver. Kremer acknowledges that the 11-year-old Gavilan Peak School student is quite extraordinary.
"The water is her happy place," Kremer says. "The more she swims, the happier she is."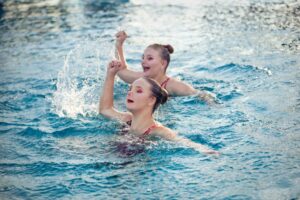 Making a Splash
Arizona Synergy, which has practice locations at both ASU West Sun Devil Fitness Complex in Glendale and Anthem Community Center Diving Well, is one of only five artistic swimming teams in our state. About half of its competitive team members live in Anthem and Norterra while the rest travel from areas as far away as Phoenix, Scottsdale, Avondale, Goodyear and Surprise for a chance to take part.
"When this sport bites, it bites hard," Kremer says. "It is just one of those things that ropes you in and does not let go.
"We get a lot of kids who are swimmers and have sort of gotten bored with laps. They do not want to just swim for speed. But we also get kids who are not swimmers. We even had one or two girls who could not even swim a 25-yard lap in the pool. It is a very multi-dimensional sport that lends itself to a lot of different athletes from a lot of different backgrounds — or from no background at all."
After having mastered all levels of recreational practice, swimmers who want to move up through the ranks in preparation for competition may join Arizona Synergy's team. There, they can expect to practice a minimum of 11 hours each week. Advanced team members practice 16 hours per week.
Loresto admits that training is intense.
"The first hour of each practice is land work, involving stretching, working out and even ankle weights," she explains. "Then they do intense lap swimming. They learn how to swim butterfly within time. Then they do figures, for which they get individual scores at meets."
Figures are progressions between positions performed individually without music.
"I do not know if anyone really knows how intense this sport is," Loresto adds. "All they see is the end result — the routines. But there is so much training that goes into that."
Kremer concurs.
"The routines are literally just the tip of the iceberg," she says. "You don't just jump in the water and perform this amazing routine overnight. The amount of hard work one must go through to get to the point where they can swim that routine is staggering.
"Artistic swimming is considered one of the most difficult sports. It requires the endurance of a marathon runner, the lung capacity of a deep sea diver, the strength of a weightlifter, the acrobatic skill of a gymnast and the flexibility and grace of a dancer — all at the same time."
But anyone who has seen an artistic swimming routine knows that the resulting beauty, elegance and artistry are well worth the athletic effort. Last year, Arizona Synergy performed a football-themed routine. This year's routines included James Bond and "Aladdin" as inspirations. Kremer has the flexibility and freedom to select themes that suit and showcase each individual swimmer's skills and strengths.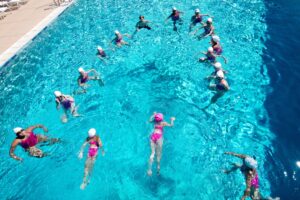 Just Keep Swimming
Kremer notes that although Arizona Synergy is youth-based, many artistic swimmers continue to compete well into their adult years.
"Our sport has a very robust adult presence," she says. "We have a lot of master swimmers that have been involved in the sport in one way or another well into their 30s and 40s. In fact, one of our guest coaches recently competed in the 70–79 age group. She can do splits that I could only dream of."
It certainly seems that the sport will continue to be a part of Kremer's 16-year-old daughter's life, at least for the foreseeable future. An ASU Preparatory Academy High School student, Nadia has taken on the role of junior coach for Arizona Synergy and Kremer anticipates that she will one day take over the team from her.
Meanwhile, Kremer's son Aidan is also an artistic swimmer — one of only three males in Arizona who compete in the sport.
"Artistic swimming has recently made a big effort to be more gender inclusive," Kremer says. "The next Olympic games coming up will be the first set where men are allowed to compete in all of the events."
At 13 years old, Aidan has not yet decided how long he will continue in the sport. But, for now, he is building character, strength, endurance and acrobatic skill through Arizona Synergy — and having an absolute blast in the process.
"He is one boy with 15 girls paying attention to him," Kremer says. "What's not to love?"
Loresto adds that, of all the skills fostered through artistic swimming, teamwork may be the strongest.
"I do not know if there is any other sport where team members become so tight-knit," she says. "When they are swimming together 11–16 hours each week, they tend to form really tight bonds with one another. I think that it is these friendships that will last forever."
Synchro Summer Camp
July 10–Aug. 4 // ASU West Sun Devil Fitness Complex // 13351 N. 47th Ave., Glendale // $200 // 602-859-0077 // arizonasynergyas.com