Writer Joseph J. Airdo // Photography by Tawn Smith Photography and Ricardo Bortonlini
When Leila Beltrame moved from her hometown in Brazil to Arizona in 2015, she encountered a completely different culture and a seemingly insurmountable mountain of challenges. As if learning an entirely new language did not produce enough headaches for her, Beltrame needed to essentially rebuild her business from scratch.
However, overcoming obstacles and starting over were far from unfamiliar concepts for the chef, who recently launched a line of authentic, artisan empanadas in Anthem, Cave Creek and Scottsdale.
"Every time you have some challenges, you become stronger than you were," Beltrame says.
Having grown up part of a poor, farming family in southern Brazil, Beltrame witnessed first-hand the devastation of losing crops to frosts on multiple occasions.
"Sometimes the ice comes and destroys everything," says Beltrame, noting that the process of re-planting to harvesting takes a long time.
Therefore, knowing what crops grow quickly and good practices of preserving and preparing food were of the utmost importance. Fortunately, her mother and grandmother were both experts and not only helped Beltrame's family survive the destruction and rebuild but also instilled within her the perseverance and knowledge that she would need to succeed in her own endeavors.
They also instilled within her a love for cooking.
"I love to work with food," Beltrame says. "It is my passion."
Although Beltrame tried her hand at a few other things earlier in life, she always knew that cooking was her calling. She eventually dove head-first into the food industry. When Honeywell transferred her husband, Ricardo Bortolini, to Arizona, she sold her business and accompanied him on a new adventure here in the United States.
Beltrame took a few college courses and spent some time learning English before deciding that it was time for her to re-enter the food industry. She started with something simple — chocolate, because it does not require any machines and is relatively easy to make. But her family's empanada recipes called out to her and she shortly realized that she needed to share them with her new neighbors.
"I think that it is a nice product to have here — especially nowadays," says Beltrame, noting that her empanadas are healthy, delicious and convenient.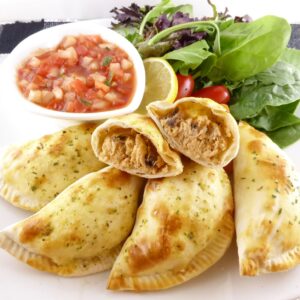 For those who are unfamiliar with them, empanadas are essentially handheld pastries that are filled with either sweet or savory ingredients. Beltrame currently offers three varieties — chicken and olive, beef and apple creme brulee — all of which are baked instead of fried, which give them a lower calorie count than many other foods.
Gluten-free Brazilian cheese rolls — which boast a light, crispy outer layer and a scrumptious Parmesean cheese filling — are also among Beltrame's offerings, which are available to order via her website. Beltrame's Leila's Empanadas line is also available at Sam's Frozen Yogurt in Anthem, Lil Miss Butcher in Cave Creek and BUTI MVMNT Studio in Scottsdale.
"All of my recipes are from my mother and my grandmother," Beltrame says. "I do some adjustments to some recipes but the main thing comes from them."
Beltrame is grateful to her parents, her grandparents and her upbringing as they gifted her with so much more than just recipes.
"I had really good parents and grandparents but we were very poor," Beltrame says. "I can remember very well in my childhood a lot of times I came home from school and we had nothing to eat. I know very well how that hurts."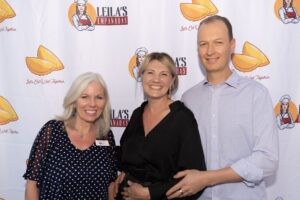 It is that knowledge and experience that encouraged Beltrame to collaborate with North Valley-based nonprofit Homeless Engagement Lift Partnership to benefit the organization's H.E.L.P. Snackz Program that fills the hunger gap by providing meals to local students through daily afternoon nutritional snack bags.
"I know how hard it is to try to learn with an empty stomach," Beltrame says. "Kids cannot learn anything or concentrate at school if they are not well-fed. How can you learn anything with an empty belly? I know what they feel when they come home and do not have anything to eat. I believe in feeding and treating kids well so that they will be able to create a better future for themselves and others."
Therefore, a portion of proceeds from every order via Beltrame's website goes to battle child hunger locally, proving that the Anthem resident has fully embraced her community and is committed to making it a healthier, happier and more delicious place.