Writer Joseph J. Airdo // Photography by Jason Siegel and Silky Shots
The past two years have taught us many things but M3F festival event producer Heather Rogers believes that among the most significant lessons is that there is great need that exists in the world.
"Over the last two years, I feel that there has been even more need," says Rogers, noting the areas of physical and mental health are at the top of the list. "And it just keeps going. People sometimes need that reminder that it does not ever go away. It does not ever stop."
It certainly did not stop last year when the world was still in the throes of the COVID-19 pandemic and M3F had to cancel its annual music festival, which for one weekend each March takes over Margaret T. Hance Park in Phoenix with a unique blend of live art, food, crafts and music concerts.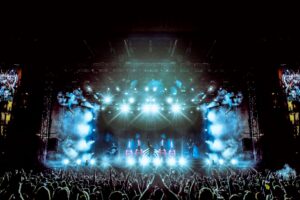 Built on the idea of giving back, M3F donates 100% of its proceeds each year to local, family-based, nonprofit organizations. Since the event's inception in 2014, the festival has donated more than $3.2 million to various causes — with more than $1.1 million in donations in 2019 and 2020 alone.
When the chips were down in 2021 and M3F made the difficult decision to cancel the event during a year in which that aforementioned need was greater than ever, the festival was still able to make an impact.
"We contacted all of the people who had donated and asked them if they wanted their money back," Rogers says. "Almost all of them said, 'Keep the money and donate it.' It was close to $650,000 that we raised last year without even having an event."
Originally spawned as a team-building exercise for its producers, WESPAC Construction, M3F acts as a philanthropic flagship for the city of Phoenix and a national invite for fans looking for a feel-good edition to their yearly music calendar. The festival reaches beyond the music into its focus on sustainability with more than 80% of its waste being recycled, onwards to food and beverage curation, art installations and much more.
"WESPAC is based on relationships," says Rogers, noting that the construction company's 30 years in business have helped it collect a strong list of community and national partners who believe in M3F's mission and vision. "We have a great set of sponsors that help us put on the event. They really understand what we are trying to do."
And what M3F is trying to do is make difference; stand as a guiding beacon for what can happen when the cultural influence of music, art, food and immersive experiences are used for the betterment of society at large.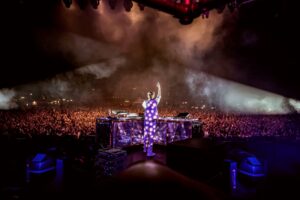 Rogers recalls walking out onto the field at WestWorld of Scottsdale, where M3F held its first festival 18 years ago, and listening to WESPAC Construction CEO John Largay describe his vision.
"John is a visionary," says Rogers, noting that the culture at WESPAC is steeped in working together, building relationships and thinking outside of the box. "He believes in giving back and he enjoys impacting the culture and the community that is Arizona and Phoenix. You can see that through his business, through the buildings that we build and the extra things that we do. So I could envision it with him. It just grabbed me and I said, 'Wow! This could really be something!'"
Almost two decades later, Rogers has seen first-hand and countless times over that it really is something.
"This is making a difference," she says. "This is leaving an impact on people."
That impact can be felt by the individuals who are served by M3F's nearly 50 beneficiaries — nonprofit organizations like the Music Therapy Program at Phoenix Children's Hospital, the Northern Arizona Chapter of Habitat for Humanity, the Leukemia and Lymphoma Society and Teach for America.
M3F's staggering list of beneficiaries includes nonprofit organizations in the areas of health, family, nature, mental health and addiction, arts, animal rescue, population, artist support, wildlife, renewable recourse, child and youth support and science.
"We try to hit all of the different categories and not just focus on one," Rogers says. "It is quite the undertaking. We do a lot of research, we tour facilities, we meet the people, we ask them questions and they learn about the festival. Sometimes we are able to connect with different organizations they have within their charity. We try to talk to each of their board members. We are just looking to add another resource for them; to be another avenue for them; to help them by giving back."
And giving back is something that Rogers believes is our responsibility to do.
"Even if you can do a little bit for someone, it helps tremendously," Rogers says. "Sometimes with some of the smaller organizations, just giving them a small donation can make their year. They are so excited because they know what they can do with that money and how they can affect the people that they are trying to help."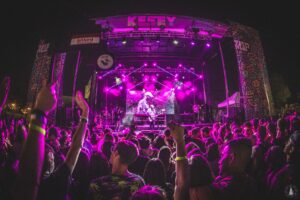 M3F is eager to continue making a difference with this year's event, which — set for March 4 and 5 — will welcome artists from a diverse range of genres in addition to yoga classes, a drum circle, food and beverage trucks, a kids' zone and more.
"Tickets are available and they are selling very well," Rogers says. "It seems that people are very excited to see us come back. We will have three stages with great acts and quite a few new art activations. Come, walk around, find your friends and meet new friends. It is all about that experience the minute you walk through the gate. You are having a good time while helping people."
Music
M3F // March 4 and 5 // See website for schedule // Margaret T. Hance Park // 67 W. Culver St., Phoenix // $75+ // m3ffest.com