Building Bonds and Bringing Down Barriers
Writer Joseph J. Airdo
Photography Courtesy of Desert Foothills Family YMCA
The past two years have undoubtedly been difficult for an inordinate number of individuals, businesses and nonprofit organizations. For many months, the only faces we saw were either our own in the mirror, our loved ones with whom we live, partially covered with masks or comprised of a plethora of pixels through our computer screens. Moreover, many of us have become accustomed to this socially distanced way of life.
But life was not meant to be lived vicariously through television shows that we binge; nor is our hunger for human connection satiated through Zoom. We crave new knowledge and skills, camaraderie with others within our community and a sense that we are taking full advantage of each and every day that we are alive.
It is that thirst, strong leadership and some forward-thinking that helped Desert Foothills Family YMCA emerge from the COVID-19 pandemic stronger than ever.
"The pandemic allowed the Y some time to think about how we serve our community, what we were doing well, what we needed to bring back and what we needed to rethink," says executive director Raye Gall.
Celebrating 12 years in the community, Desert Foothills Family YMCA now offers an expanded lineup of classes, programs and events that cater to individuals of all ages, abilities and interests.
"The Y offers programs that develop healthy spirit, mind and body through life-saving swim lessons to programs for seniors to reduce social isolation and everything in between," Gall explains. "Our summer camps, afterschool programs and out-of-school day-camps engage youth in our community and allow them to explore swimming, archery, sports, STEAM programs, cooking, foreign language and more."
Stretching Both Mind and Body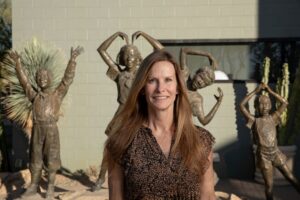 Gall started as a yoga instructor at Desert Foothills Family YMCA 10 years ago, aspiring to help people learn how to breathe, take time for their mental health and feel more confident with themselves. 
"I made my class available to all levels so that people could just come and be who they were at that moment," Gall says. "That really aligned with the Y because anyone can come in our doors and start right where they are. They do not have to jump up a level. They can be who they are and be comfortable with being here but know that they are going to get stretched a little bit in both their mind and body."
Like many people, Gall was unaware that Desert Foothills Family YMCA is actually a nonprofit organization.
"I had thought I would actually start my own nonprofit as I knew in my heart how healing yoga can be for all ages — from preschoolers to seniors," she says. "Then I realized that the Y does this and so much more."
Gall was especially inspired to see how Desert Foothills Family YMCA does not turn people away for an inability to pay.
"All of the programs that the Y offers are for all," she explains. "We have a financial assistance application for anyone who needs the help."
Moreover, Desert Foothills Family YMCA extends special invitations to certain members of the community who need the connections it creates and nurtures the most.
"We have special military memberships to invite the families of those who are on active duty while they are gone," Gall says. "We also have discounted memberships for veterans because we want to honor them by having them in our building and showing them the love that they may not have always received."
Seeing all of the good that the nonprofit organization does for the community and those who live in it, Gall rose up through the ranks to her current role as Desert Foothills Family YMCA's executive director.
"Now I am focused on how we, as a community, can invest in our Desert Foothills Family YMCA now and for the future for generations to come," she says. "It has been an amazing 10 years here. It is a central hub for the community. We have so many folks who, new to the area, come here to find new friends. It is a really great opportunity for people to do that and I have seen that magic happen daily for the past decade and it really inspires me."
Connecting the Community
Although Desert Foothills Family YMCA has been that central hub for 12 years, the downtime during the COVID-19 pandemic allowed its leadership — including Gall — some time to really think about how the nonprofit organization could even better serve, engage and connect the community.
"We realized that it is important for people to have the flexibility of being inside and making social connections or being outside and making social connections," Gall says. "So we added a new outdoor recreation person who has been a great addition to our team."
A teen director was also added to serve a segment of the population that was perhaps negatively impacted the most by the pandemic.
"We realized that teens kind of got lost a little bit in the world at large during this pandemic," Gall says. "They took to social media and, not having any real social connections, became depressed."
It became abundantly clear that teens wanted — and needed — social opportunities outside of their smartphones and computers the moment Desert Foothills Family YMCA's sports programs were back up and running.
"Teens flocked back to be involved in what the Y had to offer," Gall says. "So we saw a real opportunity to focus on teens and to provide them with a safe space to come, be themselves and explore opportunities that they may not have thought of or envisioned."
Desert Foothills Family YMCA is especially focused on helping teens learn and develop important life skills and ensuring that all teens have the opportunity to be a leader. But teens were not the only segment of the population that demonstratively desired the nonprofit organization's offerings.
"Our seniors flocked back as well," Gall says. "Obviously, there were some who had fears about coming back, but their fear of social isolation was even greater."
It should be noted that Desert Foothills Family YMCA made it a point to continue to engage seniors during the pandemic through outreach phone calls and Facebook Live classes led by
"The Deb and Shannon Show" — the latter of which are still being offered, thereby allowing seniors to continue to see their friends while out of town.
Linking to Other Resources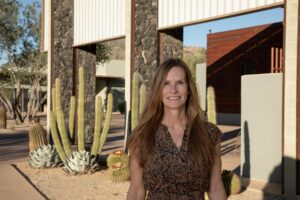 Gall believes that the connections that people make at Desert Foothills Family YMCA while they are presenting the most authentic versions of themselves are the ultimate illustration of the nonprofit organization's success.
"Our mission statement is to put Christian principles into practice through programs that build healthy spirit, mind and body," she says. "But what is even more important and cool is how we bring the community together.
"Many people live in a homeowners association or a gated community and they may never have the opportunity to get to know someone who lives in another community or even know who their neighbors are. The Y allows people — whether they live in Terravita, Tatum Ranch, Desert Mountain or wherever — to come play pickleball, racquetball or handball together or take a water fitness class together."
Similarly, Desert Foothills Family YMCA brings children and teens who go to different schools together in a setting where they can confidently let their guard down and be themselves without fear of being judged or bullied. It is a place that creates the most quintessential definition of community imaginable.
"Engaging in the community is very important for people's mental health," Gall adds. "Social isolation affects people of all ages. I have spoken with young parents who sometimes ask how to make friends. The Y really gives them an opportunity to do that."
However, it is also a resource for so much more.
"We have families on financial assistance who we are able to link to other resources within the community — whether it is the food bank or [Foothills] Caring Corps," Gall says. "The Y brings down the barriers."
Of course, because it is a nonprofit organization, Gall encourages the community to donate to Desert Foothills Family YMCA so that she and her staff can continue to serve those in need of its services. Donations also enable the nonprofit organization to offer free swim lessons that help keep the community's children safe around water.
"The community can support Desert Foothills Family YMCA by making tax-deductible contributions through a variety of ways — including Arizona tax credit, charitable trusts, cryptocurrency and wire transfers," Gall says.
"One of the really great ways to give is through appreciated stocks and mutual funds. You can actually donate your stocks to the Y and not have to pay the capital gains tax. You get the full amount rather than selling them and then giving a donation. There are so many ways to give and stretch your dollars even further. And all donations go directly to a person or a family in need to ensure that they have access to our services."
Setting Resolutions
Gall also encourages everyone in the community to visit Desert Foothills Family YMCA, take a look around and see what it has to offer.
"There is something for everyone and we pride ourselves on that," she says. "But we would also love to hear if you want to volunteer or be a part of the Y family in a different way."
Future goals include expanding Desert Foothills Family YMCA's dedicated youth space — an effort for which it is currently in the midst of fundraising. There are also plans for a terrace for outdoor fitness as well as a pool expansion.
"We need to continue to grow to keep up with our ever-expanding community," says Gall, reiterating the importance of donations. "This will enable members of our community the ability to leave a legacy by making a contribution for capital projects."
Speaking of goals, Gall believes that December is the absolutely perfect time to visit Desert Foothills Family YMCA.
"Come to the Y and get a head start on those New Year's resolutions," she says. "There is no time like the present to take care of that and it makes it so much easier when you keep active and continue moving throughout the holidays."