Writer Shannon Severson // Photography by Loralei Lazurek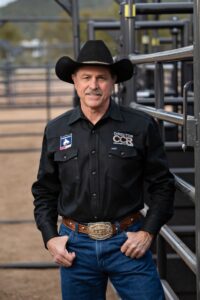 "It's boots and chaps; it's cowboy hats; it's spurs and latigo; it's the ropes and the reins and the joy and the pain and they call the thing rodeo." So goes a famous Garth Brooks song describing the allure of struggle and glory that is the sport of rodeo.
The 46th annual Cave Creek Rodeo Days celebration lassos western tradition and local pride in a weeklong celebration. On March 18–26, thousands of visitors will come to experience a multitude of events.
"The Cave Creek rodeo is the signature event in town," says Cave Creek Mayor Bob Morris. "As a horseman and equine competitor, I am so proud to be associated with this community service-focused organization, celebrating our heritage. My cowboy hats and boots are ready for some fun!"
The fun begins with the Cave Creek Rodeo Days Parade through the center of town 9–11 a.m. Saturday, March 18, followed by kids' mutton bustin' at 1 p.m. at Cave Creek Memorial Arena.
The parade is expected to have 170 entrants, many of which will be horse-drawn. "The more horses the better" is the rallying cry. Featured in the parade will be Cave Creek Rodeo Days royalty as well as royalty from other communities along with equestrian and community representatives in small-town style with a massive dose of western flair.
This year, bull riding is a major new addition to the highly competitive array of events at Cave Creek Memorial Arena that will culminate in the Professional Rodeo Cowboys Association Rodeo Finals on Sunday, March 26. The brand-new chutes open at 5 p.m. on Thursday, March 23 for an "All Bulls, All Night" event with bull riding and bullfighting.
The following nights feature bareback and saddle bronc riding, team roping, tie-down and breakaway roping and barrel racing, with slack on Friday and Saturday mornings. Every day will feature vendor hours for shopping and food. On Sunday morning, the day begins at 9 a.m. with Cowboy Church at the arena before vendor hours and finals at 2 p.m.
There is absolutely something for everyone and organizers are expecting sell-out crowds.
While the celebration is highly Cave Creek-centric, it will manifest goodwill beyond the town limits. For the second year, Mountain View Pub will host a private fundraiser for the Crazy Horse Memorial which, held 4–6 p.m. on Wednesday, March 22, will raise awareness and assist in the completion of the world's largest sculpture in the Black Hills of South Dakota. Proceeds will also benefit The Indian University of North America.
"The Mountain View Pub is committed to the completion of the Crazy Horse Memorial," says JP Pemberton, the pub's owner. "This is American history at its best and we here in Arizona want to help protect and preserve the culture, tradition and living heritage of the North American Indians so our children, grandchildren and future generations can experience this icon of history, culture and humanity."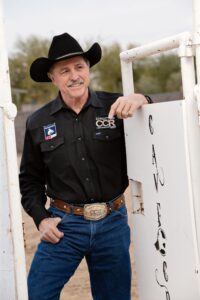 Corralling the Team
Volunteerism has always been at the heart of the event and leading the nonprofit Cave Creek Rodeo Days foundation is new board president Mike Poppenwimer, a Carefree resident with decades of experience in event planning, restaurant management and operations in his native Fort Collins, Colorado. He is also a past president of Kiwanis Club of Carefree and is active chair of the committee in charge of the Kiwanis Marketplace.
The military veteran has always had a passion for the western lifestyle. After leaving the military, a stint at his uncle's ranch outside Cody, Wyoming helped him realize that being a full-time cowboy probably wasn't the life for which he was meant. However, he did become a "cowboy" by getting a degree at University of Wyoming in hospitality management. Working in hotels meant a lot of travel, but it also brought him to Cheyenne, where he got involved in Cheyenne Frontier Days — something that prepared him for what he is now doing in Cave Creek.
"It was a really great experience," Poppenwimer says. "A well-greased machine, in terms of putting on a rodeo."
He eventually settled down in Fort Collins, Colorado with his wife where they owned several restaurants and raised their three children. When he retired at the age of 59, he and his wife sold everything and moved into a home against the backdrop of Black Mountain in Arizona.
Poppenwimer immediately got involved in the Kiwanis Club and, when the invitation came to lead the Cave Creek Rodeo Days board, he jumped at the chance to serve his community in yet another way.
"Basically, there was a leadership position open and I said, 'I can do that," Poppenwimer recalls. "It's an opportunity to take things to a different level. We plan to make it a western week more than just an event; it's all about the community. In six days, we have 12 events going on."
Involving the community is facilitated by connecting with groups whose culture, heritage and interest are part of the tapestry of the west — old and new. Mountain men, trappers, gold panning enthusiasts and particularly the Native American community are all part of his plan to increase involvement. Poppenwimer has worked with the considerable Native American population in town to include more representation in Rodeo Days activities.
"Arizona and Cave Creek have amazing Native American culture here," Poppenwimer says. "Our theme is American Western heritage and Native Americans have a big part in that. We are bringing in world-class dancers to be in the parade and I hope that next year we will include a specialty Native American craft show and village."
Poppenwimer is also working with bike week organizers and businesses. His goal is to have a positive, mutually beneficial relationship with groups that want to make Cave Creek a successful place to have a business, enjoy as a local resident and welcome visitors.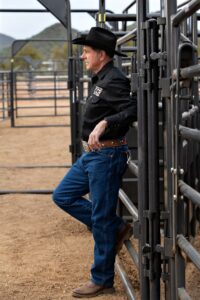 The Gem of the Turquoise Circuit
Expansion and involvement are the hallmarks of Poppenwimer and the board's efforts. Cave Creek Rodeo Days is the most-attended event in Cave Creek, attracting 15,000 people last year to the parade. He would like to keep that momentum going to benefit the businesses in town all week long.
"Part of our strategic plan is to make this week-long event that helps businesses prosper," Poppenwimer says. "We are members of the chamber and we want to stay involved year-round. I expanded the board from seven to nine members. We are more of a working board. It's too much work for just a few people, so all nine on the board have specific responsibilities."
Another part of the plan is donating a portion of proceeds to charities in the greater Cave Creek area. They've already given away $27,000 and hope it will be more next year. The board has also used the proceeds to make improvements to the arena, which is owned by the town of Cave Creek.
Poppenwimer says that it has been a joy to work with the town and the relationship has been very productive. There have been changes in leadership and direction since the first rodeo in 1977, but it's the members of the community and the town leaders who have worked hard to make it what it is today.
"There's a ripple effect," he says. "The pride in being part of a community that does something really outstanding and the businesses that benefit from people coming to see our great [town]. You can't go wrong with our great Western heritage. Here in Cave Creek, you can still see horses on a hitching post outside of businesses. It's something you don't see anywhere else."
It seems perfectly appropriate that, as Cave Creek is "Where the Wild West Lives," an extra day has been added to the rodeo with the "All Bulls, All Night" attraction in response to a poll of locals. While it's the first year for this thrilling competition and not sanctioned as a PBR event, Poppenwimer expects the 35–40 bull riders will put on a great show.
The Cave Creek Rodeo is part of the 13-rodeo Turquoise circuit and, while it's one of the smallest towns to host its own rodeo on the circuit, it's consistently ranked in the top five for how well it treats its contestants.
"We take care of our contestants and we take care of our fans," Poppenwimer says. "Our goal is to be the top rodeo in the circuit.
"This year, we spent $120,000 to add brand new chutes and back panels. We are working with the city to make even more improvements in the future, including a new sky box next year."
He emphasizes that the board's spirit of expansion makes Cave Creek Rodeo Days unique and it's also what makes it an exciting gig for him to lead the effort. He's willing to take the time to build it right and see where it goes.
"Our goal is bigger and better," Poppenwimer says. "We're very fortunate to have a group from the town of Cave Creek that works with us and a board who wants to put on traditional rodeo events and benefit the town. Everyone has a great attitude and makes it an enjoyable process."
From the first clip-clops of horses' hooves to the final glint of the rodeo winner's shiny belt buckles. Cave Creek Rodeo Days is saddling up to be a great event that celebrates the past and future of western heritage here in Arizona.