Kiwanis Marketplace Benefitting the Community One Treasure at a Time
Writer Joseph J. Airdo
Photography by Loralei Lazurek
Upon entering the Kiwanis Marketplace thrift store in Cave Creek, your eyes dart around in awe and amazement as you embark on a journey through time and eccentricity. An initial scan of the store encourages you to delve deeper into its assortment of treasures.
A Kamado grill worth at least $1,000 and deeply discounted at a fraction of the price. A large promotional clock from McDonald's whose rarity is exemplified by the fact that it cannot be found anywhere on the Internet. A life-size cardboard standee of Elvis Presley that is, heartbreakingly, not for sale.
As you continue your journey, you encounter an extravagant kitchen area, a Christmas wonderland and several other departments of unprecedented whimsy, each with its own remarkable merchandise—much of which you will not find anywhere else.
"People do not just shop here because it is less expensive than retail," says Sandra Carrier, who serves as the store's general manager. "They come here to seek out that super cool, eclectic, random treasure [that] they did not even know they needed—like a train set or a cuckoo clock. Some may not even have the intention to buy.
"Customers love to touch, feel and admire the oddities and beautiful pieces that show up here."
Carrier recalls that the store once had a bearskin rug—head and claws included—as part of its inventory, alongside golf carts and even a car. All have since been sold and replaced with other unique treasures.
"What is here today may not have been here yesterday," Carrier explains. "And more than likely, it will not be here tomorrow. The turnover here is very quick. We price merchandise to sell it—not store it.
"I feel very fortunate and blessed to work here because every day is different. You never know what is going to come through our back door."
Kiwanis Marketplace last month celebrated the fifth anniversary of its opening at its current 17,000-square-foot location across the street from Dairy Queen. However, its history in Cave Creek stretches much further into the past than August 2014.
Kiwanis Club of Carefree originally tried selling used household goods as special fundraising events during the 1980s in a parking lot at Pima and Cave Creek Roads at the old Dick Van Dyke studios. Sales increased from about $1,000 to more than $4,000 over the course of the first few years.
The Cave Creek American Legion allowed the Kiwanis Club of Carefree to build a storage shed behind its building in the 1990s. In 1999, the Town of Carefree gave the club the green light to build a 3,000-square-foot building where it was allowed to have six flea markets per year. The operation flourished as a result, and sales continued to rise.
However, the club's 20-year lease stipulated that the building would be donated to the Town of Carefree in 2019. That, along with an increase in both supply and demand, encouraged the club to rent a nearby 2,000-square-foot building that was once home to a fire station for use as a consistently open retail space.
Business skyrocketed, giving Kiwanis Club of Carefree the confidence to buy land to build a new store. The club raised more than $1 million for the project, but it later decided to use the funds to purchase the building formerly occupied by the Epicurean Palette kitchen store. It facilitated more retail space as well as more parking, and it could be moved into and opened immediately after some fast renovations.
Since then, the operation at Kiwanis Marketplace has grown to include more than 150 volunteers, a general manager and five staff members. Carrier was hired in 2016 as an assistant manager before being promoted to general manager the next year.
"Prior to that, I was an avid customer," Carrier notes. "I would always make sure that I was in town on the days of the old flea market. I was one of those customers with my cup of coffee and my lawn chair at 7 a.m. waiting for it to open."
Of course, sales have also grown exponentially. In fact, the store generates more than $1 million in sales revenue each year, according to Kiwanis Club of Carefree communications committee chair Bob Moore. A vast majority of that sales revenue benefits the club's charitable efforts within the community.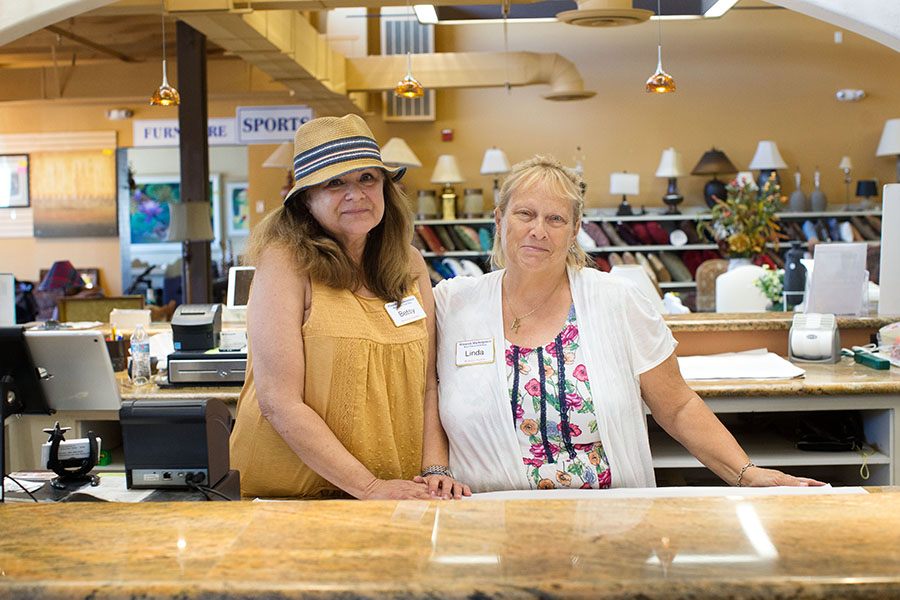 "Kiwanis is dedicated to helping the children and young adults in this immediate area," says Moore, noting that efforts are categorized into three sections—scholarships, major projects and special requests. "This past May, we funded more than $250,000 to local graduating seniors."
Kiwanis Club of Carefree offers post-secondary scholarships, summer art programs, community science fairs and mentoring, special needs support, youth service organizations and more. The club has also contributed to a number of community projects, including raising the funding for the sundial and the splash pad in Carefree. With about 200 members, it ranks within the top 10 largest Kiwanis clubs in the world.
The integral part that Kiwanis Marketplace plays in the Kiwanis Club of Carefree's fundraising is not its only benefit to the community. The thrift store offers a wide demographic of customers in the area an opportunity to purchase affordably priced, previously owned merchandise, thereby preventing it from being sent to the landfill.
Moreover, the people who volunteer at Kiwanis Marketplace—most of whom are not members of the Kiwanis Club of Carefree—have formed a family with shared values and a common goal.
"Kiwanis Marketplace serves a need in the community, and it also serves a need that our volunteers have in their hearts," Carrier explains. "It is important that our volunteers feel that they are not only contributing to a child's life, but that they are contributing to the mission of Kiwanis. There is a sense of ownership and belonging here."
One of the ways in which Carrier accomplishes that sense is by utilizing volunteers based on their interests and skillsets. For example, tinkerers are sent to a processing area to test, fix and clean up electrical equipment, while homemakers are asked to decorate the Christmas department and teen girls are allowed to work with clothing.
And customers feel just as comfortable at Kiwanis Marketplace.
"People are addicted to Kiwanis Marketplace," says Carrier, who believes that the thrift store is the busiest place in town. "They really feel like they are contributing to our cause of raising money for local children, and they cannot wait to see what has come out each day. They feel as though they have missed something if they have not popped into the store.
"It is the type of place where people bring with them their cup of coffee and their dog. They run into their neighbor or friend, then sit down and visit with them for a bit out on our front porch or inside on our couches.
"It is a very comfortable, happy and fun place to be."