Canyon on Canvas
Writer Joseph J. Airdo
Photography Courtesy of Grand Canyon Conservancy
Landscape painter Robert Goldman believes that the awe of the majesty of the Grand Canyon is the ultimate creative fuel for an artist.
"The Grand Canyon presents a uniquely dramatic geological and pictorial wonderland which contains all the elements necessary for a work of art," says Goldman, who lives in Prescott. "Certain times of day, such as dawn or dusk, are the icing on the cake, and can provide a truly sublime and compelling image which cannot be conveyed by a photograph."
Goldman is one of 23 artists who will be painting en plein air—outside, on-location—Sept. 7–15 at various locations around Grand Canyon National Park. The week-long event is part of the 11th Annual Grand Canyon Celebration of Art, which aims to provide a vibrant experience for visitors, a venue for artists inspired by the canyon and a fundraiser to benefit arts programming.
"It is a wonderful opportunity to see artists at work," says Kathy Duley, coordinator of the event. "They are free to paint anywhere they feel the inspiration along the South Rim of the Grand Canyon."
Duley adds that, although part of the fun is when visitors happen upon artists accidentally, there will be scheduled demonstrations at pre-determined locations throughout the week. Artists are also asked to check in with Duley, who then reports artist hotspots to stores and hotels so that visitors can embark on their own scavenger hunt.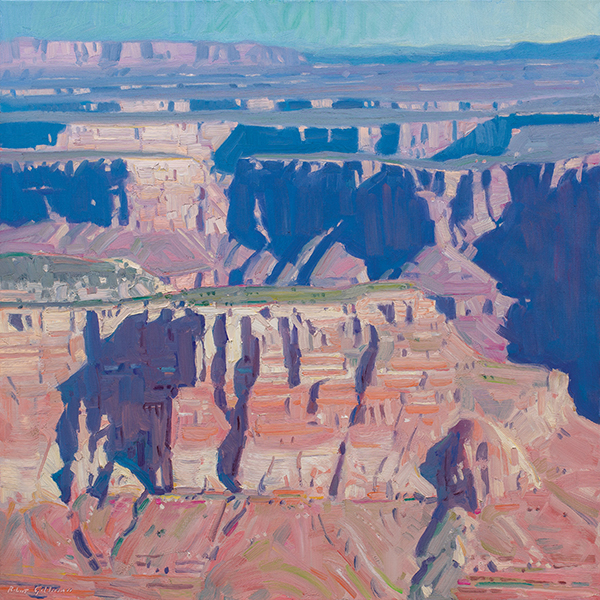 "The Grand Canyon is a very challenging place to paint because of its vastness," says Duley, noting that participating artists will gather for a meet-and-greet reception 5:30–7 p.m. Friday, Sept. 13 at El Tovar North Porch. "There is so much going on and so many different formations. The light and the shadows are constantly changing."
Dawn Sutherland, another one of this year's participating artists, likens painting the Grand Canyon to having coffee with an old familiar friend.
"Although the relationship is comfortable, the conversation is stimulating and thought-provoking," Sutherland explains. "Each visit brings new conversation. The vast variety of forms, reflections in the shadows, the color of rock and water and changing light result in endless material with which to work.
"This old friend challenges my thought and observation. I owe our relationship the best of myself and my painting skill."
Artist Elizabeth Black calls the Grand Canyon her spirit guide.
"There is a whole lot of emotion attached to any deep encounter with the Grand Canyon—ranging from awe, wonder, humility and excitement to fear, despair and exhaustion," Black says. "Good art of the Grand Canyon uses whatever emotion the artist experienced in the canyon to energize their art and communicate emotionally with their viewer."
At 8 a.m. Saturday, Sept. 14, artists will participate in a quick draw event in which they will have two hours to complete a painting of the Grand Canyon. Those paintings will be auctioned off to the public at 11 a.m. at Bright Angel Trailhead. Proceeds from the auction will go toward establishing a dedicated art venue at the South Rim.
"Grand Canyon National Park and the Grand Canyon Conservancy both have wonderful art collections, but there is no place to see them," Duley says. "This will likely involve repurposing an already existing building. We are currently in the process of doing feasibility studies about where that might be."
All of the plein air art produced during the event will be shown alongside studio-produced pieces at the historic Kolb Studio in an exhibition and sale that will benefit the dedicated art venue. The exhibition and sale will remain open through mid-January. A grand opening reception is scheduled for 11 a.m.–1 p.m. Sunday, Sept. 15.
"During the grand opening, we allow people to go down into the residency below the Kolb Studio," Duley says. "Most of the time you cannot get down there unless you are on a special tour, and we have paintings down there that did not get hung in the gallery."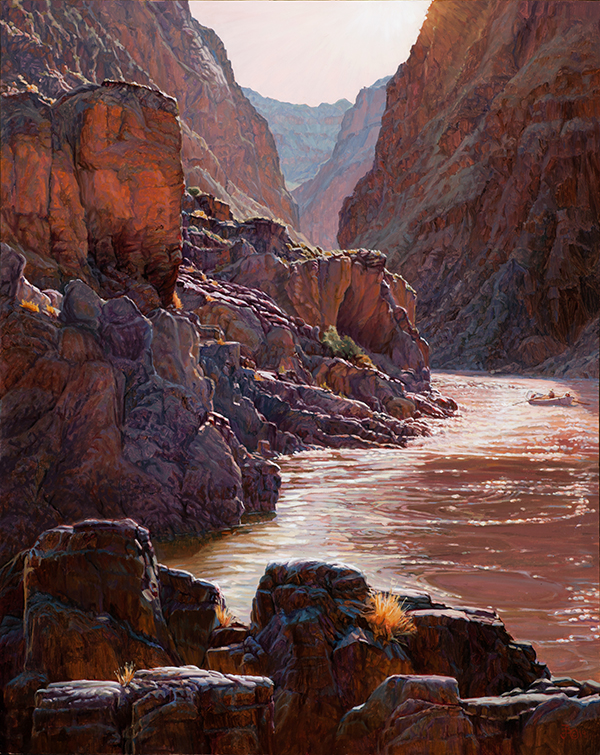 Duley adds that art has always played a critical role in the appreciation of our national parks, and that the Celebration of Art event helps to keep the artistic tradition part of the Grand Canyon experience. Prior to its establishment as a national park, the Grand Canyon was the subject of paintings produced by artist Thomas Moran, who was instrumental in the creation of the National Park Service.
"Photography is definitely a spectacular way to capture [the Grand Canyon], but through painting, artists can focus on certain things and highlight certain aspects that they see," says Duley, noting interesting patterns, designs and light are all things with which artists can play.
"I have watched artists grow, learn about the Grand Canyon and bring on different visions of it. They find new places to paint that present different perspectives."
Artist Amery Bohling agrees that a good artist can preserve the color and beauty of the canyon in a different way than a photograph.
"Only so much of the color and perspective that we see with our eyes is caught on film in the way we see it in person," Bohling explains. "The distant blues at sunset can be dulled to a blackish hue, and those fiery reds of Isis at sunset are easily turned to a flesh tone. You may also notice the loss of drama and vertigo you felt standing on the edge.
"Artists strive to bring the viewer all the sensations that come with visiting the canyon and put it to canvas."
Artist John D. Cogan adds that it is impossible to view the Grand Canyon as merely an artifact of erosion, adding that artists see things that often go unnoticed by the casual observer, and use their skills to bring these gems to the viewer's attention, allowing them to engage the canyon with a renewed vision.
"Clouds and rain, fog and snow become part of the total canyon experience," Cogan says. "They soften the rocks, change their shadowing and colors, and conspire to emphasize temples and other formations. Even on a clear day, the atmosphere sinks into the canyon to paint the distant rim and farthest corners many different shades of blue and purple.
"It is all an artist's delight."
Grand Canyon Celebration of Art
Sept. 7–15 | Grand Canyon National Park | Free with $30 Park Entrance Fee | grandcanyon.org/coa