Writer Joseph J. Airdo
More than 7 million people call Arizona home. But while big cities like Phoenix, Scottsdale and Tempe receive all the attention, it is actually the small towns — which make up a mere fraction of that population — that boast the biggest, most unique and most interesting attractions and are, therefore, the true heart and soul of our state.
With populations fewer than 5,000, these eight quirky communities may be the best-kept secrets in all of Arizona.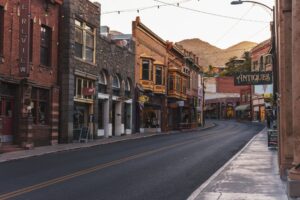 Bisbee (pop. 4,907)
Driven by the booming mining industry, Bisbee once boasted a population of more than 20,000, making it the largest city in the Arizona territory in the early 1900s. Today, the city — located in Cochise County in southeastern Arizona — is known as a culturally rich community, offering visitors a mix of art, music, history, architecture, outdoor activities, dining and nightlife.
More than a half-million people visit the Smithsonian-affiliated Bisbee Mining and Historical Museum, whose exhibits include "Bisbee: Urban Outpost on the Frontier" — an in-depth look at the lives of the miners and settlers of this unique area of the Southwest. Meanwhile, the Queen Mine Tour offers tourists an up-close experience of the underground world of the miners who "carved their community and a living out of bedrock."
However, it is the quaint, old-fashioned, small-town feel of the city's shops and restaurants that may be Bisbee's greatest appeal. A weekly farmer's market featuring regional artisanal goodies, a monthly art walk and yearly events like its Great Stair Climb and Historic Home Tour round out the many reasons people love this cosmopolitan community.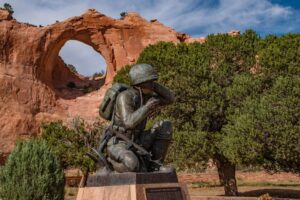 Window Rock (pop. 2,226)
A census-designated place that serves as the seat of government and capital of the Navajo Nation, Window Rock's main natural attraction is the window formation of sandstone for which the community is named.
In addition to its namesake, Window Rock — located in Apache County in northeastern Arizona — is home to The Navajo Nation Zoo and Botanical Park — the only Native American-owned-and-operated zoo in the entire country, containing plant and animal species that are of cultural importance to the Navajo.
Window Rock's attractions also include the Navajo Nation Fairgrounds, where the annual Navajo Tribal Fair is held; The Navajo Nation Museum, which boasts collections, exhibits and other activities focused on the cultural history of the Navajo; and the Navajo Tribal Park and Veterans Memorial, home to a statue of a Navajo Code Talker with his 32-pound radio on his back.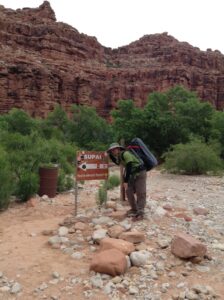 Supai (pop. 639)
Dropping down into triple-digit populations, Supai — surrounded by the towering cliffs of the Grand Canyon — is one of the most inaccessible census-designated places in the U.S. The only way in or out is by foot, horseback or helicopter.
About 3 miles above Supai, a spring rises from the ground, welling up water from ancient aquifers. The water descends as an idyllic creek below leafed-out deciduous trees, rushing through Supai and crashing down five wondrous waterfalls into deep, tranquil pools.
Having been stored in limestone caverns for millennia, the water is rich with minerals that not only give it an awe-inspiring turquoise color but also create jaw-dropping travertine rock formations. The 10-mile journey down and through the canyon can be brutal — especially with 30 pounds of camping gear and supplies on your back — but the rewards are remarkable.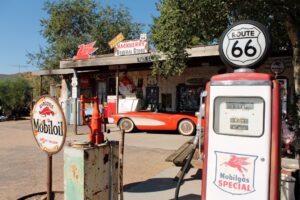 Hackberry (pop. 328)
"Across 66 and the Santa Fe tracks and Truxton Wash lies the tiny town of Hackberry, which owes its name to the nearby Hackberry Mine, established in the 1870s," reads a marker that briefly summarizes the history of this unincorporated community and census-designated place in Mohave County.
"When the railroad arrived in 1881, the 'town moved down,' establishing itself on both sides of the Truxton Wash. The town's livelihood then shifted from mining to the railroad, and it became an important shipping center for sheep and cattle. The water tank is a reminder of the town's former importance as a watering stop for steam locomotives before they were replaced by diesel in the early 1950s."
Following the closure of its silver mine in the 1920s, Hackberry saw a significant population decline but received a lifeline courtesy of U.S. Route 66, which led to many families embarking on road trips in search of adventure. Today, the town still sees some tourism courtesy of Hackberry General Store — an eclectic shop dedicated to Route 66.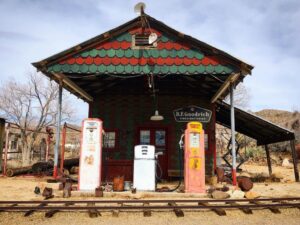 Chloride (pop. 296)
The oldest continuously inhabited mining town in Arizona, Chloride was once a booming area, populated by about 5,000 residents. However, as the silver mines closed, Chloride fell from grace.
By 1917, its population had fallen to 2,000 and, by 1944, it was nearly a ghost town. Chloride continues to survive, though, offering travelers en route to or from Las Vegas a unique pit stop thanks to the elaborate rusty metal yard art found around town and artist Roy Purcell's rock murals.
Other attractions include Cyanide Springs — an Old West town built by locals using lumber from the Golconda Mine, one of the richest mines in the area — and one of the state's oldest cemeteries. An old gas station surrounded by railway tracks is among the many unique photo ops in the area.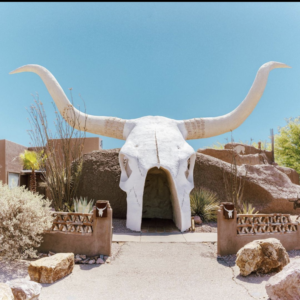 Amado (pop. 76)
Dropping down into double-digit populations, Amado is a census-designated place nestled in the Santa Cruz River Valley, known as a paradise for birdwatchers and nature lovers.
Amado's wide range of ecosystems extends from the rugged peaks and pine forests of the Santa Rita Mountains, named for the patroness of impossible causes, to spring-fed canyons to the Sonoran Desert and Santa Cruz River Valley.
Movie buffs may recognize Amado from the opening sequence of the 1955 film "Oklahoma!," with Gordon MacRae singing "Oh, What a Beautiful Mornin'" on horseback by the stalks of corn "as high as an elephant's eye." A scene in 1974's "Alice Doesn't Live Here Anymore" was also filmed at the Long Horn Grill & Saloon — an iconic restaurant with an entrance in the shape of a large cow skull.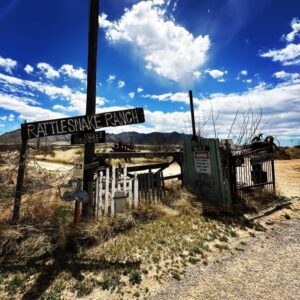 Dragoon (pop. 33)
You may never have heard of Dragoon, an unincorporated community and census-designated place in Cochise County, but you have likely seen signs for its main attraction — The Thing, America's most purposefully mysterious tourist destination.
However, Dragoon's far more interesting attraction — Rattlesnake Ranch — is nearly as unknown as the community itself. An assortment of large sculptures sits just inside the entrance of the free makeshift, outdoor exhibit. Here, rusty and expertly painted dinosaurs mingle with a giant Gila monster, a wild stallion and a Native American on horseback.
Dragoon also serves as the final resting place of Johnny Ringo — a notorious Wild West outlaw whose death is shrouded in mystery. Today, Ringo's grave is preserved as a historic site.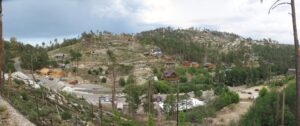 Summerhaven (pop. 26)
Boasting one of the smallest populations in Arizona, the aptly named Summerhaven is a small, unincorporated community and census-designated place on Mount Lemmon in the Santa Catalina Mountains north of Tucson.
At one point, Summerhaven had the highest golf links in the world on 50 acres of U.S. Forest Service and private land, with two trout streams running throughout.
Today, in addition to being a respite from the heat, providing picturesque surroundings and offering incredible views via Ski Valley ski lift and the University of Arizona SkyCenter, Summerhaven is also home to the Mt. Lemmon Cookie Cabin — a mountain-top lodge known for its delicious, homemade cookies the size of dinner plates.