Writer Joseph J. Airdo
There is no doubt that Arizona is one of the most photogenic areas on the entire planet. Between our sensational sunsets over our majestic mountain vistas and our statuesque saguaros, it is exceptionally easy to make our out-of-state friends, family and followers ridiculously jealous on social media.
However, if you really want to go viral, here are ten Arizona landmarks that best showcase our state's impressive pageantry.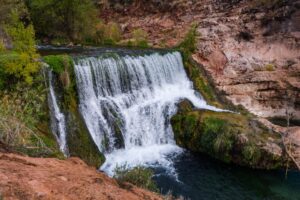 Old Fossil Creek Dam
Though it may be the site nearest to the Valley on our list of Instagrammable places around Arizona, access to Old Fossil Creek Dam requires a physically demanding 5-mile desert hike one way into a 1,500-foot-deep canyon via Fossil Springs Trail in Strawberry.
One of only two National Wild and Scenic rivers in Arizona, Fossil Creek is fed by springs coming from the cliffs of the Mogollon Rim. More than 30 million gallons of water are discharged each day at a constant 70 degrees while high mineral content leaves travertine dams and deposits, giving rise to fossil-like features.
Affectionately dubbed "The Toilet Bowl" due to a round slide on the side of the river that will spin a diver around and out into the main pool from the base of the falls, Old Fossil Creek Dam offers much more than just a pretty backdrop for photos. There is even a shallow cave from which swimmers can hide from the sun before embarking on the even more strenuous hike back out of the canyon.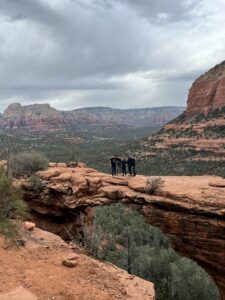 Devil's Bridge
The largest natural sandstone arch in Sedona, Devil's Bridge is surrounded by the stunning red rocks for which the area is famous and accessed via a relatively short 1.8-mile roundtrip hike.
However, with ease comes crowds, so the actual distance you have to hike from your parking spot may vary and you will likely have to wait in line for a chance to take that iconic picture of your travel companion walking across the 54-foot-tall and 45-foot-long bridge.
Though you may feel pressure to pose and move on, remember to pause momentarily to look around at the radiant landscape. As with any of the locations on this list, an impressive post on social media is merely an added benefit. The true reward comes with being present in the moment and appreciating all that Mother Nature has to offer.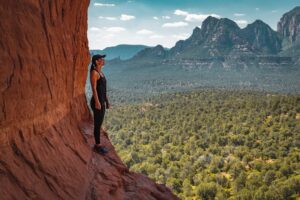 Birthing Cave
While in Sedona, you may as well double down on your quest to capture picture perfection with the area's other highly Instagrammable landmark. To reach the Birthing Cave, park and begin your roughly 2-mile roundtrip hike at either the Long Canyon or Mescal trailheads.
At the fork in the trail where a wooden fence sits, turn left onto an unmarked narrower trail. You will soon see a heart-shaped depression in the cliffs and be ready to snap your second Sedona stunner. Carefully climb the smooth slickrock walls of the cave to get one of the most breathtaking views in all of Arizona.
Have your travel companion capture the moment on camera and impress your followers with what could easily be mistaken for a production still from "Jurassic Park."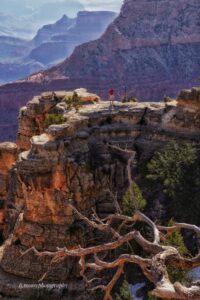 Yaki Point
No list of Arizona's most Instagrammable places would be complete without our state's most famous landmark — the Grand Canyon. On the South Rim, Yaki Point is the ideal overlook to enjoy a sunrise or sunset, providing jaw-dropping views of the dramatic and vivid color changes.
Public parking access is prohibited so, to get there, you will need to board a free Grand Canyon South Rim Shuttle Bus. Adventurers may alternatively opt to rent a mountain bike and ride it along a spectacularly scenic 12-mile roundtrip trail.
When caught in sidelighting, a photo taken from Yaki Point provides a fine perspective of the massive formations within the canyon and the distant North Rim — which is, coincidentally, the next stop on our journey.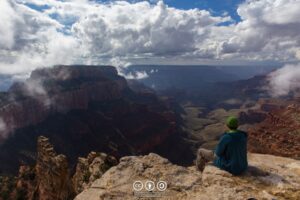 Cape Royal
On the North Rim, Cape Royal provides the widest panorama of any Grand Canyon overlook, revealing stunning colors, deep gorges and towering buttes. Dominating the landscape to the southwest is Wotans Throne — a 7,721-foot summit that is sure to impress your Instagram followers.
Among the other notable sights visible from Cape Royal is Vishnu Temple to the southeast as well as Horseshoe Mesa and the Grandview area of the South Rim in the distance. Nearby Angel's Window — a picturesque arch high on the limestone wall that beautifully frames the Colorado River — is another notable landmark that makes the photographic possibilities of this spot seemingly endless.
Accessing Cape Royal requires a 23-mile drive along a road whose speed limit is mostly 35 mph; so bring a dose of patience, enjoy the scenery and stop at Point Imperial, Vista Encantada, Roosevelt Point and Walhalla Overlook on the way to capture some supplemental shots.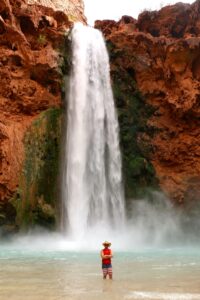 Mooney Falls
Deep inside the towering cliffs of the Grand Canyon, Mooney Falls is the highest and perhaps most spectacular of the five waterfalls that have made passes to visit the Havasupai Indian Reservation one of the most highly coveted items among adventure-seekers.
Havasu Creek's waters plunge nearly 200 feet off Mooney Falls, providing quite possibly the most magnificent backdrop on this list. However, as if the sight alone were not impressive enough, the story of how you got there — which involves a semi-technical downclimb using bolts, ladders and chains — adds to the exclusivity and awe of this particular shot.
Hike, wade and bushwack 3.5 miles downstream to the extremely secluded Beaver Falls or climb back up to explore the more easily accessible Havasu Falls, Lil' Navajo Falls and Fifty Foot Falls — the turquoise waters of which will make your followers green with envy.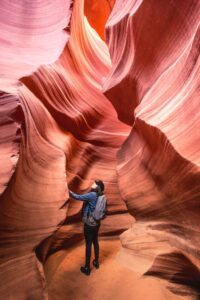 Antelope Canyon
Located on private land within the Navajo Nation in Page, guided tours are required to visit Antelope Canyon — which, named for the herds of pronghorn antelope that once roamed the area, immerses visitors in the swirling embrace of sandstone walls that have been shaped by millions of years of water and wind erosion.
Plan ahead to arrive midday March through October, when the position of the sun creates light shafts that reach the canyon floor and illuminates the pink, red, orange and gold patterns on the canyon walls.
Because it is shaped like an upside-down "V," narrow at the top and wide at the base, Upper Antelope Canyon is easier to walk through and more photogenic therefore more popular than Lower Antelope Canyon. However, many visitors claim that the latter is more fun, with narrow passageways to squeeze through and ladders to climb.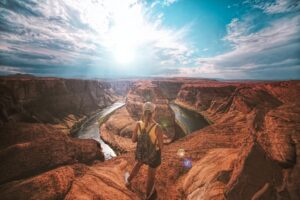 Horseshoe Bend
While Antelope Canyon is best experienced and photographed midday, its neighboring landmark Horseshoe Bend looks most impressive at sunrise and sunset. Below the rim, the Colorado River makes a wide sweep around a sandstone escarpment, creating a roughly 1,000-foot-deep, 270-degree, horseshoe-shaped bend in Glen Canyon.
There is an easy 1.5-mile round-trip hike to the overlook over a hardened path. This — combined with recent exposure on social media — has made Horseshoe Bend one of the most popular tourist destinations in Glen Canyon National Recreation Area, drawing more than 2 million visitors each year.
However, between the tranquil turquoise waters gently flowing below and the remarkably vibrant colors of the canyon and distant horizon, you will have no trouble tuning out the crowd, finding your zen and capturing the perfect shot of an iconic Arizona landmark.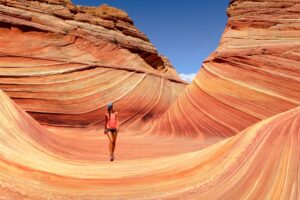 The Wave
The most exclusive landmark on our list, The Wave is located in the Coyote Buttes North area of the Utah-Arizona border. The U.S. Bureau of Land Management issues just 64 permits — selected via a lottery — to visit the stunning sandstone rock formation per day.
Needless to say, demand to experience what has been dubbed the premier photographic destination in the U.S. Southwest far exceeds the supply. And as if the difficulty obtaining a permit did not make visiting The Wave challenging enough, you will need to hike three miles through the unmarked desert — guided only by a vague map of visible landmarks — in order to get there.
However, once there, you will be mesmerized by the trippy rock formation's smooth, flowing shape and striking red and yellow stripes that prove that Mother Nature is the greatest artist of all. With its swirling layers and undulating forms, The Wave is not only an Instagrammable site but also a geological wonder 190 million years in the making.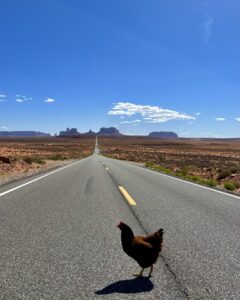 Forrest Gump Point
It is only appropriate that we conclude our road trip in the place where Forrest Gump ended his ultra-ultra marathon of more than 15,000 miles in the eponymous movie starring Tom Hanks.
With the majestic Monument Valley as a backdrop, this spot on Route 163 at mile marker 13 near the Arizona-Utah border is extremely well-known among fans of that 1994 film. Though one could argue that there are many remarkable vantage points of Monument Valley, this one has become one of the most iconic and frequently photographed — and for good reason.
In addition to being an instantly recognizable piece of cinematic history, it also offers one of the most spectacular and archetypal views of the entire American Southwest, accentuated by Monument Valley's gorgeous crimson mesas and towering sandstone buttes in the distance.