By Rebecca L. Rhoades // Photography by Dave Pisani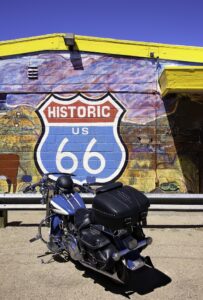 Route 66. The name alone conjures up myriad images and memories: of wide-open spaces where the blacktop stretches for miles into the horizon; of neon signs and quirky roadside motels; of a time when cars were king and the highway was seen as a symbol of adventure and independence.
Route 66 was freedom. Route 66 was America.
Starting in Chicago and cutting across 2,448 miles, three time zones and eight states — Illinois, Missouri, Kansas, Oklahoma, Texas, New Mexico, Arizona and California — Route 66 was one of the country's first continuous spans of paved highway linking East and West.
The fabled thoroughfare had its official beginnings long more than a century ago. In the early 1900s, Oklahoma businessman Cyrus Avery, "The Father of Route 66," saw a need for better roads through his state and across the nation. At the time, what was to become the country's most famous road was nothing more than a series of dirt and gravel auto trails.
As the chairman of his state's highway commission, Avery helped lay out a system of numbered highways. Originally named U.S. 60, it was later dubbed 66 — because roads that ended in multiples of 10 were transcontinental and because Avery noted that 66 was more phonetically pleasing. The route was approved in 1926 — and Avery coined it "Main Street of America."
It wasn't until after the Great Depression and World War II, however, that Route 66 saw its heyday. A promotion by the U.S. 66 Highway Association advertised it as "the shortest, best and most scenic route from Chicago through St. Louis to Los Angeles."
Thousands of travelers journeyed along the road — from postwar families making westward migrations to vacationers in candy-colored vehicles intent on exploring our national parks and the Wild West. Businesses also sprouted up alongside the highway, from motor courts, cafes and tourist attractions to filling stations, souvenir shops and drive-in theaters. Cities along or near its path thrived.
John Steinbeck immortalized Route 66 in his famous 1939 novel, "The Grapes of Wrath." In the epic tale of the Great Depression, he bestowed upon the highway the sobriquet "The Mother Road."
He wrote, "66 — the long concrete path across the country, waving gently up and down on the map, from Mississippi to Bakersfield … Holbrook and Winslow and Flagstaff in the high mountains of Arizona. Then the great plateau rolling like a ground swell. Ashfork and Kingman and stone mountains again, where water must be hauled and sold. … From all of these, the people are in flight, and they come into 66 from the tributary side roads, from the wagon tracks and the rutted country roads. 66 is the mother road, the road of flight."
In 1946, it entered the popular lexicon, thanks to the release of "Get Your Kicks on Route 66." Written by Bobby Troup and sung by Nat "King" Cole, the musical tribute captured America's love affair with the road. "If you ever plan to motor west / Travel my way, take the highway that's best. / Get your kicks on Route sixty-six!"
Unfortunately, the good times didn't last. In 1956, the Federal Aid Highway Act brought about the development of the national interstate and defense highway system. Modern multilane divided highways bypassed the small towns along Route 66.
By 1970, most of the route was replaced by five interstates, and the areas that once relied on The Mother Road's traffic began to decline. The last town to be bypassed in 1984 was Williams, Arizona. At that point in time, Route 66 no longer existed officially.
One man in the tiny town of Seligman, however, refused to let the road die.
Angel Delgadillo, the now 96-year-old retired barber, saw how the loss of Route 66 affected his hometown. During its peak, upward of 9,000 cars a day rumbled through Seligman. But when Interstate 40 opened to the south, the main drag fell quiet.
After watching business after business close down, Delgadillo decided to take action. He formed the Historic Route 66 Association of Arizona — its headquarters were in his barbershop — and lobbied to get part of the road designated as a historic highway. His work served as a blueprint for other states to follow. And Delgadillo became known as the "guardian angel of Route 66."
In 1990, Congress recognized that Route 66 had "become a symbol of the American people's heritage of travel and their legacy of seeking a better life."
Today, The Mother Road is full of brightly colored, eye-catching retro attractions that recall the route's glory years. Nowhere is that more visible — and easily accessible — than along its stretch across the Grand Canyon State.
Here are some of the most memorable stops along Arizona's Historic Route 66, traveling from West to East.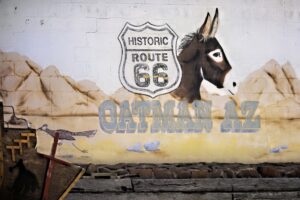 Oatman — A Living Ghost Town
The most frontier-themed of Arizona's Route 66 destinations, this former gold mining town located high in the Black Mountains is chock-full of old-timey buildings, cluttered souvenir shops and plank sidewalks. Getting here is not for the faint of heart. The road to Oatman is very narrow with several sharp hairpin curves as it climbs through the rocky landscape.
On the weekends, Wild West gunfights are staged in the center of town, but the main attraction is the area's herds of wild burros. These friendly pack animals are the descendants of burros brought here by the miners in the late 1800s.
Today, there are more burros in Oatman than there are residents. Each morning, they come into town to greet tourists, who delight in feeding them pellets that are available for sale at many shops along the main strip.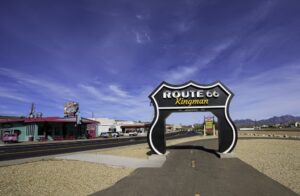 Kingman — Embracing History
Kingman might not offer the originality of Oatman or the retro flash of Seligman, but it's a great place to learn about the storied highway.
The town's motto is "The Heart of Historic Route 66," and the Route 66 Museum at the visitor's center offers one of the most comprehensive histories of the road. While you're there, don't forget to get a photo under the giant drive-thru Route 66 shield — especially if you're in a classic automobile.
Directly across the street is Locomotive Park, home to a 1928 locomotive that kids can explore. And rail fans also will enjoy the Kingman Railroad Museum, housed in the town's historic train depot.
About 25 minutes east of town, at the former Kozy Corner Trailer Court, is one of the route's more unusual attractions. Giganticus Headicus is a bright green 14-foot-tall Tiki-/Easter Island-style head created by local artist Gregg Arnold. The property also showcases several vintage cars, old gas pumps and more of Arnold's eccentric artworks.
Eat: Mr. D'z Route 66 Diner has all the nostalgia and ambience of a bygone era. You can't miss the bright turquoise-and-pink facade and vintage automobiles. Inside is loaded with midcentury touches, including a checkered floor and plenty of Elvis and Marilyn decor. Try the homemade root beer or one of the more than two dozen milkshake flavors.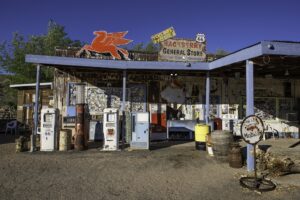 Hackberry — A Photographer's Dream
Located midway between Kingman and Seligman, this small village is known for the Hackberry General Store, a popular tourist attraction thanks to its collection of vintage cars and Route 66 Americana.
Nicknamed the "Mother Lode of Mother Road Memorabilia," the store is home to a plethora of antique gas pumps, hundreds of classic signs, neon and cow skulls. The interior serves as a museum, complete with a midcentury diner, as well as a souvenir shop. No matter how many times you stop by, there's always something new to see.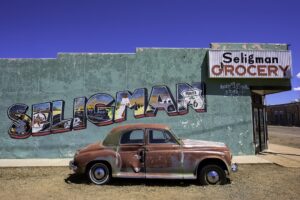 Seligman — The Birthplace of Historic Route 66
This tiny town is one of the road's most colorful and photogenic stops. Packed into a quarter mile are historic businesses, eye-popping signage, junk shops and oddball emporiums, and classic automobiles in various stages of rust and decay.
Stop by Seligman Sundries for photos of old cars decorated to resemble the characters in Disney-Pixar's "Cars," which was inspired by many of Arizona's Route 66 locations. And you can't miss the weirdly wacky Rusty Bolt gift shop, where a crowd of questionable-looking mannequins stand guard on the roof.
A must-see is Angel Delgadillo's world-famous gift and barber shop, where the man responsible for the revitalization of The Mother Road worked until his retirement in 2022. Here you will find just about every type of Route 66 souvenir you can imagine, from magnets, keychains and shot glasses, to clothing, books and music CDs.
Eat: Built in 1953 by the late Juan Delgadillo, Angel's younger brother, the colorful, kitschy Delgadillo's Snow Cap Drive-In managed to survive the rise, fall and rebirth of Route 66 and remains one of the town's most notable attractions. Enjoy classic diner food, such as burgers, hot dogs and burritos, or sip on a homemade milkshake while exploring the vintage cars, memorabilia and artwork displayed throughout the property.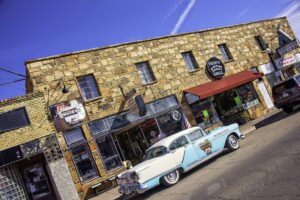 Williams — Gateway to the Grand Canyon
Located in Kaibab National Forest, Williams is the starting point for the Grand Canyon Railway. Each year, more than 200,000 visitors depart from the mountain town to the canyon's south rim, while thousands more come to view the vintage gas station museums, historic train cars, renovated motor lodges and replica Old West village. Today, Williams' main street is a National Historic District.
Located on the outskirts of town, Bearizona is home to bears, wolves, wild cats, bison, elk, javelina and many other North American wild animals. Drive- and walk-through tours are available. And new since 2022, Canyon Coaster Adventure Park offers a 1-mile-long coaster that speeds guests down the mountain at upward of 27 mph.
Stay: With almost 300 rooms, and one of the area's only indoor pools, the AAA 3-star Grand Canyon Railway Hotel is one of the most luxurious stays along Route 66. Book a package that includes a trip on the historic train.
Eat: Located a block away from the Grand Canyon Railway depot and hotel, and open early to accommodate passengers, Pine Country Restaurant is known for its generous portions of American cuisine. Don't forget to leave room for a delicious slice of homemade pie.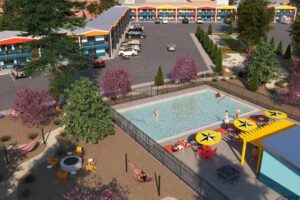 Flagstaff — A Mountain Escape
Home to Northern Arizona University, Flagstaff is the largest town along Arizona's Route 66. It's also the world's first International Dark Sky Community. While you won't find the collections of neon and rusty cars, there are still plenty of sites to see, including numerous historic buildings and colorful Route 66 murals.
Flagstaff boasts a flourishing restaurant and craft beer scene. Quench your thirst at Mother Road Brewing Co. or dine at one of the city's James Beard Award-nominated establishments before heading east toward Winslow and stopping at Twin Arrows, Two Guns and Meteor Crater Natural Landmark.
Popular attractions during the golden age of Route 66, Twin Arrows, a former trading post, and Two Guns, once a small town complete with a gas station, lodging, swimming pool and zoo, are now crumbling reminders of the road's past. The decrepit buildings are covered in colorful graffiti, while remains of the zoo's mountain lion exhibit are a popular photo attraction.
Meteor Crater is located about 25 miles off Route 66, but it's worth the detour. The massive crater is the site of a meteor impact that occurred about 50,000 years ago. Don't miss the now-abandoned dome-shaped Meteor City Trading Post, which served as inspiration for Fillmore's house in "Cars."
Stay: Built in 1962 and reopened in June, the pet-friendly Americana Motor Lodge offers nostalgic travelers the chance to step back in time. Eighty-nine rooms feature a retro-futuristic vibe, with wood-paneled walls, disco balls and boldly patterned carpets.
Also finding new life is High Country Motor Lodge, a former roadside motel that's been transformed into luxurious boutique stay. It opened in May 2022. Rustic elements combine with midcentury-inspired fixtures and furnishings for an elevated-yet-casual experience.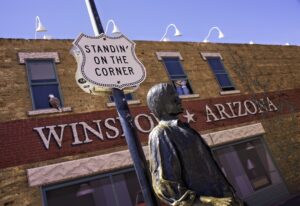 Winslow — Standin' on a Corner
Even if you've never been to this small town about 60 miles east of Flagstaff, you've definitely heard of it. The former railroad stop was made famous by the Eagles' 1972 hit song, "Take It Easy." The lyrics put the city on the map. "I'm a-standin' on a corner in Winslow, Arizona / And such a fine sight to see."
The city capitalized on the song in 1999 by creating the "Standin' on a Corner Park," which features a mural depicting a flatbed truck and an eagle, as well as a bronze statue that resembles songwriter Jackson Browne. A massive Route 66 marker dominates the intersection.
Just outside of town is Homolovi State Park, which contains hundreds of petroglyphs as well as the ruins of ancient Anasazi and Hopi pueblos.
Stay: Designed by Mary Colter, who also created a series of buildings at the Grand Canyon, the landmark La Posada is considered the architect's masterpiece. Closed to the public in 1957 and later nearly demolished, it was restored to its former glory in the late 1990s. The hacienda-style hotel sits on 12 acres of lush gardens — a true oasis in the desert.
Eat: Winslow offers a selection of casual dining options, but the Turquoise Room at La Posada is a one-of-a-kind dining experience. Saltillo flooring, stained glass windows, custom tin-and-glass chandeliers and turquoise ceiling beams lend a warm, comfortable feel to the space. And the menu celebrates regional Southwestern and Native American dishes and ingredients.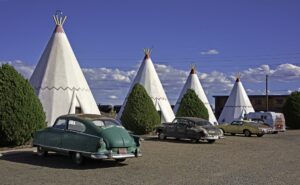 Holbrook — A Trip into the Triassic Period
Once known as "the town too tough for women and churches" and where streets have names like "Bucket of Blood," Holbrook nowadays is the perfect home base for a day trip to Petrified National Forest, the only national park bisected by Route 66. Almost 350 square miles of otherworldly landscapes are filled with vividly hued formations, petroglyphs, colossal fossilized trees and an array of wildlife.
Next, head into town and stop at one of the many "rock shops" for your own piece of geological history. Not sure where to go? Just look for the angry T. Rex or bright green brontosaurus. Jim Gray's Petrified Wood Co. and the Rainbow Rock Shop are two of the town's most photographed sites thanks to the herds of giant concrete dinosaur statues that attract visitors. The Painted Desert Indian Center, located just outside of the park, also is home to some hulking roadside reptiles.
Stay: The Wigwam Village Motel No. 6 is one the most iconic attractions along the entire nationwide stretch of The Mother Road — and a night here is a must-do for any Route 66 aficionado. At one time, there were seven Wigwam villages across the country. Today, only three remain. The tiny rooms feature two twin beds and a small bathroom and shower.