Writer Joseph J. Airdo
Ten years ago, Scottsdale Public Art invited Jeff Zischke to be among the first artists to have their work featured as part of its inaugural Canal Convergence — a temporary outdoor exhibition of innovative, large-scale public art installations by local, national and international artists.
"It was a major undertaking," says Zischke, noting that he and the Scottsdale Public Art team installed more than 200 illuminated shapes on the surface of the Arizona Canal at the Scottsdale Waterfront for his 2012 artwork, "Nodal Water Garden." "It was an amazing amount of work and a super big challenge but super fun, too."
This month, to celebrate and commemorate Canal Convergence's decennial, the Scottsdale-based artist and designer is upping the ante, unveiling a new work that consists of five internally lit sculptures suspended above the canal.
"There will be five units designed like sun shapes installed in an ascending and descending order, representing sunrise and sunset in our desert environment," Zischke explains. "There are many new problems to be solved — such as engineering of cable structures and design and programming of the computer-controlled LEDs that will power the sculptures at night."
However, Zischke strongly believes that it is well worth the effort.
"It is just a wonderful opportunity," says Zischke, who was also selected to exhibit at Canal Convergence in 2014 with his "Water Striders." "I live for challenges. When I started my career, I did suspended fabric pieces in Ann Arbor, Michigan. So this really harkens back to that and I am very appreciative that Scottsdale Public Art has invited back me to create something for this event."
The free, 10-night event scheduled for Nov. 4–13 will feature 12 large-scale public artworks created by artists from around the world alongside augmented reality artworks and experiences, live music and dance performances, creative workshops, educational activities and food trucks as well as a beer and wine garden.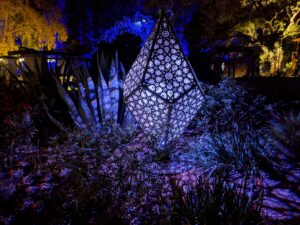 An Arts-Focused City
What began in 2012 as a four-day spring gathering that maxed out at 80,000 attendees has, over the past decade, evolved into a fall festival that typically draws about a quarter-million people to the Scottsdale Waterfront area over the course of 10 days.
Scottsdale Arts president and CEO Gerd Wuestemann says Canal Convergence was supported by significant investment of resources by the city of Scottsdale, via its tourism development commission, as well as private and corporate fundraising.
"Ten years ago, we embraced the idea of activating this waterfront as a public space to bring the community together," Wuestemann says. "I think this made Scottsdale a better place to live, while making our community stronger."
Scottsdale Public Art's assistant director for Canal Convergence Jennifer Gill attributes the event's incredible growth to both the interest of the general public and the growth of the city itself. Since its debut 10 years ago, the event has embodied an ever-evolving conversation about site-specific public art, light art, community engagement and more.
"One of the things that has always been really important to us is being able to offer free admission to Canal Convergence so that the public can interact and talk with the artists," Gill says. "It is also about showing the best parts of Scottsdale."
The city established Scottsdale Public Art in 1985, with the goal to enhance the quality of life for its residents and visitors. Since then, more than 100 permanent and temporary public artworks have been commissioned throughout the community.
"We are very much an arts-focused city," Gill explains. "And what better way to express that than with public art, live music, dance performances, workshops and family activities?"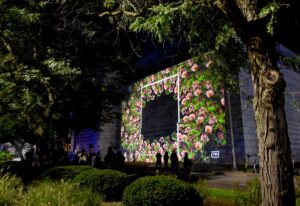 The Mind's Eye
For Canal Convergence's 10th anniversary, each participating artist was directed to present an artwork that celebrates water, art, light, interactivity and sustainability while also drawing from past themes. Additionally, organizers set out to celebrate all of the elements that have gone into making it the successful and beloved event that is it today.
"One of the key ways we have accomplished this is by not only inviting new artists to create light-based artworks through our open call, but also reaching out to past Canal Convergence artists to show new artworks for this year's event," Gill says.
In addition to Zischke, this year's lineup of returning artists includes Scottsdale's own Walter Productions — which has been a yearly presenter at Canal Convergence since 2018, most often with choreographed fire shows that draw massive crowds. This year, Walter Productions' "ORB" will ignite over the canal, shooting flames 30 feet into the air. Between performances, viewers will be able to control a series of LED panels on the floating installation.
Meanwhile, Los Angeles-based HYBYCOZO, which last appeared at Canal Convergence in 2017, will return this year with "Trillian + InSpires." Influenced by natural forms, ancient Islamic tiles, mathematics and geometry, the artworks cast colorful light and intricate shadows on the surrounding environment.
Yelena Filipchuk, a Ukrainian-born member of HYBYCOZO, believes that public art provides us with a necessary insight.
"Interacting with artists reminds people that their made environment is malleable; that the world is truly made in the mind's eye of every person," Filipchuk explains. "With that intention, we can all go forth and create a more just, equitable and creative society."
Philadelphia-based Immerge Interactive, which showed "Fences" in 2020, will return this year with "Reflections" — an interactive lighting installation that hovers over the surface of the Arizona Canal, captures the movement of viewers on the canal banks and creates generative patterns in real time, sampling past Canal Convergence artworks and color palettes from the surrounding geography.
The Interactive Element
Although most of the returning artists will debut new artworks, a few will reintroduce pieces that have previously appeared at Canal Convergence, including Mexico City-based artists Hector Esrawe and Ignacio Cadena's "Los Trompos" — colorful, rotating, top-like artworks made from fabric that is woven in a traditional Mexican style.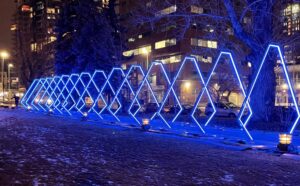 Meanwhile, Calgary-based B!G ART will bring back its popular installation "The DOOR(S)," which this year will act as gateways to past Canal Convergence events and to a real-time livestream at Scottsdale Fashion Square, allowing visitors at both locations to virtually interact with one another.
Two other installations from B!G ART will also be on exhibition this year. "The STARQUARIUM" is a one-of-a-kind, intergalactic aquarium, connected to a gateway through space and time, delivering flora, fauna and other mysteries from faraway worlds. Meanwhile, "The TUNNEL" is a one-way trip through a passage of magical light, where viewers become pilots through an interactive device.
Of course, returning artists only make up half of this year's lineup. Among those making their Canal Convergence debut are Pennsylvania-based artists Angela Fraleigh and Josh Miller, whose "Sound the Deep Waters" will offer participants an opportunity to have secret messages interpreted as bold, brilliant, larger-than-life flower compositions.
Needless to say, the interactive element will be front and center during this year's event. Another example of this is Netherlands-based artist AlexP's "MAPP," which will invite participants to step into the light and become part of the artwork as they appear among colorful images and patterns.
Meanwhile, Rhode Island-based inflatable art studio Pneuhaus and Bike Powered Events will exhibit "Canopy" — a grove of six illuminated, tree-like sculptures that continuously transform in shape and color as participants power them through bike-driven generators.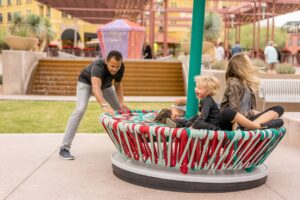 A Celebration of Water in the Desert
Gill cannot wait for the public to see the 10-year evolution of the event, its participating artists and the city itself through a lens that only Canal Convergence can provide. She anticipates that Zischke's new work — aptly named "SunDrops" — will truly highlight the various aspects that are unique to the Scottsdale Waterfront.
"I think that Jeff's piece will inhabit that space in a really compelling way, honing in on nature, the desert and the sun — all of which are things that are present in Scottsdale," she says.
Zischke agrees, adding that his hope is that Canal Convergence attendees take time to view "SunDrops" from several angles.
"The Arizona Canal is such a beautiful environment," explains Zischke, who this summer opened his own gallery and cafe in Old Town Scottsdale. "I hope that people walk around the whole canal and see my work from different perspectives — from one of the bridges, from the side, etc. I hope that it creates a sense of awe."
The artist adds that Canal Convergence brings the entire community together to celebrate the system of lateral waterways that have historically been and continue to be an essential asset to our state.
"Canal Convergence is a celebration of water in the desert — which is so important for everything," he says. "It is life in the Valley of the Sun. And 'SunDrops' is a celebration of the sun that we have 300 days a year."
Experience
Canal Convergence // Nov. 4–13 // Fridays and Saturdays // 6–10 p.m. // Sundays // 6–9 p.m. // Scottsdale Waterfront // 7135 E. Camelback Road, Scottsdale // Free // canalconvergence.com