Writer Joseph J. Airdo
Photography Courtesy of Dream City Church
More than four decades ago, Dream City Church introduced Arizona audiences to a holiday production that goes far beyond the standard Christmas story. Taking an already amazing tale and accentuating it with additional awe-inspiring elements, the church created an annual tradition that continues to this day.
"So many families make it a tradition," says Brooke Baker, creative arts director for Dream City Chruch. "They come year after year after year after year. We had to take a year off last holiday season due to COVID and it absolutely devastated us to not bring this coveted celebration to our community. But, the show must go on and we are incredibly overjoyed to go again this year."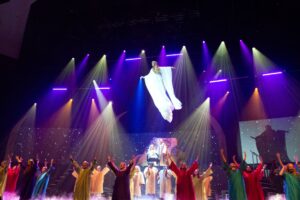 Baker adds that this year's "Celebration of Christmas" show — set for Dec. 9–19 and subtitled "The Brightest Star" — will be more magical and cutting-edge than ever before, featuring a live orchestra, exciting dance numbers, professional acrobatic silk artists, impressive aerial stunts and, of course, a beautiful Nativity with a majestic kings' procession.
"This year's storyline is a journey of a girl chasing her dream on Broadway," Baker says. "She is chasing those bright lights then, suddenly, they kind of fade away and that leads her to the Manger where she finds the true meaning of Christmas."
Noting that "Celebration of Christmas" has grown and expanded exponentially over the past 41 years, Baker says that the storyline and show elements change periodically.
"The one thing that does not change, though, is that beautiful Nativity scene," she says. "It really makes the Christmas story come alive right in front of your eyes with live camels, beautiful costumes and, of course, this little, sweet, innocent baby that represents Jesus and a flying angel that touches the top of the baby's head. It is really spectacular and gives you chill bumps."
Baker adds that in designing this year's show, which includes just about every style of music imaginable, she tried to hit every demographic to ensure that "Celebration of Christmas" has something for audiences of all ages and walks of life.
"It is definitely a show that is going to bring lots of entertainment, smiles, laughter and Christmas joy," she explains. "Then it is going to tell you what the true meaning of Christmas really is."
Baker has been involved with "Celebration of Christmas" in some way, shape or form for the past 28 years but "The Brightest Star" will be her first time at the creative helm. Having always loved performing and working with other people, she calls the opportunity "a dream come true." She has been especially impressed with the show's cast and crew members, many of whom are local talent and all of whom possess remarkable dedication.
"Their commitment is really beautiful," Baker says. "We have gone through every little detail of this show. None of us want to take a bow. We just want to give our community something great."
Experience
Celebration of Christmas // Dec. 9–19 // Dream City Church // 13613 N. Cave Creek Road, Phoenix // $10+ // celebrationofchristmas.org