Writer Joseph J. Airdo
Photography by Michele Celentano
[dropcap]E[/dropcap]arlier in her life, Sierra Litman used to turn her garage into a haunted house for Halloween. She invited neighbors to walk through the small space but, feeling cramped and therefore limited, she aspired to create something spooky on a much grander scale.
She gets the opportunity to do that this year in a way that is perhaps even bigger than she had ever imagined as Musical Theatre of Anthem hosts its first haunted house.
"I have always loved watching the home haunt videos that people post on YouTube and going to people's haunted houses that they do in the community," Litman says. "I have always wanted to do something like that and Musical Theatre of Anthem is a pretty big house. We have got a lot of space to do it and a lot of effects already built into the building."
The idea of hosting a haunted house was conceived when Musical Theatre of Anthem's staff and instructors began discussing new ways to engage the community in the arts.
"I am a huge Halloween fanatic so one of the first things that we talked about was doing some sort of haunted house," Litman explains. "That spiraled into something that would make sure that the kids are involved and learning from it, so we turned it into a workshop."
After Oct. 4 auditions, youth aged 14–18 will collaborate to create creepy characters, design macabre makeup and costumes and decorate a hair-raising haunt — all of which Litman says provides them with a theatrical experience through a different lens.
"For the kids who are participating, they have to go through an entire design process," she explains. "So it is more than just, 'Here's your script, play a character.' It goes a lot deeper than that and starts with them having to actually create — which I think is really educational. It becomes this storytelling experience so it is not as simple as jumping out and saying, 'Boo.'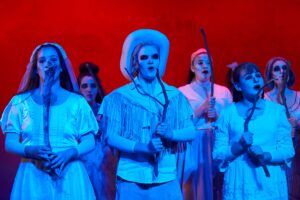 In fact, it may be an even more challenging theatrical experience than simply performing on stage.
"When you are playing a character on stage, the audience is just watching you while you perform," Litman says. "This is more interactive. People are interacting with you in the middle of the haunted house. You have to be able to come up with dialogue without breaking character. It is very improvisational."
Best of all, the workshop will result in a haunted house that the entire community is invited to experience.
"I am the type of person who is always looking for something to do in the community around the holidays," Litman says. "It is the spooky season and everybody wants to do something that immerses them in something quintessentially Halloween. I think that this will be a fun thing for families to do and see because we do not have anything else like it in the area. We are here. We will fill that need."
Litman adds that she will guide workshop participants into creating a relatively family-friendly haunted house for the community, resulting in an imaginatively insidious experience as opposed to something that will nurture nightmares. After all, the ultimate goals are to bring kids into theater in a different way and create something for the community in the process.
"I think a lot of times kids see an actor on the stage and do not want to do that," Litman says. "But there is so much more to the theater. I think that something so universally loved like Halloween is a great way to introduce kids to the arts.
"We are a very community-based theater. The goal is to have an annual event and change the theme of the haunted house every year. If it goes well and everybody enjoys it, we will keep coming back for years to come and make it an annual tradition that people can look forward to."
Witch's Lair Haunted House
October 29 and 30 // 6–10 p.m. // Musical Theatre of Anthem // 42201 N. 41st Drive, Suite B100, Anthem // $10 + a canned food donation for Foothills Food Bank and Resource Center // 623-336-6001 // musicaltheatreofanthem.org