Writer Joseph J. Airdo
Photography Courtesy of Tifani Wendt
[dropcap]L[/dropcap]arry Wendt loved to cook for people.
"One of the biggest ways that Larry showed his love was making an incredible meal for or making sure that people were fed," says Tifani, Larry's daughter. "Nobody ever went hungry around Larry and I am sure that anybody could tell you that. It just stemmed from his way of being a public servant."
The Carefree and Cave Creek communities sadly lost that public servant this past August when Larry passed away at age 65. Although he served the communities in a variety of ways throughout his life, he is best known for not only being the owner of The Buffalo Chip Saloon and Steakhouse but for transforming it into the iconic local hangout that it is today.
"My dad grew up very poor in South Phoenix," Tifani says. "He attended Carl Hayden High School, graduated early and moved out of his home at 15 or 16 because his home life was not ideal. He basically moved into his truck when he was very young and made due until he could become a correctional officer."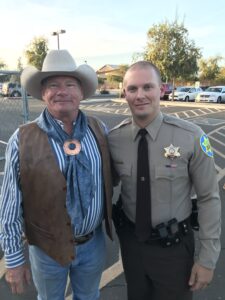 Tifani does not know exactly what encouraged her father to pursue a career in law enforcement but believes it likely had something to do with the neighborhood in which he grew up and him seeing how that affected the families who lived in it.
"My dad has always had a heart for service and service to his community," she explains.
After having spent a very short amount of time as a correctional officer with the Maricopa Country Sheriff's Office, Larry moved up the ranks and became a deputy and, later, a deputy chief. In total, he spent 23 years with the MCSO.
During that time, Larry and his family also owned and operated a catering company.
"He just loved to cook for people," Tifani says. "That was one of his passions. At the time, The Buffalo Chip did not have a kitchen, so my dad would cater big parties, functions and groups of people who would come in as tourists and things like that."
Larry nurtured a working relationship with the then-owner of The Buffalo Chip Saloon and Steakhouse, which actually started way back in 1951 as a feed and bait shop along the way to Bartlett and Horseshoe Lakes. The original building — which, over the years, has also been known as The Crystal Palace and The Maverick — was only 800 square feet and sat on roughly two-thirds of an acre of land.
Larry purchased it just nine days after retiring from the MCSO in 1998.
"My dad slowly grew it from a little bar into the iconic, legendary place that it is now," Tifani says. "It truly is a family place, a tourist place, a party place… everything that you could possibly imagine."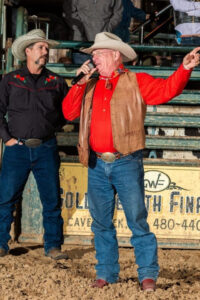 Since Larry's acquisition, The Buffalo Chip Saloon and Steakhouse has grown to encompass five acres and more than 6,000 square feet to become one of the most authentic dance halls and saloons in the entire country — complete with live music, live bull riding and an exceptionally popular all-you-can-eat fish fry.
"The Buffalo Chip is something that I do not think that anybody could have imagined that it would become other than my dad," says Tifani, noting that Larry always had a passion for country western culture and rodeo life. "I think that The Buffalo Chip really is just a collision of everything that he loved. It had food, it provided him a way in which he could still serve the community and it incorporated a huge part of rodeo and the country western lifestyle.
"Those in the country western lifestyle are typically very dedicated, loving, God-fearing people who love their country and that is definitely who my dad was. I think that he would want to be remembered as somebody who loved God, loved his family and loved his country. And I think that his legacy would just be that his kids and his grandkids would live a lifestyle that honored that."
Adding that her father taught her to work hard and always choose the right path, Tifani says that, despite her dad's absence, The Buffalo Chip Saloon and Steakhouse will not skip a beat.
"Those who knew my dad know that he would not want anything to pause for him," she explains. "He would want the show to go on. He would want it to be even more successful. He would want everybody to continue to come in and have a great time.
"We promise to keep The Buffalo Chip what it was and to continue to make it the place that everybody enjoys to go with their family and friends to celebrate things. We are going to continue to make The Buffalo Chip a great place where everybody can gather and have a good time.
"So we hope that people continue to come in and enjoy it just the same — even though it is not going be quite the same without Larry."