Writer Shannon Severson
Photography by Arleen Hazen
[dropcap]M[/dropcap]usic is one of the most powerful creative forces in the human experience and dance is the physical manifestation of that force. A talented group of tap-dancing ladies called the Desert Cactus Kickers is proving that dancing is also a lot of fun regardless of one's age.
Having entertained Valley denizens for nearly 30 years, the women are known for their beautiful costumes, high energy choreography and gorgeous legs — all of which have earned them the nickname "The Rockettes of Arizona."
To be a member of the Desert Cactus Kickers, one must be 50 years of age or a grandmother. The age requirement may be the group's niche but the incredible talent of its members is what makes it unique. The ladies have performed around Arizona and Nevada, often in Carefree at the Sanderson Concert Pavilion, in parades and competitions and have found particular satisfaction in visiting assisted living and memory care facilities.
They even tried out for NBC's "America's Got Talent" a few years back –– and got quite a bit of screen time on the show.
"It's a wonderful group," says Mary King, the director of the Desert Cactus Kickers. "We've been going strong for 28 years and we are recruiting new members. We play all around the Valley and we are looking forward to getting back to performing."
Originally a native of California with a background in the entertainment industry, King found the group when she moved to Cave Creek from Prescott. She was looking for a tap dance group similar to one she enjoyed up north.
"I walked in on them and could tell it was a much more professional group than my previous one," she says. "But they were so wonderful and said if it takes you a year to get up to speed, that's fine. Well, it didn't take a year, but the group works with everyone. We even had a legally blind woman dance with us. Everyone dances and performs as they can."
A nonprofit performing arts organization, the Desert Cactus Kickers uses the donations they receive to cover costs that include practice space, travel, costumes and a piano player who entertains the crowd during costume changes. Any overflow of funds goes toward visiting locations that couldn't afford to host them otherwise. It's all about spreading joy and entertaining the crowd.
King says it's a gregarious and dedicated troupe that is "on" whenever they're performing. They are hard-working, they are supportive of one other behind the scenes and then there are those famous legs.
"People say, 'Oh my God! Look at those legs," King says. "I won't tell the secret, but it has something to do with spandex."
It's that enthusiasm, star quality and sense of fun that has been the soul of the group since its origin.
The Dancing Queen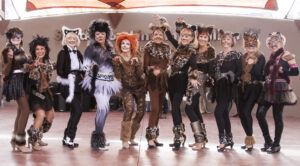 The Desert Cactus Kickers began in 1993 with founder Arlene Kamarata. At the age of 87, she's still performing with this dynamic dance troupe and is known to her proud grandkids as "The Dancing Queen."
"I danced with the Dancing Grannies in Flagstaff one summer," Kamarata says. "When I came home, I missed it terribly. So my husband, George, said, 'Why don't you start your own group? Just put an ad in the paper and see if anybody else is interested.'"
Soon, a group of about eight women were meeting at her house and decided to make it official. A dance teacher and studio were located. All they needed was a name.
"We used to drive up Cave Creek Road into town and there was a cactus that looked like a dancer with her leg up and arms raised," Kamarata says. "We took a photo with it and said, 'Let's call ourselves the Desert Cactus Kickers."
Over time, the group longed to learn more routines and less back-to-basics teaching since they were all relatively experienced dancers. Kamarata began teaching what she knew from the Flagstaff group, kicking off a tradition of having group members as teachers and choreographers. That's not to say there weren't a few doubters, though.
"One woman told us we were busting our brains for nothing and that we wouldn't last three months," Kamarata says. "I wish I could tell her we are still going strong."
Kamarata has many treasured memories of the group, including how her friends have supported her and how her late husband, George, was dedicated to helping the dancers in whatever way he could. One winter, when the group had nighttime practices at a studio in a dimly lit area, there was an adjacent property that was home to some unsavory characters. George was concerned for the women's safety.
"My husband came up every night in the winter," Kamarata says. "He would walk everyone in, wait in his car with a gun then walk everyone back to their cars. My husband loved these girls so much. He never missed a single show."
When Kamarata suffered personal losses, including her husband's passing and her sister being killed in an automobile accident, the group was there to support her.
"My dancing sisters were so good to me and so wonderful," Kamarata says. "We are more than just friends; we are more like sisters. It was beautiful."
Kamarata decided to pass the torch to former director Arleen Hazen in 2013 but remains a central figure in the group.
"I tell them all the time that I'll keep dancing as long as they let me," she says. "Physically and mentally, I feel that it's helped me. I'm not as graceful as some of them, but I think I've held up pretty good."
Shuffle, Ball Change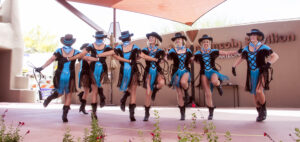 Hazen found the group in 2003 when she moved to the area and was invited to check it out by a neighbor.
"I'd tap danced when I was young and enjoyed it, but it was long gone — or so I thought," Hazen says. "I said I'd like to try it out and my friend called me the night before practice started and said, 'We're going tomorrow.' I agreed and I've never looked back."
Hazen's creative and technical talents have been a huge contribution to the crew. She began by cueing up CDs for practices and performances and now utilizes digital tunes via Bluetooth.
Since the group only practices together once per week during the season, it's important to have video breakdowns of the choreography primarily by Jan Snow so the women can practice at home. Choreography talent runs deep in this group, so there are also dances choreographed by members Tammy Pistole, Mary Cary and Sue Neubauer.
Hazen's photography skills capture the colorful spirit of the Desert Cactus Kickers' upbeat performances. When she's on stage, she hands over the set-up to one of the dancers' husbands to film and snap pictures. Hazen is also an adept seamstress.
"We have done a lot of sewing over the years and sometimes make our own costumes," Hazen says. "We have a two-man horse I made and we've used it in our Christmas show and in a couple of Western dancers. Mary [King] helped me with it. When you put two people inside, it comes alive. We named her Lily the Philly; people really like her."
When some health challenges began to arise for Hazen, she looked to King to take on the director role in October 2020. She remains heavily involved with the group and is working on the choreography videos for a new routine to the classic, "Singin' In The Rain." She says the group typically adds at least two new dances to its repertoire each season and is looking forward to being back in action as pandemic health restrictions ease.
The Miracle of Music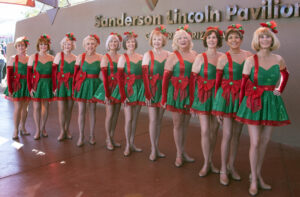 Something that King, Kamarata and Hazen universally cite as a standout experience is their visits to assisted living and memory care facilities — something that had to be suspended during the COVID-19 pandemic.
"Studies show that music memory is the last to go in Alzheimer's Disease," King says. "People may not remember their own names, but they remember every word to the songs. They get up and dance. It's pretty thrilling."
The Desert Cactus Kickers sometimes arrives to see memory care residents quietly slumped in their chairs, heads down and non-reactive. Then, the music starts, the dancers assemble — often with props like lariats, canes, hats and umbrellas. As the troupe taps, spins and kicks, heads raise, eyes twinkle, toes tap and the memories come roaring back.
"It's so rewarding," Kamarata says. "These people grab us and hold us and thank us. When the music begins and their heads rise and their hands are moving, sometimes it makes me want to cry. You can see they want to get up and dance with you."
That camaraderie and personal satisfaction keep members in the group year after year. Looking back, Kamarata marvels at what began as her dream to dance again.
"I keep saying, 'How in the world did all these beautiful, wonderful women find us?'" she says. "It's been quite an adventure for me. I've already told my kids that if I die on the dance floor, I'll be doing what I love so I don't care. My headstone has to say, 'Come Dance With Me.' I've already told my kids.
"We are pretty darn lucky that we got the cream of the crop and it all just fell into place. We are looking for new members, too. We need some new, younger blood and anyone older who can dance. We would love to have them, too, and we will hopefully continue on as the Desert Cactus Kickers."