Writer Shannon Severson
Photography by Amelia Barofski
[dropcap]B[/dropcap]asketball requires endurance, focus and the ability to shift direction at the same fast pace as the game itself. Boulder Creek High School 2021 graduates Kayla Clark and Violet Toon embody all three of those skills — both on the court and in their personal lives.
After a year that could have crushed their dreams of playing in college, Clark and Toon persisted and were rewarded with scholarships that will allow them to continue on in their basketball journeys.
The talented pair led the Jaguars to finish in the Top 16 of their division, nearly beating Sandra Day O'Connor High School at school year's end and earning a spot in the 6A playoffs. While the team fell short in a loss to eventual champions Valley Vista, they ended the year with a lot of which they can be proud.
Moreover, both have big things on the horizon. This fall, Clark will join the basketball team at Southern Utah University in Cedar City, where she will be majoring in business, while Toon will join the team at Ottawa University in Surprise, where she will be majoring in communications.
Nothing But Net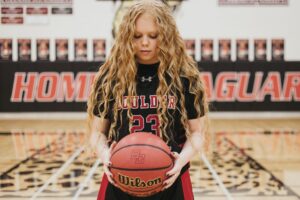 Clark — whose parents and brother have all played basketball — picked up the sport when she was about 5 years old. Toon began playing, initially with the Anthem Community Center recreational league, just after sixth grade.
"I have two sisters — one older and one younger," Toon says. "Both played basketball and it helped because we were always trying to compete and get better. I can never beat my older sister, Jordan. And my younger sister, Lyric, can never beat me. That first season I played after sixth grade, I didn't score a single point; I was awful. But then, for the next four seasons, we were undefeated."
Toon was also inspired to get into basketball and keep pursuing greatness by WNBA Phoenix Mercury player Brittney Griner. She even had the chance to meet her idol.
"When I was 13 or 14 [years old], there was a meet and greet," Toon explains. "But it was at a bar and you had to be 21 to attend."
Toon sent several emails to the WNBA. Its director facilitated their meeting during which she obtained Griner's autograph.
"The next time I met her, she surprised me with season tickets," Toon adds. "It was a dream come true. I knew then that I wanted to play basketball."
Clark, who sings and plays both piano and guitar when she's not on the hardwood, credits her family for keeping her going — particularly through the injuries she suffered during every year of high school.
"My whole family, in general, is my inspiration," Clark says. "They're the most supportive people I know. My parents, my brother, my grandparents and all of my coaches have been really supportive the whole time."
Making It Rain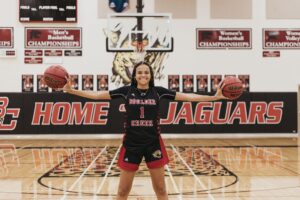 When Clark and Toon began playing basketball at the high school level, both girls wound up on the varsity team as freshmen. Toon also ran track for the Jaguars, competing in hurdles and the triple jump.
Together, they persevered through injuries, coaching changes and the trials of the COVID-19 pandemic.
An athlete's junior year in high school is prime time for college recruiting; but so is the summer club season, when traveling to major tournaments naturally draws the most attention from universities.
"It was really difficult because I was saving my junior year club season to get looks, but that got canceled," Clark says. "I'm really grateful to Coach Marlon Wells of EBO, a California club team. They gave me a spot on their team so I got to play in some of the tournaments when every other team was full."
As the school season began, the COVID-19 restrictions that effectively shut down many of those summer opportunities nearly claimed their senior season, as well. The team did what they could to keep training and conditioning through the summer and the fall.
"Our season kept getting delayed and pushed back and then they canceled it," Toon says. "I remember that weekend, I was devastated that I wouldn't have a senior season. Then the AIA changed its mind and we got right back in the gym."
The Jaguars also had to adjust to a new head coach and the departure of many seniors from the 2020 season. Coach Noah Barofski took on the task and set about guiding the team to the 6A playoffs.
In the past, the post-season pool included 24 teams. This year, only 16 qualified — and the Jaguars were seeded at No. 15. With such a young team, it was an accomplishment just to be there.
"We were very fortunate and blessed to have a season," says Barofski, who had previously served as the school's junior varsity and freshman team coach. "It was difficult for sure, but wonderful to have a season. And the camaraderie on the team was a joy."
Buzzer Beater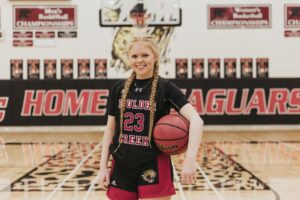 Clark and Toon, who were leaders on the young team, had already had looks prior to the 2020-2021 season.
"It was fortunate that Kayla and Violet were already in the recruiting process," Barofski explains. "Colleges are also struggling with lack of roster and funds. Some had to rescind offers because of those constraints."
Clark was signed by Southern Utah University by November of her senior season. But there were still challenges.
"Their whole budget was cut," Clark says, "But the coach and the team there were so supportive. They brought my application to the school's attention and I was given the Presidential Scholarship — which only goes to two people per year. I was very thankful for that."
Toon had been in talks with Ottawa University during her junior club season and had received an offer, but had not yet committed. There was a coaching change and Ottawa stopped calling.
"I kept getting offers but I wanted to stay in-state," Toon says. "Ottawa was my No. 1 [choice]. When they stopped showing interest, I didn't know why and didn't really know what I would do."
Then, Ottawa University finally called again, expressing remorse that Toon's name had not remained on its list.
"I connected well with the new coach and they offered me a full-ride scholarship," she says.
Barofski acknowledges that this past school year's season was a unique and strange one for sure. However, he is not at all surprised that Clark and Toon are continuing on in their basketball journeys — and with scholarships, no less.
"They've got great work ethic," Barofski says. "That's why they received scholarships for both academics and athletics. They demonstrated a strong commitment to their teams and to themselves. They strived to get those scholarships and they've earned them. As much as I'd like to say I played a role, they really did it themselves. It's a very proud accomplishment for the two of them."