Writer Joseph J. Airdo
Photography Courtesy of Back to Health of Anthem
[dropcap]D[/dropcap]r. Brian Hester has always embraced a single, transformative philosophy across all aspects of his life: If you do the homework, then the test will be easy.
Ten years ago, the chiropractor and founder of wellness facility Back to Health of Anthem decided to test the limits of his own strength, endurance and personal fitness.
"It was at a time in my life when I had about 50 pounds to lose and wanted to get my own health back on track," Dr. Hester says.
At 37 years old, he trained for and competed in the Ironman Triathlon — a series of long-distance races that is widely considered one of the most difficult one-day sporting events in the entire world.
"It is a 2.4-mile swim in Tempe Town Lake followed by a 112-mile bicycle ride that goes out the Beeline Highway toward Payson in three loops and a 26.2-mile run in and around Tempe to finish it up," Dr. Hester explains.
Through that experience, Dr. Hester lost the 50 pounds he wanted to shed and gained a sense of accomplishment that only the most elite athletes ever achieve. Moreover, he also used the platform to raise a few thousand dollars for the Prostate Cancer Foundation — a victory that he perceives as even more significant than his triathlon finish itself.
With this year marking the 10th anniversary of his first Ironman Triathlon, Dr. Hester has decided to do it again Nov. 21 in Tempe as a continuing process of his personal fitness.
On Your Marks!
"Doing hard things that challenge you and help you to remain focused spills over into other areas of your life," Dr. Hester says.
And if you were to ask anyone, training for and competing in the Ironman Triathlon definitely constitute "hard things." Athletes typically begin preparing for the series of races at least six months prior to the sporting event itself.
"The first wise thing to do is to get a coach — someone who can formulate your training plan and schedule out some fitness tests and benchmarks to make sure that you are hitting your mark," Dr. Hester says.
He adds that the coach who helped him prepare for his first Ironman Triathlon advised him to become comfortable with being uncomfortable — and to wake up and work out at 4:30 a.m. in order to avoid Arizona's excruciating summer heat.
"The second thing to do is to get really specific on your nutrition," Dr. Hester says. "You want to reach the starting line healthy but also at an ideal body weight. The heavier you are, the more mass you have to carry around and the longer it is going to take you to complete all three disciplines."
Dr. Hester adds that the trick to achieving an ideal body weight is to find the right balance of exercise and nutrition.
"A lot of people refer to that as the fourth discipline," he says. "You can be a really good swimmer, a really good bicyclist and a really good runner, but if you do not get your nutrition right and you do not fuel and hydrate your body the way that you should, you will find that your body will not give you the performance that you are striving for. More often than not, it will break down."
The wisdom that comes from having previously competed in the sporting event helps Dr. Hester to feel much more confident as he begins his training this time around and sets a goal to finish all three legs in less than 12 hours.
"I learned that there are no shortcuts," he explains. "If you have done the training and you have done everything that you are supposed to do across all three disciplines, then that will show up on race day and you are going to have a memorable experience. If you do not do the homework, then that, too, will show up on race day and you are still going to have a memorable experience — but it will not be one that you remember fondly, as you are going to have a really hard day."
Get Set!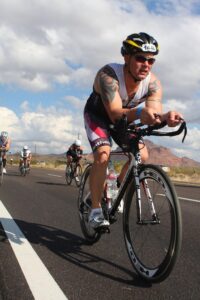 However, the thing that may be the most important aspect of preparation is having a strong — and motivational — support system. Fortunately, Dr. Hester has plenty of that in his wife Desiree Kretsch-Hester, with whom he proudly runs Back to Health of Anthem. He also has it in the entire staff of the wellness facility, which has been helping patients in the community since 2003.
"We coach people who have lost their way with their health to set goals, accomplish those goals and then set new goals," Dr. Hester says. "I believe that many people are overmedicated and undernourished. That leads to a lot of physical conditions, weight gain and health problems. We help people formulate a path to take less medication, lose weight and live a better quality of life."
Dr. Hester adds that he would never ask his patients to do anything that he would not do himself. He remains personally committed to setting regular goals and participating in a variety of outdoor recreational activities and sporting events — such as mountain bike races, half marathons and trail runs.
"Every year, I hike the Grand Canyon rim to rim," Dr. Hester says. "I am always testing myself and making sure that I am staying committed to my continued growth and to the process — and doing everything that I ask other people to do. The coolest part is taking people who do not think that they can accomplish something like this and watching them see it come to fruition."
Dr. Hester estimates that he will be completing 15–20 hours of exercise each week leading up to the Ironman Triathlon. Therefore, the support of his wife and his Back to Health of Anthem staff is an absolutely essential aspect of his preparation.
"I am blessed to have people around me who love to do the things that I do," Dr. Hester says. "But, most importantly, they help keep me on track by asking me about my nutrition, by working out with me, by doing strength training with me and by just being part of the overall process."
Go!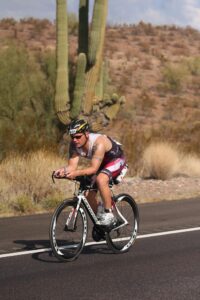 Speaking of support systems, Dr. Hester is again using the Ironman Triathlon platform to raise money and awareness for a very worthy cause — just as he did 10 years ago. This time, he is partnering with Youth for Troops, an Anthem-based nonprofit service organization that expresses and demonstrates unparalleled support for the exceptionally brave men and women who serve our country.
"I just thought that it would be great to help raise money that will go toward serving the people who protect the freedoms that so many of us take for granted while helping our community become more aware of what others have sacrificed," Dr. Hester says.
Youth for Troops has assembled more than 5,000 care packages — containing food and hygiene items — for deployed service members since 2018. Founding youth board member Taylor Piatt says Dr. Hester's fundraising campaign will help the nonprofit service organization send even more care packages to our country's heroes.
Youth for Troops members also make plastic mats for homeless veterans, serve as flag-bearers for Honor Flight homecomings, help to conduct the Veterans of Foreign Wars' Buddy Poppy Drive, assist with ceremonies and paver installations at the Anthem Veterans Memorial and participate in the community's annual Daisy Mountain Veterans Parade.
Founding youth board member Sophie Hoffa says that the nonprofit service organization's members are immensely grateful that Dr. Hester chose to help them with their mission. A calendar of fundraising events is available on Back to Health of Anthem's website.
Youth for Troops board member Tonya Piatt adds that in addition to helping the nonprofit service organization achieve its goals, Dr. Hester has also inspired her family to eat healthier and exercise more.
"After completing the Memorial Day group workout at Back to Health of Anthem, we have all decided to make health, nutrition and exercise a priority — and have turned meal-prep and workouts into family events," she says. "We may not be in shape for the Ironman in November, but we will be healthier versions of ourselves to cheer him on."
As Dr. Hester at age 47 continues to prepare for his second Ironman Triathlon, he says that each and every one of us only get what we work for — not what we believe we deserve. His philosophy extends far beyond the sporting event.
"That transcends into your career, that transcends into being a parent, that transcends into running a business, that transcends into being a better spouse and that transcends into being a better Christian," he explains. "If you want to get better in any aspect of your life, you have got to put in the work. You cannot just show up and expect things to change. Nothing changes if nothing changes."
Most importantly, though, Dr. Hester says we must work together to achieve that change not only in our own lives but also in our communities.
"You can run, bike or swim the same route every single day and see different things, hear different sounds and feel different [sensations]," he says. "But it all boils down to the fact that you only get out of it what you put into it. If you are going to do it anyway, why not do it in a way that can make a lasting impact and link arms with other people who can help make the workload a little lighter?"